Vote for the best verboticism.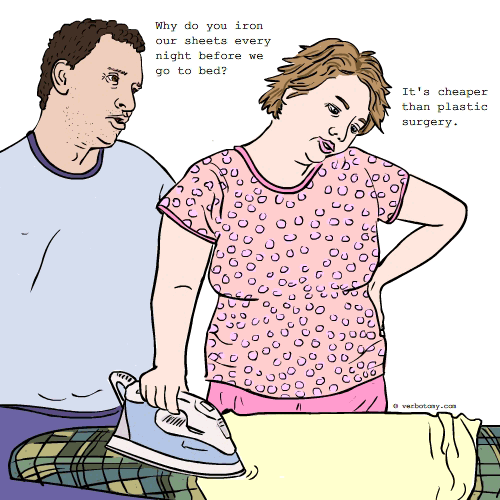 DEFINITION: n., The deep red lines and/or furrows, which appear on a person's face after they have slept on wrinkled or creased bed sheets. v., To wake up and discover that your face matches your wrinkled bed sheets.
Verboticisms
Click on each verboticism to read the sentences created by the Verbotomy writers, and to see your voting options...
You have two votes. Click on the words to read the details, then vote your favorite.
Created by: Buzzardbilly
Pronunciation: pillowglyph (pil-ou-glif)
Sentence: When he awakened one side of his face was covered in a pillowglyph that resembled Nazca lines. -OR- She had obviously been sleeping quite heavy as her arms, face, and what part I could see of her legs quite a pillowglyphic display.
Etymology: pillow (a cushion generally used for sleeping) + glyph (shortened from dermatoglyph because "glyph" itself is easily understood as "a symbolic figure carved or incised in relief"; whereas, "dermatoglyph" refers to lines forming on the skin)
Created by: Bullwinkle
Pronunciation: nite-scr-all'ers
Sentence: her face was etched with nightscrawlers.
Etymology: Night + scrawl(scribble.) Akin to worms(night crawlers)
Created by: Darkreaper
Pronunciation: F-rinkles
Sentence: He woke up early and sighed when he saw the frinkles left on his face by his furrowed bedsheet.
Etymology: Wrinkle, furrows
Created by: artr
Pronunciation: shētplētd
Sentence: Joan had a very difficult time applying makeup to her sheetpleated face this morning. After her skin relaxed, she had more streaks than a ten-year-old windshield wiper.
Etymology: sheet (a large rectangular piece of cotton or other fabric, used on a bed to cover the mattress) + pleated (a double or multiple fold in a garment or other item made of cloth)
Created by: vmalcolm
Pronunciation: /stredtʃ/
Sentence: I'm sick of my unseen stretch marks, I don't want to bear with some visible and RED ones too!
Etymology: STREDTCH. From Stretch mark (A shiny line on the skin of the abdomen, breasts, thighs, or buttocks that is often lighter than the surrounding skin and is caused by the stretching and weakening of elastic tissues as a result of pregnancy or obesity, for example) + Red (A pigment or dye having a red hue)
----------------------------
COMMENTS:
Stredtch marks are rediculous without getting them from your laundry! - Nosila, 2008-10-22: 21:43:00
----------------------------
Created by: MrDave2176
Pronunciation: POOS - pleet
Sentence: James lifted his head from the pillow and turned off the alarm before sitting up and looking into the large mirror behind the dresser. The pusspleats in his face formed a perfect map of Bolivia and he scrambled off to find his digital camera to capture it before it faded from view.
Etymology: puss (slang for ones countenance) and pleats (pressed creases in fabric)
Created by: xirtam
Pronunciation: bed-mahrk
Sentence: When Susan looked in the mirror after she woke up from her nap, she saw a bedmark on her left cheek; a perfect impression of the flower she hand embroidered on her pillow.
Etymology: Bed: a piece of furniture upon which or within which a person sleeps. + Mark: a visible impression or trace on something, as a line, cut, dent, stain, or bruise.
Created by: coolkids58
Pronunciation:
Sentence: you have big rinkbaefs
Etymology:
Created by: galwaywegian
Pronunciation: lay nnn traks
Sentence: His lain tracks were what you'd expect from 60 year old sleepers.
Etymology: lain, traintracks
----------------------------
COMMENTS:
like it - Jabberwocky, 2008-10-22: 11:50:00
----------------------------
Created by: Nuwanda
Pronunciation: sleep-creese
Sentence: Kristie came to college wary of the power of a mid-day nap. And well through her freshmen year, she tried to deny the deep snoozes she took before dinner. Her hypocrisy finally got the better of her friends, who started mocking her sleepcrease mercilessly when she showed up late for dinner and claimed she was studying.
Etymology: sleep + crease