Vote for the best verboticism.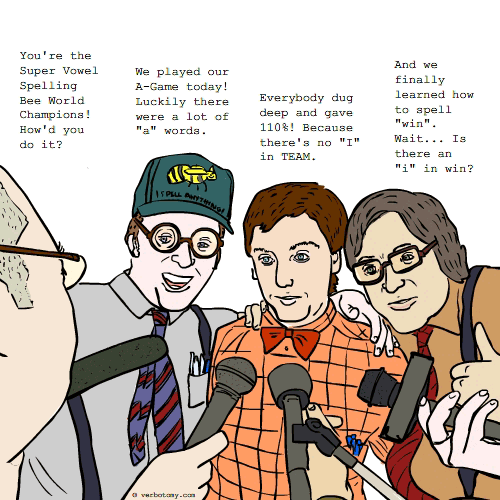 DEFINITION: v., To speak in an inspirational but perhaps incomprehensible manner by stringing together a series of grunts and clichés. n., An inarticulate TV or radio, post-game interview, typically given by a panting, toothless, sweating, verbally-challenged, and hugely overpaid, athletic superstar.
Verboticisms
Click on each verboticism to read the sentences created by the Verbotomy writers, and to see your voting options...
You have two votes. Click on the words to read the details, then vote your favorite.
Created by: LegendDeer
Pronunciation:
Sentence:
Etymology:
Created by: Jabberwocky
Pronunciation: lip/ooo/suk/shun
Sentence: The hockey superstar was trying so hard to suck up to the interviewer and not offend any of his team that his interview was merely lipoosuction.
Etymology: lip(as in lip service) + ooh(didn't put the 'h' in the word because it turned it into pooh)+ suck (as in suck up) + liposuction
Created by: Jabberwocky
Pronunciation: pa/twa/moe/nee
Sentence: Inbreeding of rock stars finally led to the inevitable evolution of patoismoany, a strange dialect understood only by crazed fans.
Etymology: patois (regional dialect) + moan + patrimony
Created by: petaj
Pronunciation: patt-er-up
Sentence: The whole side fronted up for the patterup with the journalists after winning the game. The PITCHer started up first with his SPIELE, which soon degenerated into a garBALLed outpouring. His teammates all started shouting the usual cliches about the proverbial wire, the good fight put up by the opposition and taking just one game at a time.
Etymology: Batter Up - baseball term to call up the next batter + patter (speech - especially fast/rehearsed) pitch (salesman's speech) spiele (German for games) ball (as in games)
----------------------------
COMMENTS:
Classy. The (not so) subtle innuendo adds another level to the pun and hints insightfully at the obsequious relationship between media and sport - emdeejay, 2008-11-27: 04:42:00
It's a hit we can all have a ball using! - silveryaspen, 2008-11-27: 12:29:00
You're a diamond in the rough, petaj...and you keep all your bases covered! - Nosila, 2008-11-27: 20:03:00
----------------------------
Created by: Nosila
Pronunciation: urn ak yool ar
Sentence: After the Stanley Cup final which saw his team lose by 25 to 0 to the Toronto Maple Leafs, the team captain was interviewed on national television. Big Bobby NoFrontTeeth, who's annual salary was 18 million dollars, was analytical about his team's loss to the only team who had not won since 1967. Speaking with sweaty hair, toothless grin, and a vocabulary in monosyllabic syntax, he was philosophical. In his earnacular, he figured their loss was due to the fact that the other team got more goals.
Etymology: Earn (acquire or deserve by one's efforts or actions;earn on some commercial or business transaction; earn as salary or wages) & Vernacular (the everyday speech of the people (as distinguished from literary language);a characteristic language of a particular group (as among thieves)
----------------------------
COMMENTS:
This is a great word; can be used in other situatuions such as some overpaid superstars/personalities who gained fame for no good reason. - splendiction, 2010-04-22: 21:27:00
Cheers, splendiction. - Nosila, 2010-04-23: 01:06:00
----------------------------
Created by: iwanttodirect
Pronunciation:
Sentence:
Etymology:
Created by: galwaywegian
Pronunciation: jok sskrapp
Sentence: his jockscrap stunk even more than his joclstrap used to.
Etymology: jock strap, jock crap
----------------------------
COMMENTS:
Roared with laughter! - silveryaspen, 2008-02-06: 09:07:00
----------------------------
Created by: ErWenn
Pronunciation: /ˈkɔɹnbəldiˌgʊk/
Sentence: If you can speak intelligently to pushy, obnoxious journalists after working yourself to a near collapse without spewing cornballdygook, then I'll be very impressed.
Etymology: 2008, from cornball + (gobble)dygook
----------------------------
COMMENTS:
bit of a mouthful this one, but I like it ;o) - HerOralHighness, 2008-02-04: 17:19:00
----------------------------
Created by: bookowl
Pronunciation: pat/whah
Sentence: His religious patwha was so confusing I didn't understand a word.
Etymology: patois + wha (short for what?)
Created by: Nosila
Pronunciation: jok tok
Sentence: She was tired of all the pre, during and post game jabber and analyses. The garbled speaking with anyone remotely connected with the sport. Most infuriating was the jocktalk after the big win. There was only one reason the team one...they got more goals than the other team! Duh...
Etymology: Jock (a person trained to compete in sports;an athlete) & Talk (speak)