Verboticism: Prozactivity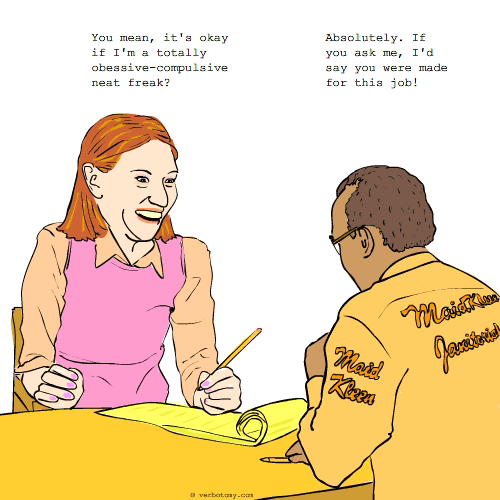 DEFINITION: v. To suddenly discover that your most troublesome personality defect, for which you have been taking medication and/or therapy, is actually your greatest asset. n. A perceived weakness which is actually a strength.
Already Voted
Vote not counted. We have already counted two anonymous votes from your network. If you haven't voted yet, you can login and then we will count your vote.
---
Prozactivity
You still have one vote left...
Created by: galwaywegian
Pronunciation: loo na tik awl the rite bok ses
Sentence: She managed to lunatickalltherightboxes despite the rather stained resumé
Etymology: lunatic tick all the right boxes
Voted For! | Comments and Points
Created by: petaj
Pronunciation: flawnt-it
Sentence: Cherie really started marketing herself when she realised her flawntit gave her an oddvantage over the other candidates.
Etymology: flaw + If you've got it flaunt it.
Created by: Lapper
Pronunciation: pro-FEKT-ihv
Sentence: John was found to be quite profective when his lack of heart permitted him to be one of the country's top assassins.
Etymology: The prefix "pro-" and "defective".
Created by: kirkaw
Pronunciation: traw-maze
Sentence: When Michael's obnoxious outburst at the Marsha resulted in her quiting the next day, to the delighted of the rest of the office staff, he was simply traumazed at himself.
Etymology: trauma - amazed
Created by: hamburgerman
Pronunciation: flaw sum
Sentence: OMG! dude, thats totally flawsome!
Etymology: flaw + awesome = flawsome
----------------------------
COMMENTS:
no comment - hamburgerman, 2009-08-20: 21:34:00
----------------------------
Created by: AliA415
Pronunciation: Mer-to-gram
Sentence:
Etymology:
Created by: weyrlady
Pronunciation: e-fo-ban-e
Sentence: It was such an ephobany to realize he actually loved me for my friggatriskaidekaphobia.
Etymology: A combination of "epiphany" and "phobia".
Created by: ohwtepph
Pronunciation: deh-fah-set
Sentence: I never knew she was up for the job until I realized that she had a defasset.
Etymology: defect + asset + deficit
Created by: splendiction
Pronunciation: IM pair might
Sentence: Beatta shrieked excitedly, "you mean I can keep everything as clean as I want? Including my hands?" Her impairment would become her impairmight, as long as she agreed to wear gloves.
Etymology: From: impairment and might.
Created by: taejin
Pronunciation:
Sentence:
Etymology: