Verboticism: Snubstitution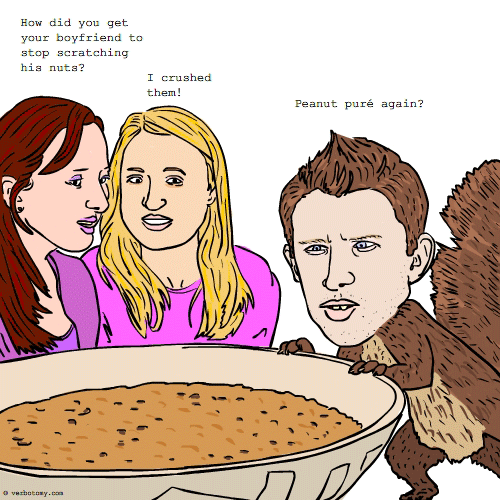 DEFINITION: v. To prevent someone from participating in an undesired activity by engaging them in another activity which makes it impossible to do the first. n. Two things cannot be done at the same time.
Already Voted
Vote not counted. We have already counted two anonymous votes from your network. If you haven't voted yet, you can login and then we will count your vote.
---
Snubstitution
You still have one vote left...
Created by: galwaywegian
Pronunciation: wooh man ipp yew layt
Sentence: Anytime the Honkers games were televised, she would use her considerable stache of lingerie to womanipulate the situation. Anything to prevent the new couch being covered with beer and pizza stains.
Etymology: woman, manipulate
----------------------------
COMMENTS:
I wonder if lingerie works for Hockey as well...hmmm - Jabberwocky, 2008-05-22: 13:41:00
A good "dressing-down" often works! - OZZIEBOB, 2008-05-22: 18:46:00
A good "dressing-down" often works! - OZZIEBOB, 2008-05-22: 18:46:00
----------------------------
Created by: bookowl
Pronunciation: null/tee/task/ing
Sentence: He got absolutely nothing accomplished once he began nulltitasking.
Etymology: null + multitasking
----------------------------
COMMENTS:
Seems like it's time for an annulment- or at least some sort of annulitasking? - OZZIEBOB, 2008-05-22: 18:50:00
Good word, though null and void where prohibited by law... - Nosila, 2008-05-22: 20:39:00
----------------------------
Created by: artr
Pronunciation: hôltētasking
Sentence: Sharon can't stand it when her husband has nothing to do, defined as spending hours playing video games. To keep this from happening she makes sure to keep a full complement of haltitasking items on his honey-do list. Today he is cleaning the dental molding on all the furniture with a toothbrush.
Etymology: halt (bring or come to an abrupt stop) + multitasking (the simultaneous execution of more than one program or task)
----------------------------
COMMENTS:
good word - Nosila, 2009-07-02: 13:20:00
----------------------------
Created by: TJayzz
Pronunciation: Dy-ver-trik-eree
Sentence: To stop Ted's disgusting smoking habit, Sue thought she would try a bit of divertrickery, so she invested in a computer generated football game(football being his passion). Soon he was so engrossed in the game that all thoughts of smoking were forgotten, after all it does take two hands to use the control pad.
Etymology: Divert(to distract attention away from) + Trickery(A skilful act or scheme intended to outwit someone) = Divertrickery
----------------------------
COMMENTS:
I like it. - Mustang, 2008-05-22: 06:43:00
nice - Jabberwocky, 2008-05-22: 13:36:00
Very good word. - OZZIEBOB, 2008-05-22: 18:59:00
----------------------------
Created by: josje
Pronunciation: flikker
Sentence: stop this you flikker
Etymology: fucker and licker, witch you can't do in the same time.!!!!
Created by: pieceof314
Pronunciation: di-strakt-ih-task
Sentence: "Hey Jim, look over here! Pie!" Mary vigorously pointed to the counter where a freshly baked pie was waiting to be dished out, trying to think of a way to get him to stop playing pocket pool. Jim's eyebrows raised as he took his hands from out of his pockets to reach for a plate. Just then, Mary's best friend walked in. The distractitask was successful.
Etymology: distract + task
----------------------------
COMMENTS:
a bit disdrastic but cunning - Jabberwocky, 2008-05-22: 13:36:00
This aint just "Pie in the Sky" stuff. - OZZIEBOB, 2008-05-22: 18:58:00
----------------------------
Created by: rebelvin
Pronunciation: OCCUpy+SLY
Sentence: To get him out of the house while the guests arrived for the surprise party, I occuslied him by begging him to walk with me to the store, and I made sure we took the long way.
Etymology: OCCUpy+SLY
Created by: Stevenson0
Pronunciation: e/task/u/late
Sentence: Jenny had such control over Joe that she could easily etaskulate him. A planned night out at the pub with Joe's friends, or a Saturday golf game was always interrupted by Jenny's sudden urge to have him learn knitting, or help her sort her fashion magazine collection.
Etymology: ETASKULATE - VERB - from EMASCULATE (to castrate; to deprive of strength, or vigor; to weaken) + TASK
----------------------------
COMMENTS:
Hysterical. Great word. - mrskellyscl, 2009-07-02: 06:05:00
I agree - hilarious! - splendiction, 2009-07-02: 21:22:00
----------------------------
Created by: artr
Pronunciation: pree-dis-puh-vur-zhuh
Sentence: When Janet noticed her boyfriend, Jamie's propensity for chewing on pens, she decided to treat his bad habit with predispaversion. She dipped all the pens in the house in hot sauce. Her little experiment backfired when he developed a taste for the fiery concoction and almost doubled their food and pen budget. She also got burned the other morning when she wrote her self a note with one of her mangled pens just before applying her eye shadow.
Etymology: predisposition (tendency to a condition or quality, usually based on the combined effects of genetic and environmental factors) + aversion (a strong feeling of dislike, opposition, repugnance, or antipathy)
Created by: milorush
Pronunciation: (n.) rē'kə-bĭch'ə-lāt'; (tr.v.) rē'kə-bĭch'ə-lā'shən
Sentence: In recent years, an effective form of rehabitulation for incessant smokers has proven to be non-stop eating -- doctors, however, are not convinced the disease isn't worse than the cure.
Etymology: re- = "again" + hab[it] + [cap]itulation = "the act of surrendering"
----------------------------
COMMENTS:
Nice blend. - OZZIEBOB, 2008-05-22: 19:00:00
----------------------------