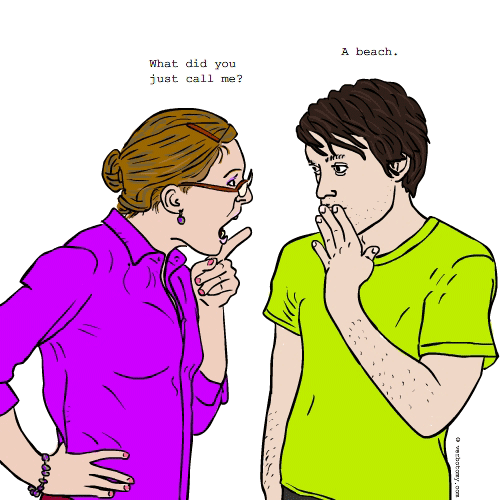 DEFINITION: v. To use alternative "code words" instead of proper cuss words, in an effort to satisfy people offended by such vulgarisms. n. A word used as a replacement for an obscene or profane expletive.
Already Voted
Vote not counted. We have already counted two anonymous votes from your network. If you haven't voted yet, you can login and then we will count your vote.
---
Youphenism
You still have one vote left...
Created by: artr
Pronunciation: fōfanətē
Sentence: Marge is the queen of fauxfanity. Her coworkers have no doubt how she feels even though she tries to remain semi-polite by using substitutes for profane language. Phrases like "No friggin' way", "What the fudge","Kiss my bass" or "Go hug yourself" have raised more than a few eyebrows.
Etymology: faux (artificial or imitation) + profanity (blasphemous or obscene language)
----------------------------
COMMENTS:
similar combinations but different results - great word - Jabberwocky, 2009-06-22: 14:18:00
----------------------------
Created by: Nosila
Pronunciation: mawk sen it tee
Sentence: Mrs. Beach, the English teacher hated profanity and forbade her students from using any of these words in her classroom. Kids being kids in today's society of course cannot speak without cursing. To keep from being expelled and yet express his youthful dramatics, one brain surgeon in her class found a solution. He developed the mockscenity code. When he wanted to use a curse word, he had to substitute the first letter of that word with a "p" and if the first letter was a vowel, he just put the p in front of it. Pam, it worked like a pitch. It knocked the phit out of bad-sounding words and before long the whole ploody class was using it, pell yes. Mrs. Beach however had been a decryptor with the CIA before she retired to teaching and announced one morning, loudly, "The puck stops here!"
Etymology: Mock (a copy or imitation of something; imitate with mockery and derision) & Obscenity (an offensive or indecent word or phrase)
Created by: TJayzz
Pronunciation: bloo-pur-poo-pur
Sentence: Those blooperpoopers really annoy me . Only the other day I heard a woman say she had got in a right mucking fuddle, it took me ages to realise what she meant.
Etymology: Blooper(something that should not have been said)Pooper(To ruin, spoil)
Created by: verbherder
Pronunciation: els-swair
Sentence: Howie Mandel always uses vulgarities, but Ed Begley Jr. speaks like a saint. Elseswears come out of his mouth in place of curse words even when he's talking about Mark Harmon and Denzel Washington.
Etymology: else (in some other way) + swear (To use profane oaths; curse)
Created by: tyler775
Pronunciation: /par * ah * ka * ore/
Sentence: Whenever our boss acts very rule and demanding, we call him the parracore 'flux bucket' behind his back.
Etymology: *Parra- from Greek prefix Para- meaning apart from or abnormal. *Suffix -core from English which meant stubborn or unyielding prior to 1930s
Created by: arrrteest
Pronunciation: dis-kuss-fem-izm
Sentence: Tony was sitting in a chair in the principal's office again. "Tony, can you explain to me what you meant by 'dime beach?'" "Yeah, I went to a beach that charged a dime to go to it! I was just remembering it and I said it outloud. To nobody really, but Mrs. Fluster just happened to be there." The principal looked at him and shook his head. "Now Tony, yesterday you were in here for calling a classmate a 'shucking fithead' and tried to tell me that a fithead is what they call a healthy person who processes oysters. You're not fooling anyone, buddy. You've got to stop this discussphemism or you'll be finding yourself explaining this to your parents while you are on suspension!
Etymology: dis, disrespect + cuss, curse + phemism, from euphemism
Created by: rebelvin
Pronunciation: vulg-air+avoid
Sentence: I was so angry, I forgot to vulgaravoid, and she seemed shocked at the words that came out of my mouth.
Etymology: vulgar+avoid
Created by: Nosila
Pronunciation: yoo fen iz im
Sentence: When Barney and his Mom fought it was funny. When they spoke of the other, they only said a youphenism, instead of the really rude words they were thinking.
Etymology: You (2nd person singular) & Euphenism (A euphemism is a substitution of an agreeable or less offensive expression in place of one that may offend or suggest something unpleasant to the listener,[1] or in the case of doublespeak, to make it less troublesome for the speaker.)
Created by: mrskellyscl
Pronunciation: ex-pleh-toot
Sentence: Mommy often had to expletute words around the baby, who was beginning to show an uncanny ability to imitate her speech patterns, especially when she was having a discussion with daddy about golf.
Etymology: expletive: vulgar or coarse word to express emotion + substitute: a replacement
Created by: libertybelle
Pronunciation: smut-stih-toot
Sentence: Because I work in a kindergarten I maintein a constant cuss diet and will resort to using smutstitute words when I am really gee-golly ticked off at some wing-nut. Though I'd reaally like to tell them to go fudge themselves!!
Etymology: smut + substitute
----------------------------
COMMENTS:
nice - Jabberwocky, 2008-05-08: 14:24:00
Perfect! - Tigger, 2008-05-08: 18:57:00
Excellent! - Mustang, 2008-05-08: 19:20:00
Great word. - OZZIEBOB, 2008-05-08: 19:34:00
----------------------------