Bombayboot
Top verboticism of the day created by artr
DEFINITION: n. The fear that you will be outsourced, downsized, unassigned, or separated (one way or another) from your weekly paycheck. v. To use the threat of outsourcing and downsizing to manage and motivate your team.
Pronunciation: bom-bey-boot
Sentence: Clyde thought he'd keep his crew in line with the threat of outsourcing. To his surprise the company gave his entire division the Bombayboot. Now if you call Clyde's old phone number it is answered by someone with a heavy Indian accent named Bradley.
Etymology: Bombay (city in India) + boot (dismiss from service, fire)
Created by: artr.
Today's Challenge:
See: Alright boys, let's start digging!
More Top Verboticisms:
(Invented words created by the Verbotomy Writers)
Goadriddance: /gohd rih duns/ In a tough economy, bosses can utilize goadriddance to threaten their employees to work harder. Etymology: From goad=to provoke to stimulate some action or reaction, and riddance=the action of removing something troublesome Created by: focusteacher.
Vote For
Redundantsee: /re - DUN - dant - see/ Alvin was deeply depressed, caught up in serious redundantsee and having visions of his position at the office being eliminated and finding himself looking for a new source of income, Etymology: Blend of 'redundant' (excess to requirements, unnecessary) and 'see' (observe, catch sight of) . A play on redundancy, a term for 'layoff' in some places. Created by: Mustang.
Vote For
Pinkslipophobia: /pink slip o fobia/ Serena suffered from pinkslipophobia,especially when the budget cuts were announced each year. So far she had dodged that bullet. She was sure it was because she refused to wear a pink slip to work... Etymology: Pink slip (lose your job) & Phobia (fear) Created by: Nosila.
Vote For
More...
To see more verboticisms for this definition go to: Don't worry, if I get terribly randy...
See the current scores and Verboticism ranking at: Verbotocracy
More Winning Words:
More Verboticisms! See the winning words for: What do you think of my latest dance moves?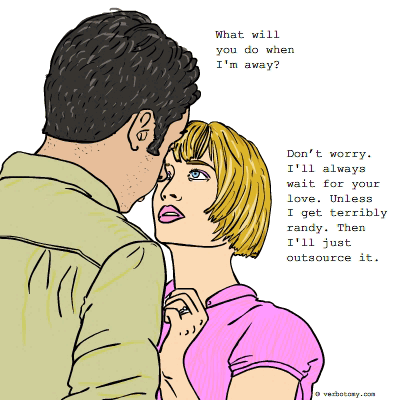 ted2_3 (Ted Furman)
@brewsybrew76 #topman #newwords haha
Sat, May 18th , 09:13 AM
mimo_3 (みもさん)
new word(s):短距離誘導発射体 #newwords
Sat, May 18th , 09:03 AM
josephdotnet (Joseph)
Cool site of the day: http://t.co/CHap5BwoRp
Sat, May 18th , 07:50 AM
fancynancy_says (nancy lowes)
Penis feelings: feelings you can't define about people with penises #newwords
Fri, May 17th , 09:00 PM
erikakingston (Erika Kingston ∞)
Thanks too South Africans i now know what a Braai #NewWords
Fri, May 17th , 07:42 PM
_UCIT_ (RuthAshley.com)
@technclyblond #newwords
Fri, May 17th , 05:11 PM
ATkachuk_XOXO (Anastasiya Tkachuk)
@SmoshTamara ur gorgeouser <3 #newwords
Fri, May 17th , 03:59 PM
Green4Music (★Ingrid D. Bernuy ♥ )
@blakeshelton LOL! vindication?! #NewWords!
Fri, May 17th , 12:09 PM
patrikakisl (IOANNIS PATRIKAKIS)
People like me can learn a lot in the percussion section. #bodyparts #bodyfunctions #newwords
Fri, May 17th , 11:29 AM
dungeonbard (dom)
@dlmrky lncorporate is way too simple #newwords
Fri, May 17th , 11:17 AM