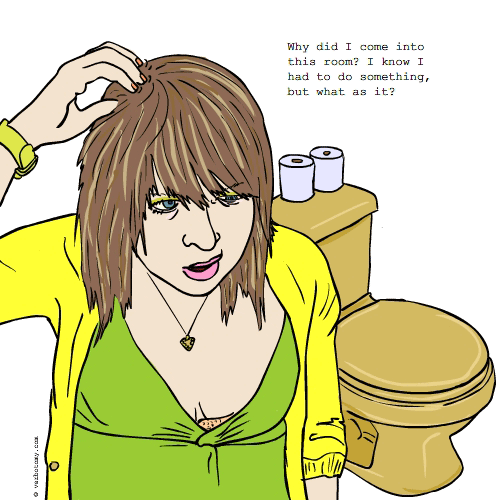 DEFINITION: n. The moment of loss, hesitation and confusion, which occurs when you enter a room and immediately forget why. v. To forget why you entered a room.
Roomnesia
Top verboticism of the day created by purpleartichokes
Pronunciation: room-nee-zha
Sentence: Sue noticed that after turning 40, episodes of geriantics were occurring more frequently, and roomnesia was most definitely one of them. She clearly remembered tucking the carrot into her cleavage, but had to go mission fishin' when she found herself in the bathroom with it.
Etymology: room, amnesia
Created by: purpleartichokes.
Comments:
Another simple, but effective word. - ErWenn, 2008-03-21: 09:07:00
geriantics could turn into geriantricks - another great definition - Jabberwocky, 2008-03-21: 11:46:00
Carrot in the cleavage and mission fission, then seeing the carrot in her cleavage in the cartoon ... brought lots of laughter! Funtastic! - silveryaspen, 2008-03-21: 13:18:00
The scary part of it is that I was experiencing this much before 40! - arrrteest, 2008-03-21: 13:32:00
I dig roomnesia, but I think I like geriantics even more. I've been looking for a word to describe walking in on my octagenarian parents doing it besides "OHMYGODMYEYES" - Banky, 2008-03-21: 20:31:00
I once claim I had roomnesia - Roxie wouldn't buy it! - OZZIEBOB, 2008-03-22: 01:08:00
I'm thinking Sue might also be dealing with a severe case of roomatism. Her roomune system has been compromised. - Mustang, 2008-03-22: 06:56:00
More Top Verboticisms:
(Invented words created by the Verbotomy Writers)
Wanderlost: /-ˈwɑndɚˌlɑst-/ After a six-hour drive, I finally pulled into Los Angeles and was immediately struck with a terrifying sense of wanderlost. Etymology: from wander(lust) + lost Created by: ErWenn.
Comments:
You stuck me on replay with The Wanderer ... "Cause I'm a wanderer yeah the wanderer I roam around around around around around around around 'Cause I'm a wanderer I'm a wanderer." (Dion and the Belmonts old song). Wanderlust is so appealing ... wanderlost is not at all! You did a 180 by removing only one letter! Superb Creation! - silveryaspen, 2008-03-21: 02:25:00
Captures the moment! - arrrteest, 2008-03-21: 13:30:00
But you'll be fine in the 'city of angels.' Nice word! - OZZIEBOB, 2008-03-22: 01:02:00
Lethambulate: /leth-AM-byuh-late/ Yesterday worn out by the aging-process, irresolution and a few too many drops of Irish whiskey, I choose sleep rather than my daily dose of Verbotomy. However, in the middle of the night something - some strange verbotomy voodoo, perhaps, hellbent on wrecking my sleep caused me to open my eyes and sit up, wide awake and listen intently. I thought i could hear a voice, saying "verbotomy, verbotomy, verbotomy!" Soon after I found myself sitting in front of my computer, confused, dumbstruck and disorientated. Not knowing what I had planned to do there, I lethambulated back to bed. Next morning upon telling Roxie of my strange experience, she said, "I think you misheard, it was probably your own mind telling you that you need a lobotomy!" Etymology: Conflation of LETH:forget, forgetfulness & AMBULATE:to walk. Created by: OZZIEBOB.
Comments:
Hellbenders! Great DEF and thanks for the laughter. - metrohumanx, 2009-01-13: 07:53:00
HUGE laughs all around the room! - readerwriter, 2009-01-13: 09:09:00
terrific - Jabberwocky, 2009-01-13: 12:06:00
Welcome back. Fun sentence! Fun word! - silveryaspen, 2009-01-13: 12:10:00
Ignoroomus: /-ig-nuh-room-uhs-/ Heather just stood there, in the kitchen, looking around the room with a vacant expression, experiencing another case of ignoroomus. She'd been standing there for several minutes now, trying to remember what she came in here for, and she realized that she really had to go to the bathroom... which was ironic, since she was just in the bathroom five minutes ago, wondering what she was supposed to be doing there too. Brenda thought about it as she reluctantly returned to the bathroom — she'd recently dyed her hair blonde, and she wondered if her recurring case of ignoroomus was some sort of karmic revenge for all of those blonde jokes she had told over the years. She was so distracted by this thought that, when she entered the bathroom again, she'd forgotten why she was there. Etymology: blend of; Ignoramus - extremely ignorant person, fool, dunce (from Latin, ignorare "not to know") + room - portion of space within a building (from German, raum "spacious") Created by: Tigger.
Comments:
Brilliant etymology and blending. A superb creation! - silveryaspen, 2008-03-21: 01:52:00
very funny Tigger - Jabberwocky, 2008-03-21: 11:42:00
Great work; funny,too! - OZZIEBOB, 2008-03-22: 01:10:00
Sounds like a case of roomatic fever. - Mustang, 2008-03-23: 05:20:00
More...
To see more verboticisms for this definition go to: Why did I come into this room?
More Winning Words:
More Verboticisms! See the winning words for: Omigod, I'm surrounded.