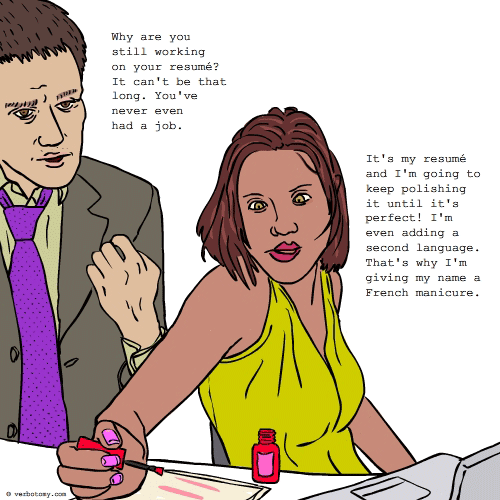 DEFINITION: v. To obsessively work on, shine and polish something which has no intrinsic value. n. A item which has lots of imagined shine in the eyes of the owner, but no real value for anyone else.
Pentous
Top verboticism of the day created by elenalombardi
Pronunciation: [pu-n-ch-us]
Sentence: I must make my paper pentous or I will get a low grade and my parents will not be happy about that.
Etymology: Pent- to fill/full
Created by: elenalombardi.
More Top Verboticisms:
(Invented words created by the Verbotomy Writers)
Bufferduff: /Buff-er-duff/ Ever since Great Aunt Maud had left Sue the vase in her will five years ago she was convinced it was worth thousands. Every evening she rushed home from work and would bufferduff it until it shone. Little did she know it was a fake and was worth no more than a few pounds. Etymology: Buff(to polish) + Duff(worthless) = Bufferduff Created by: TJayzz.
Comments:
it would also work as buffherduff - nice - Jabberwocky, 2009-03-10: 12:18:00
Endeadvor: /en DED ver/ Inna Fectiv is always working on some futile endeadvor. None of her ideas ever go anywhere, because no one ever wants any of her inventions. Her latest creation is a multi-story cage system for cats, which she calls her "Pet Projects." She keeps forgetting that cats don't like to be in cages, and usually protest it vigorously, so if you have a number of them together, the yowling is almost ear-splitting. Etymology: endeavor + dead Created by: karenanne.
Comments:
Pet Projects...cute! - Nosila, 2010-09-22: 00:07:00
Nugatoil: /NUG a TOIL/ "Are you going to nugatoil all evening?" he teased her. He knew that probably only about three people would show up to see her display in spite of her endless hours of fixing, changing, rewriting, redrawing and painting things that were fine the way they were six hours ago. Etymology: NUGATORY: having no purpose or value; worthless TOIL: to work very hard and for a long time Created by: kateinkorea.
Comments:
Love the word, kate...At first glance,I thought it was "oil derived from a nugget". - metrohumanx, 2009-03-10: 12:12:00
great combo - Jabberwocky, 2009-03-10: 12:21:00
fun to say, too - silveryaspen, 2009-03-10: 14:32:00
More...
To see more verboticisms for this definition go to: Why are you still working on your resume?
More Winning Words:
More Verboticisms! See the winning words for: My nose hairs are scary!