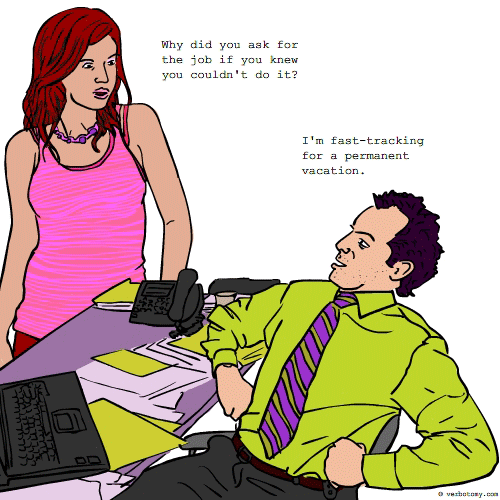 DEFINITION: v. To focus on your weaknesses, rather than your strengths. n. A person who is obsessed with their perceived deficiencies, and works hard to ensure that everyone else understands and appreciates their failings.
Manglomaniac
Top verboticism of the day created by karenanne
Pronunciation: MAN gah lo MAIN ee ak
Sentence: Dexter Knott made sure that everyone knew how difficult most tasks were for him and how slowly he worked, so that they wouldn't ask much of him. He was a notable manglomaniac, pointing out how he would probably mangle whatever responsibility was laid at his doorstep, and then suggesting that someone else would do a better job. He made such comments as, "Why don't you give the project to Lee Derr? He thrives on 'management opportunities.'" As a result, he mostly got to slack off while his more capable and ambitious colleagues basically got used. In the end, since they were all on a set pay scale, they all got paid the same.
Etymology: mangle + megalomaniac
Created by: karenanne.
Comments:
Lee Derr...like it! - Nosila, 2010-07-03: 22:43:00
More Top Verboticisms:
(Invented words created by the Verbotomy Writers)
Degretation: /degh-reh-TAY-shun/ Carletons sense of self worth was flimsy at best, bordering on nonexistent, and he would frequently abase himself in his self styled degretation, using verbal self abuse and humiliation. Etymology: Blend of degrade and reputation Created by: Mustang.
Dorkmeister: /DORK- my-ster/ We don't need convincing – The self- analyzer… Who mocks himself daily's A real DORKMEISTER! Etymology: DORK+MEISTER= DORKMEISTER.....Dork: perhaps alteration of dick Date: 1967.....MEISTER: one who is delusionally knowledgeable about something specified; Yiddish mayster & German Meister master, from Middle High German meister, from Old High German meistar, from Latin magister. Created by: metrohumanx.
Comments:
I'm not surprised that nobody likes the DORKMEISTER. What's to like? - metrohumanx, 2009-06-10: 05:52:00
Misconfidosis: /miss-conf-ih-doh-sis/ Jeff's misconfidosis could easily be explained by what he had seen around him. Whenever his bosses ever messed up, they ended up getting promoted. Etymology: mis,prefix meaning "bad, wrong" + confident, sure of one's self + osis, suffix expressing state or condition, in medical terminology denoting "a state of disease" Created by: arrrteest.
Comments:
The old addage here is F-up, move up! - arrrteest, 2008-04-29: 01:05:00
More...
To see more verboticisms for this definition go to: I'm fast-tracking...
More Winning Words:
More Verboticisms! See the winning words for: Do you think I should stick to the plan?