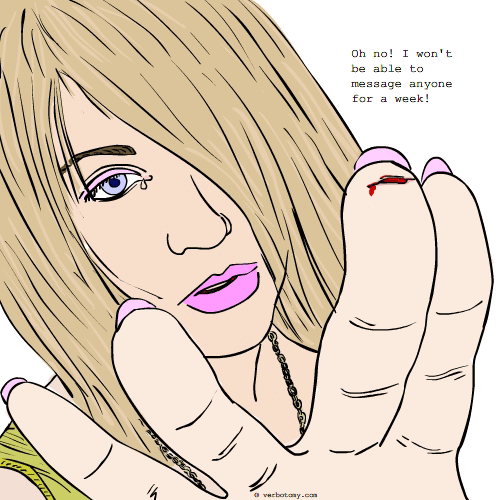 DEFINITION: n., A pesky but persistently painful, and seemingly incurable paper cut, which simply refuses to heal. n. To cut or injure a "high use" body part, like a fingertip, knuckle or tongue.
Voted For: Microburden
Successfully added your vote For "Microburden".
Pronunciation: MY-crow-BIRD-uhn
Sentence: Dr Desmond's waiting room was crowded with the usual assortment of whining hypochondriacs, industrial accident victims, bursting lacerations and a gentleman who lost a crowbar fight at the local pub. When Molly explained her MICROBURDEN to Desmond, he was strangely unsympathetic. Using a scanning electron microscope, the doctor finally located Molly's invisaffliction, and predictably prescribed Motrin and bedrest. Molly explained that her stinging woundlet was like a tiny little albatross that nagged her and made life intolerable, but Desmond inexplicably refused to administer morphine for such a piddling complaint. Molly would just have to face life with her MICROBURDEN, and use this ugly incident as a sentence to be savored on the website..."Verbotomy".
Etymology: MICRO+BURDEN=MICROBURDEN.....MICRO: prefix meaning tiny or trifling.....BURDEN: something oppressive or worrisome; Middle English, from Old English byrthen; akin to Old English beran to carry.....alternatatively: MYCROBURDEN
Points: 1004
Voted For!