Verboticism: Corporashine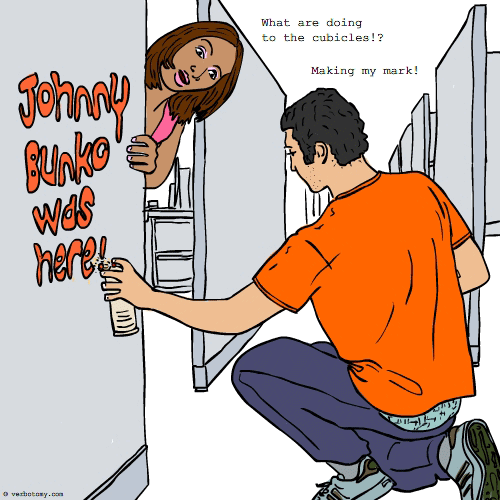 DEFINITION: v. To create an impression that you have made a positive contribution, especially when related to career activities. n. A personal mark or imprint which proves that you have done something that matters.
Already Voted
Vote not counted. We have already counted two anonymous votes from your network. If you haven't voted yet, you can login and then we will count your vote.
---
Corporashine
You still have one vote left...
Created by: arrrteest
Pronunciation: jahb-eh-fakt
Sentence: Johnny left little jobifacts around the office to look like he was busy working. He would leave papers by the printer of drafts of written work, he would save and stack his telephone messages (real and made up ones, mind you) on his desk, and left emails of his work exploits. He would often start sentences like, "You know Bob, I've been thinking about this . . ." or "What's been bothering me, Florence, about the Dithers' case is . . ." He constantly asked his co-workers if he could borrow their White-Out, extra large paper clips, or staples because he just "ran out." Whenever a report came out that had his name on it, he would post it on the staff bulletin board and pin it on the walls of his tiny cubicle. In essence, Johnny didn't do much.
Etymology: Job, profession, place of work + artifact, a spurious observation or result arising from preparatory or investigative procedures
----------------------------
COMMENTS:
Sounds like he was jobiquitous! - OZZIEBOB, 2008-05-06: 18:03:00
----------------------------
Created by: mweinmann
Pronunciation: sub - stamp - shul
Sentence: There were many colleagues who thought Janelle had made a contribution to the last project; just because her intials or name appeared on all correspondence relating to it. The situation was really more substamptial than it appeared....
Etymology: substantial (significant: fairly large), stamp (to mark, or produce an imprint in or on something), sub (short for substitute)
----------------------------
COMMENTS:
Good one. - Mustang, 2009-06-16: 00:32:00
Good one. - Mustang, 2009-06-16: 01:16:00
----------------------------
Created by: Nosila
Pronunciation: kin pres shun
Sentence: Even though his uncle was a mob boss, Sal always tried to leave a good kinpression on others. Blood is blood and Sal reckoned that the nepotism at his being made would be outshone by the fact that he would do any job given to him. Yeah, he was happy to rub out an obstacle that his uncle felt needed whacked. That's why Sal is still out there being a citizen, secure in the knowledge that his loyalty, silence, thoroughness and relationship are secure. The theory of relativity works for Sal!
Etymology: Kin (family, group of people related by blood or marriage;a person having kinship with another or others) & Impression (a vague idea in which some confidence is placed;a clear and telling mental image)
Created by: Nuwanda
Pronunciation:
Sentence:
Etymology:
Created by: bookowl
Pronunciation: tag/gresh/shun
Sentence: Tommy couldn't control his taggression and tagged everything in sight.
Etymology: tag + aggression + expression
Created by: otherguy
Pronunciation: kôrpəˈrāshīn
Sentence: As Joe retired he hoped that his name would be linked to a bit of corporashine. A glimmer of recognition for all the years of hard work was all he was looking for.
Etymology: corporation: a company or group of people authorized to act as a single entity + shine: be brilliant or excellent at something
Created by: phoenix89
Pronunciation:
Sentence:
Etymology:
Created by: Mustang
Pronunciation: awt - oh - graft
Sentence: To insure that credit was given for his contributions to any endeavor, no matter how small or insignificant, Garrison would find some clever way to autograught his personal mark on the project.
Etymology: blend of the words 'autograph' (personally sign) and 'graft', (to attach as if by grafting)
Voted For! | Comments and Points
Created by: artr
Pronunciation: märkit
Sentence: As the project was wrapping up the office started looking like a forest meadow during rutting season. The prevailing wisdom was markit yourself. If they followed the practice of the animal world the paper produced would be rather soggy.
Etymology: mark (make (a visible impression or stain) + it (used to identify a person) A play on marketing.
Created by: rebelvin
Pronunciation: kill+Roy
Sentence: His kilroys were all over the project, so there was no doubt he wanted to take credit for it.
Etymology: Kilroy was the fictional character from WWII who's mark was written everywhere: "Kilroy was here."
----------------------------
COMMENTS:
He was so what kilrovian, I guess. Good word. - OZZIEBOB, 2008-05-06: 17:53:00
----------------------------