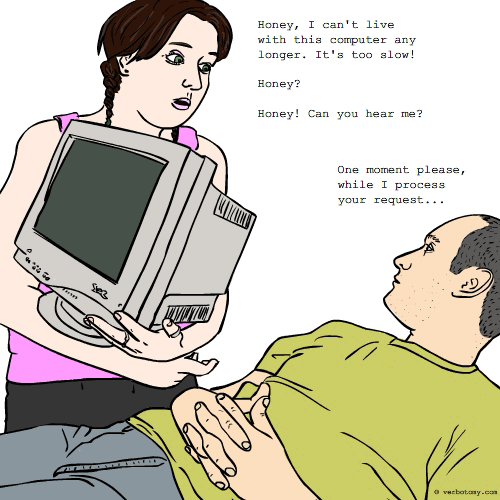 DEFINITION: n., A slow computer with insufficient memory; also, a slow-thinking husband. v., To take an extraordinarily long time to respond to a relatively simple request.
Datasaurus
Pronunciation: /dah-tuh-SAWR-uhs/
Sentence: Sarah complained to Jerry, again, that their computer was such a datasaurus, she could take a shower, do her hair and make-up, prepare breakfast, eat, and do the dishes, all before the 'darn thing' was finished booting up. Apparently, he was still plodcessing over that information, after several months of her complaints.
Etymology: data - information (Latin, plural of 'datum') + -saurus - suffix used in the names of extinct reptiles; e.g. brontosaurus (Greek, saûros "lizard")
Points: 653