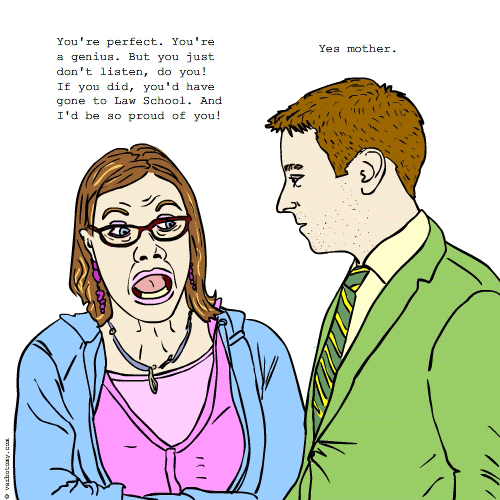 DEFINITION: v. To be offered regular encouragement, unwavering support and subtle but unrelenting criticism based on the worry that you may not be realizing your "full potential". n. The helpful but sometimes annoying advice given by a mother to a child.
Mompliment
Pronunciation: /MOM-pluh-ment/
Sentence: Keith's mother would praise him whenever he came to visit, but she would always follow up with a mompliment, expressing mild disappointment that he hadn't done better. Keith was a successful pharmacist — he even owned his pharmacy — but after saying how proud she was of him, she'd finish with something like, "...but you could've been a real doctor, just like Pearl's son, Mark. Did you hear, he just bought one of those fancy new cars that talks to you?"
Etymology: Mom - short for momma (from Greek, mámmé "breast") + Compliment - an expression of praise, commendation, or admiration (from Italian, complimento "expression of respect and civility")
Points: 800