Verboticism: Justdesserts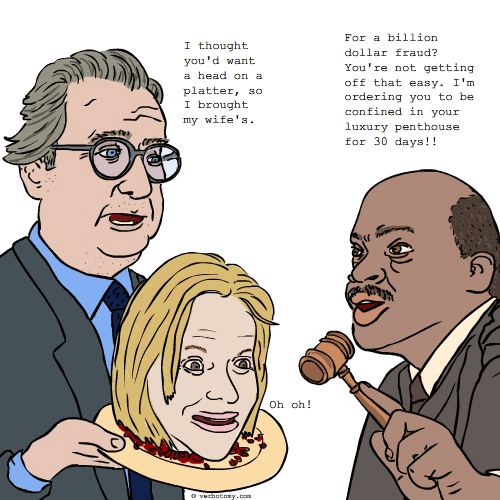 DEFINITION: n. A punishment which does not fit crime. v. To assign a punishment which is bizarrely inappropriate, and seems totally unrelated to the crime which has been committed.
Justdesserts
Pronunciation: JUST de ZURTZ
Sentence: Charles explained his deranged, pie in the sky plan to rob a bank to his brother Simon. Always jealous of Charles, Simon hoped the plan would fail and Charles would get his just deserts. If Charles was in jail for his bungled attempt to pull off this heist, Simon could take his place in the family bakery business and win some attention from his mother, who clearly favoured Charles of the two. Simon called the police and revealed Charles's plan. Charles would be using the family bakery truck so that anyone seeing the van there would think he was just delivering pies, and he would be on his way out of town at 2 pm in the van, with the money. Simon hoped to assist in bungling the plan but forgot his basic mathematics, that two negatives make a positive. When Charles stopped off at the family bakery to say goodbye to his mother, after robbing the bank, he accidentally left in the wrong van. He took Simon's van. Simon got HIS just deserts as he ended up in jail. In Charles's vans were…just desserts. Charles felt he got justdesserts-plenty of sweet deals-after Simon went to jail: a raise and a promotion; Simon's girlfriend; and the icing on the cake...a constant reminder from Mom that he was the "good son".
Etymology: DESSERTS: sweet food served at the end of a meal JUST DESERTS: (the combination of the rarely used definition of the word DESERT: that which one deserves and JUST: for justice) to mean that which is considered to be deserved or merited; a just punishment or reward; poetic justice
Points: 902