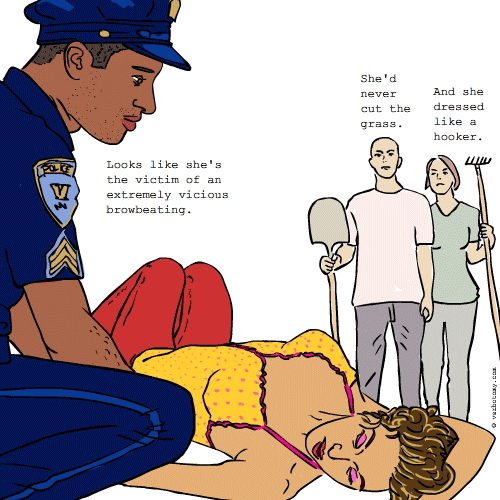 DEFINITION: n. Annoying neighbors who spend endless hours mowing their lawns, painting their fences, washing their cars, and browbeating you because you have a life. v. To express disapproval for someone's lifestyle.
Hoodhogs
Pronunciation: hood-hawgz
Sentence: Patience had endured enough. She was exhausted from the nightly raids by her nebby neighbors, Neil and Nosy Parker. They pruned, they plowed, they picked. What deadheads! So what if her dog peed all over her lawn--it was her lawn, wasn't it? And the world needed more nitrogen! Last night was the last straw. Patience had been awakened by the sound of the duo flooding her yard with water. She stood at her window and watched in astonishment. Obviously these hoodhogs were trying to dilute the urine. Then they began to root around, scraping up the dead grass, quietly bickering over whether it should be to a depth of one-quarter or one-half inch. In the morning she had found a note on her back door saying, "Now you may sow replacement grass."
Etymology: From HOOD, slang/contraction for neighborhood + HOGS, meaning greedy or selfish, also a play on pig, derogatory for police
Points: 1049