Verboticism: Superzeroworship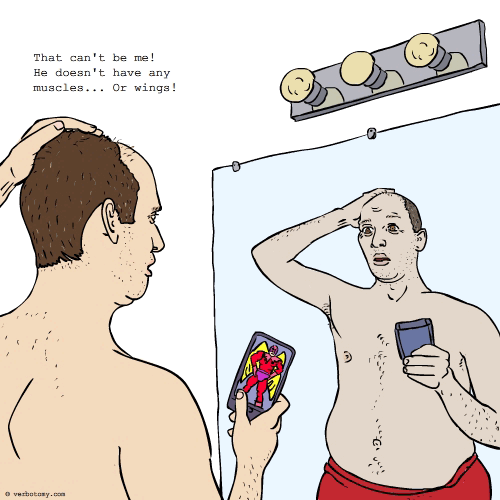 DEFINITION: n. A person who is so enamored with their online identity that they believe that it is more real than their physical one. v. To suddenly realize that you are large, blubbery mammal with no useful superpowers.
Superzeroworship
Pronunciation: soo per zee ro wor ship
Sentence: Time passed so quickly for Sheldon as he played his blasted online games. His life sped by and after time, he arrived at superzeroworship, instead of superheroworshhip. Old age and gravity had transformed him into Fatman, The Bulk, SuperPolident Man, SpiderveinMan, one of the Flab Four, the XLax-Men and Captain LostMarbles. Holy Cataracts, Fatman...Father Time is the Joker!
Etymology: SuperHero ( fictional character of unprecedented powers dedicated to acts of derring-do in the public interest) & Zero (nothing) & Worship (adore, admire, look up to...)
Points: 761