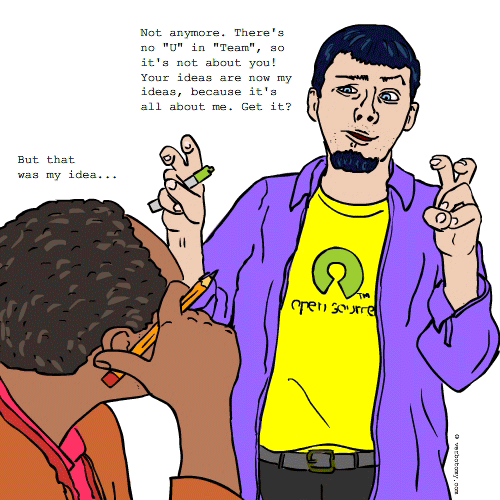 DEFINITION: n. A team member who always shares the workload, but nevertheless tries to get exclusive credit for any work done. v. To temporarily suppress your own need for self-aggrandizement.
Teamleecher
Pronunciation: teem-LEE-chur
Sentence: Todd did some work but was not overloaded- So we were aghast when the jerk got promoted. He picked all our brains and presumed it was right- And groveled a lot like a good parasite. Everyone knew his distinguishing feature Was being despised as a real TEAMLEECHER!
Etymology: TEAM+LEECH= TEAMLEECHER.....TEAM: a number of naively idealistic persons associated together in work or activity, a matched group of employees or other animals for exhibition; Middle English teme, from Old English tēam offspring, lineage, group of draft animals; akin to Old High German zoum rein, Old English tēon to draw, pull.....LEECH: a hanger-on who seeks advantage or gain, any of numerous carnivorous or bloodsucking freshwater worms that have typically a segmented body with a sucker at each end; Middle English leche, from Old English lǣce; akin to Old High German lāhhi physician.
Points: 1574