Verboticism: Stickyddiction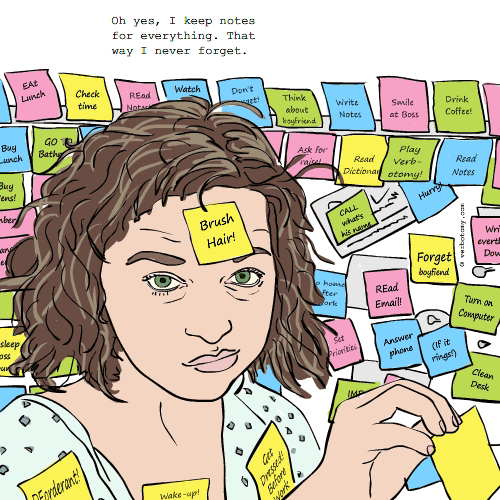 DEFINITION: v., to post sticky notes all over the place, including sticky notes to remind you to read the previously posted sticky notes. n., an obsessive compulsive dependency on sticky notes.
Stickyddiction
Created by: artr
Pronunciation: stikēdik sh ən
Sentence: Brenda has a serious stickyddiction. Whatever inane little thought pops into her addlepated mind gets jotted down on a Post-it and stuck to the fridge. There are so many now that there is no surface of the ice box visible. Brenda doesn*t know how many layers deep they go but last week the weight of these little papers sheered off the hinge of the refrigerator door. After a short panic attack and a few deep breaths Brenda duct taped the door back in place and has taken to eating only dry cereal and stuff out of her freezer. Her friends are considering an intervention.
Etymology: sticky note (a piece of stationery with a re-adherable strip of adhesive on the back, designed for temporarily attaching notes to documents and to other surfaces: walls, desks) + addiction (the fact or condition of being addicted to a particular substance, thing, or activity)
Points: 596