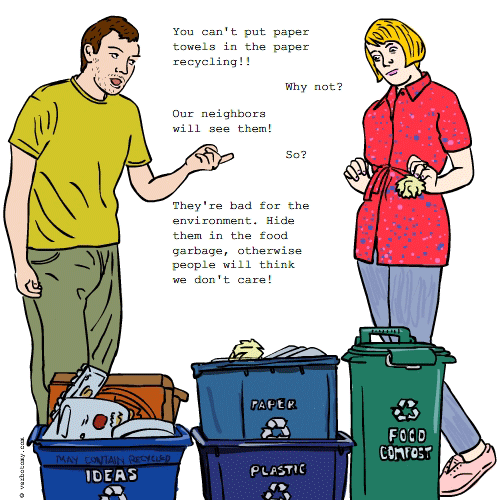 DEFINITION: n. Anxiety created by an inability to understand or follow the regulations for recycling, composting and garbage collection. v. To feel confused and conflicted because you produce too much garbage and don't know how to get rid of it.
Illitteracy
Pronunciation: il lit ter as see
Sentence: Betty & Bob both suffered from illitteracy. They still could not figure out what was recyclable, compostable or just plain trash. They even tried joining Waste Watchers. This confusion was further added to by their garbage collectors, who were moody jokers. Sometimes they would take away the stuff, sometimes not. After all Bob & Betty's efforts and research on the Web about environmental responsibility, imagine their surprise if they found out that their town just dumped it all in the same landfill anyway!
Etymology: Ill (sick from; distressing; a cause for complaining ) & Iliteracy (an inability to read;ignorance resulting from not reading) & Litter (garbage, refuse, trash, especially that left in public places)
Points: 539