Verboticism: Postittrauma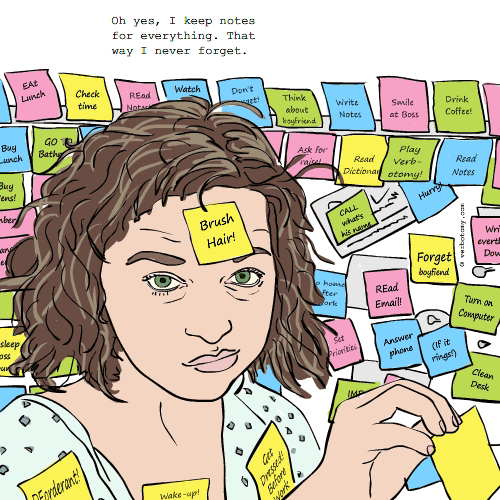 DEFINITION: v., to post sticky notes all over the place, including sticky notes to remind you to read the previously posted sticky notes. n., an obsessive compulsive dependency on sticky notes.
Postittrauma
Pronunciation: post it trau ma
Sentence: Polly is in a home for people suffering from stress disorders. She used to be a very highly organized administrative assistant to an important executive. She kept his life organized by writing poti-it notes for him and herself, so that nothing was ever forgotten or overlooked. When Polly was laid off after her boss retired, she continued writing post-it notes and leaving them all over the house. She rarely went out and was eventually diagnosed with Postittrauma. If you want to help Polly and others like her who suffer from Postittrauma Stress Disorder, please send money. You might want to write yourself a post-it note to remember to make a donation...THANK YOU!
Etymology: Post it (Brand name of sticky notes) & Trauma (an emotional wound or shock often having long-lasting effects)
Points: 572