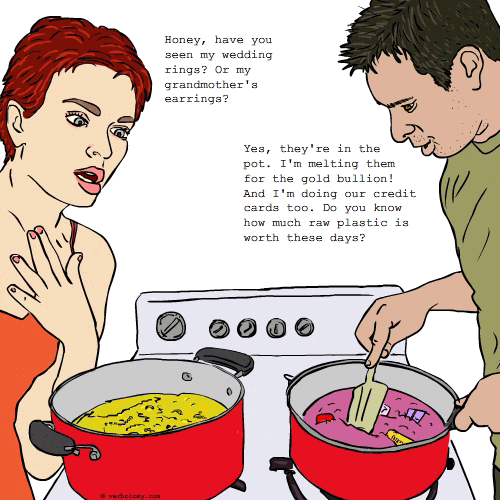 DEFINITION: n. The desire to convert items with sentimental value, like antique hand-crafted jewelery, back into the raw material, like gold bullion, to access its commercial value. v. To cash in something with sentimental value.
Smeltiment
Pronunciation: smel tim ent
Sentence: Roy surptised Rachel by throwing all her inherited jewellery into a pot on the stove to extract the precious metals. His smeltiment towards her prized antiques quickly turned to confusion. Seems they made fakes in the old days, too and she ended up with a sentimelted blob in her good cooking pots and nothing to remember Grandma by...Roy turned out to be an alchemissed.
Etymology: Smelt (extract metals by heating) & Sentiment (tender, romantic, or nostalgic feeling or emotion)
Points: 1427