Vote for the best verboticism.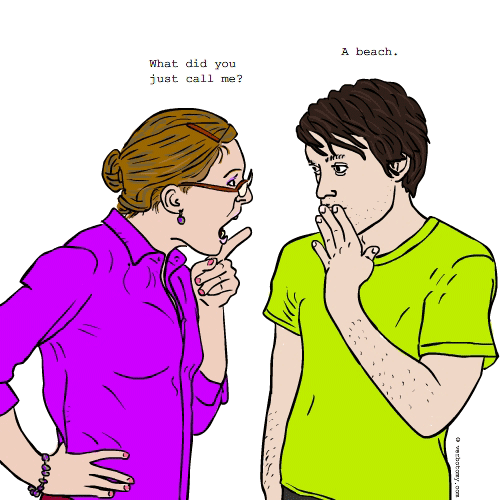 DEFINITION: v. To use alternative "code words" instead of proper cuss words, in an effort to satisfy people offended by such vulgarisms. n. A word used as a replacement for an obscene or profane expletive.
Verboticisms
Click on each verboticism to read the sentences created by the Verbotomy writers, and to see your voting options...
You have two votes. Click on the words to read the details, then vote your favorite.
Created by: Ismelstar
Pronunciation: [yoo-efuh-miz-uhm]
Sentence: Pristine, soft-spoken and mild, the limits of Molly Mormon's patience had finally expired after Danny overturned a perfume bottle under her desk. "Oh my Heck!" she blurted unable to stop the youeffemisms tumbling out of her mouth. "You little Ess. Just get the Eff out of my class!"
Etymology: A play with the imperative forms of bowdlerized swear words, (which generally are used by naming only the first letter of the offending curse) which sounds like 'euphemism', the substitution of a mild, indirect, or vague expression for one thought to be offensive or harsh.
Created by: Nosila
Pronunciation: kur sor ree
Sentence: Simon ended up using cursorry words when he was vexed. Thus was because he could no longer afford to feed the office's swear jar.
Etymology: Curse (swear;profanity) & Sorry (rue;regret;expressing sorrow)and Wordplay on Cursory (hasty and without attention to detail; not thorough)
Created by: Nosila
Pronunciation: fo kuss
Sentence: Dr.Seemore Glasses was an optometrist and normally a man of vision. Born a Presbyopic, he'd rather ride the cataracts than attend Church or Temple. He was short-sighted in one aspect: he was afraid to make a spectacle of himself in front of his clients. Although it sounded cornea, he hated to swear in front of them. He would tell them he needed to fauxcuss, when they did or said something stupid. One fellow kept making an astigmatism of himself, so Dr. Seemore stopped seeing him, before their macular degenerated anymore. Through his contacts, the doctor also teaches at the university and lens his experience to the newbies. Unfortunately, the boring nature of eye topics often made his pupils dilate. One day he fauxcussed on his lovely assistant, Iris,who he claimed was untidy, blind to messes and kept their office like a sty. She in turn accused Dr. Seemore of ogling her. Although it later turned out that she was bipolarized and also binocular, she pressed charges. As the police led away the good Dr.Seemore, he was heard to yell, "I've been framed!"
Etymology: Faux (not genuine or real; being an imitation of the genuine article) & Cuss (profane or obscene expression usually of surprise or anger;utter obscenities or profanities)
----------------------------
COMMENTS:
Good word! - Mustang, 2008-05-08: 07:45:00
best word this month!! - galwaywegian, 2008-05-08: 12:13:00
The story alone is worth a vote! - pieceof314, 2008-05-08: 14:05:00
wow - so many good words today - Jabberwocky, 2008-05-08: 14:22:00
Spot on - Love it! - Tigger, 2008-05-08: 18:59:00
Excellent. - OZZIEBOB, 2008-05-08: 19:35:00
My fave - arrrteest, 2008-05-08: 22:39:00
I'd like to thank the members of the Academy...Cheers All! - Nosila, 2008-05-08: 23:09:00
----------------------------
Created by: Tigger
Pronunciation: (like 'placebo') /pluh-SEE-bohth/
Sentence: Sandra, a mother of three children and a former radio DJ, had trained herself never to swear, but she would often use placeboaths in place of profanity. So, when she yelled at Bobby, "Cheese and Crackers!! Get your gosh darn feet off the coffee table and stop acting like a fudging sugarhead!" nobody thought it was unusual. After all, Bobby really had been acting like a sugarhead.
Etymology: Placebo - a medication prescribed more for the mental relief of the patient than for its actual effect (Latin, placebo "I shall please") + Oath - any profane expression; curse; swearword (from Middle English, ooth "swear" [to a god or diety])
----------------------------
COMMENTS:
an elegant creation, I must say - stache, 2008-05-08: 08:22:00
very nice - Jabberwocky, 2008-05-08: 14:21:00
Terrific! - OZZIEBOB, 2008-05-08: 19:37:00
----------------------------
Created by: artr
Pronunciation: soōdōfanətē
Sentence: Billy is sensitive to co-workers who don't care for cussing. He is very good at the use of the pseudofanity. He curses like a sailor with all the expletives replaced with substitutes. He can be such a mother fudger.
Etymology: pseudo (not genuine; sham) + profanity (blasphemous or obscene language)
Created by: Mustang
Pronunciation: al-LUDE
Sentence: Carson has a quick and clever wit and a bit of a dirty mind and will often use 'substitute' words that are intended to allewd to something raunchy.
Etymology: Play on the words 'allude' and 'lewd'... to refer to something indirectly with couched obscenity
Created by: mrskellyscl
Pronunciation: ex-pleh-toot
Sentence: Mommy often had to expletute words around the baby, who was beginning to show an uncanny ability to imitate her speech patterns, especially when she was having a discussion with daddy about golf.
Etymology: expletive: vulgar or coarse word to express emotion + substitute: a replacement
Created by: mweinmann
Pronunciation: kus - wop - pur
Sentence: Joel had become an adept cusswapper. After years of practice he was able to speak expletively no matter what the situation and no one could really be certain that he was violating acceptable social practices. He used many common everday words as cusswappers; getting his point across quite well without really swearing.
Etymology: cuss, swap, swapper
----------------------------
COMMENTS:
from a cusswopper to a cusswapper! - Nosila, 2009-06-22: 18:15:00
----------------------------
Created by: TJayzz
Pronunciation: bloo-pur-poo-pur
Sentence: Those blooperpoopers really annoy me . Only the other day I heard a woman say she had got in a right mucking fuddle, it took me ages to realise what she meant.
Etymology: Blooper(something that should not have been said)Pooper(To ruin, spoil)
Created by: stache
Pronunciation: sŭb'tər-fēm'
Sentence: "GOT DANDRUFF, SOMEOFITITCHES!" Grandpa shouted his well-known subterpheme, as he bonked his thumb with the ball-peen hammer for the third time.
Etymology: 'sub,' short for underwater marine vessel, also used to describe an oversized sandwich served on long bread; 'terph,' alt. of turf, locale where one finds one's homies; 'eme,' collapsed form of e-me, avatar used as an on-line representation of oneself.