Vote for the best verboticism.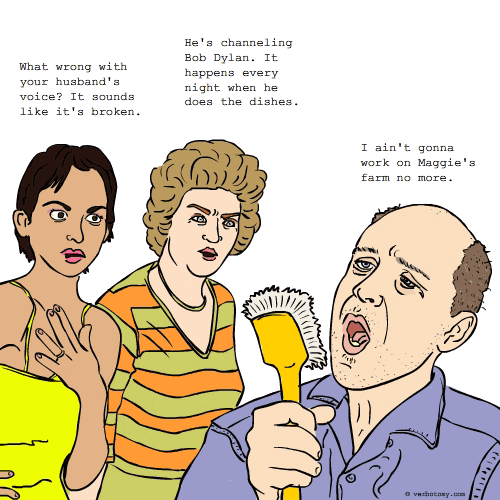 DEFINITION: n. A person who adopts the stylings, mannerisms and even of the personality of their favorite rock, movie or television star. v. To derive your identity from someone else, especially a famous person.
Verboticisms
Click on each verboticism to read the sentences created by the Verbotomy writers, and to see your voting options...
You have two votes. Click on the words to read the details, then vote your favorite.
Created by: abrakadeborah
Pronunciation: fake-er-ree-rock-er
Sentence: Al emunlates Bob Dylan with his fakeryrocker renditions,singing into a kitchen scrub brush used as a mic.
Etymology: Fakery: One that is not authentic or genuine; a sham, to contrive and present as genuine; counterfeit,to simulate; feign as in music To improvise. Rocker: A rock musician ~
----------------------------
COMMENTS:
There's more bugs in here than in my back yard with adding twitter...it ONLY took my link and not my sentence? What's up with that? It usually accepts sentences...instead it locked up & only took the code...this has been FUN this week though thx JAMES~ - abrakadeborah, 2009-05-06: 07:04:00
good word - Nosila, 2009-05-06: 23:21:00
Thank you VERY much Nosila!!!! - abrakadeborah, 2009-05-10: 06:37:00
----------------------------
Created by: Jabberwocky
Pronunciation: em/yu/tu/late
Sentence: Bob changed his name to Bono and now talks with an Irish accent as he desperately tries to emutwolate his favoutite rock star. He's even started wearing those clunky spongy shoes to make himself look taller.
Etymology: emulate + U2
Created by: mrskellyscl
Pronunciation: em-u-tate
Sentence: Randy loved to do Elvis so much that he emutated one night after supper. He quit his job at Maggies farm, dyed his hair black, and spent the rest of his days in Vegas wearing a white rhinestone suit, sunglasses and eating fried peanut butter sandwiches. After he was found face down in his shag carpet at Spaceland, his tombsone was engraved with the words, "Thank you, thank you very much."
Etymology: emulate: strive to be equal or better by reproducing someone's mannerisms and/or looks + mutate: become different in essence, lose one's identity
----------------------------
COMMENTS:
Quite clever...Webster material! - jasjamson, 2009-05-08: 02:03:00
----------------------------
Created by: hyperborean
Pronunciation: trans-glam-ur-frehn-ee-uh
Sentence: His transglamorphrenia made him think he was deceiving others into believing he was Diana Ross. He pulled it off fairly well considering he weighed three hundred pounds and lived in a homeless shelter for men.
Etymology: trans (change, transfer, as in transvestite) + glamor (an air of compelling charm, romance, and excitement) + phrenia (mental disorder, as in schizophrenia)
----------------------------
COMMENTS:
funny sentence - Jabberwocky, 2009-05-06: 13:25:00
----------------------------
Created by: mweinmann
Pronunciation: mok + st + r
Sentence: Jeffrey grew up dreaming that he would become famous singing the songs that he wrote, travelling the world with screaming fans following him. Instead, he became a mockstar, singing songs written by others in their voices with only about 15 fans following him.
Etymology: mock, rock, star
----------------------------
COMMENTS:
like it - galwaywegian, 2009-05-06: 09:39:00
funny - Jabberwocky, 2009-05-06: 13:25:00
Simple, succint, efficient. - dochanne, 2009-05-06: 19:05:00
good word! - splendiction, 2009-05-06: 23:05:00
----------------------------
Created by: jasjamson
Pronunciation: Sa lebi cat
Sentence: After a few drinks she's quite the celebycat at the nearest karoke bar.
Etymology: Celebrity + copycat used as a noun to describe this unique individual
Created by: merfinity
Pronunciation: Gelt me niac
Sentence: If Oscar Wilde were to be alive today, this is how he would have used the word probably... "Geltmaniacs are a delight to come across, they bring along everything worthy of imitation without having the whims and fancies of a star"
Etymology: Gelt- (Geltung German ) the desire to be important, famous etc. maniac (maniakos Greek, maniacus Latin) a person who has a great craving or enthusiasm for something
Created by: galwaywegian
Pronunciation: zim purr sun ayt
Sentence: His Zimmpersonation was convincing for the most part, unless he had sinusitis or beans
Etymology: Zimmerman, impersonate
----------------------------
COMMENTS:
another Dylan reference - you get a vote from me - Jabberwocky, 2009-05-06: 13:19:00
brilliant! - mrskellyscl, 2009-05-06: 18:56:00
Zimmortal word! - Nosila, 2009-05-06: 23:23:00
----------------------------
Created by: emdeejay
Pronunciation: mike airy us
Sentence: "When the Jester sang for the King and Queen in a coat he borrowed from James Dean" he was probably not being micarious, but my attempts to channel Don certainly are. Alas, they're almost bad enough to deserve an (American) Pie in my face...
Etymology: Mic(rophone): used to amplify the voices of performers, both good and bad. Vicarious: To take the place of or imitate another, to feel what's it's like to be them.
----------------------------
COMMENTS:
Dressing up for the part made him microbial as well? - Mustang, 2009-05-06: 06:33:00
:-) I just love all the Dylan references in American Pie ... - emdeejay, 2009-05-06: 23:08:00
----------------------------
Created by: BeauKnows
Pronunciation: Lil-Wayn-Ker
Sentence: Dave struggling through a midlife crisis, did not buy a Corvette. He decided to unleash is inner rapper. When the auto tune craze hit he was unstoppable. He was so obsessed, he even got a tear drop tattoo. He became a lilwaynker.
Etymology: Lilwayn (the rapper) Wanker (pejorative term of English origin)