Vote for the best verboticism.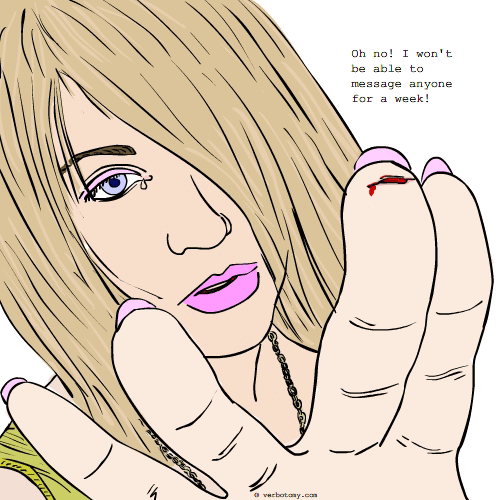 DEFINITION: n., A pesky but persistently painful, and seemingly incurable paper cut, which simply refuses to heal. n. To cut or injure a "high use" body part, like a fingertip, knuckle or tongue.
Verboticisms
Click on each verboticism to read the sentences created by the Verbotomy writers, and to see your voting options...
You have two votes. Click on the words to read the details, then vote your favorite.
Created by: MashedSalad
Pronunciation:
Sentence: I bet you love Vecktomizing don't you?
Etymology: When Someone Vecktomizes you you are kissed with lots of love and tongs!!!
Created by: Mustang
Pronunciation: TRAW - muh - lin - ger
Sentence: The long lasting small cut on the tip of her finger made ordinary tasks like typing, text messaging,etc very painful, and Shasta was beginning to think the traumalinger was going to be permanent.
Etymology: Blend of the words 'trauma' (injury) and 'linger' (To persist)
Created by: bookowl
Pronunciation: stab/in/a/bill/i/tee
Sentence: He was unable to shuffle cards at the casino due to his stabinability.
Etymology: stab + inability + stability
Created by: remistram
Pronunciation: in-kyoor-uh-kut
Sentence: Her blackberry looked like she bludgeoned someone with it, but it was just her incuracut acting up again.
Etymology: incurable + cut
----------------------------
COMMENTS:
Good word! - OZZIEBOB, 2007-10-03: 18:33:00
----------------------------
Created by: rikboyee
Pronunciation: ee-turn-her-tee
Sentence: every time he cut up a lemon he felt a stinging sensation in his eternhurty
Etymology: eternity, hurt
----------------------------
COMMENTS:
heh - galwaywegian, 2008-09-03: 06:31:00
fantastic - Jabberwocky, 2008-09-03: 12:18:00
----------------------------
Created by: AlouattaPigra
Pronunciation: Ehv ver Crew Shul Ihm Myu Tih Lus
Sentence: "Ouch!!" Zjanhatae hissed to herself. She had badly abraised the naked palm of her hand and it had already begun to bleed. "Awe sourmuzzles- This here old evercrucialimutilus just aint never 'gonna heal up quite right."
Etymology: Ever - From Forever + Crucial - Important + Limu - Protogermanic meaning branch + Mutilus - Latin for maimed
Created by: artr
Pronunciation: aksidənt
Sentence: John was fed up with the tree that dropped staining red berries on his new white car so he decided to chop it down. His lack of experience with tools and innate ineptitude left him with an axident in his forehead.
Etymology: ax (a tool typically used for chopping wood, usually a steel blade attached at a right angle to a wooden handle) + accident (an unfortunate incident that happens unexpectedly and unintentionally, typically resulting in damage or injury) + dent (a slight hollow in a hard, even surface made by a blow or by the exertion of pressure)
Created by: galwaywegian
Pronunciation: minn eee maym
Sentence: Her injury was a minimaim (measuring less than 5mm. Any smaller and it would have been classed a micromaim. she hadn't had one of those since her last mouth ulcer.
Etymology: minimum, maim.
----------------------------
COMMENTS:
Good one! - Scrumpy, 2007-10-03: 15:05:00
Good word! - OZZIEBOB, 2007-10-03: 18:30:00
----------------------------
Created by: ErWenn
Pronunciation: /ˌʌnˈskæbəbḷ/
Sentence: As a compulsive scab-picker, Joseph found his unscabable wound annoying for more than one reason.
Etymology: un + scab + able, as in unable to be scabbed over
----------------------------
COMMENTS:
gruesome, but good. - galwaywegian, 2007-10-03: 06:18:00
You're on a roll ErWenn! - Scrumpy, 2007-10-03: 15:03:00
Powerful, earthy, teutonic and meaningful! - OZZIEBOB, 2007-10-03: 18:31:00
----------------------------
Created by: artr
Pronunciation: dij-i-stey-shuhn-ouee
Sentence: Sharon works for a company that prints personalized writing paper. Handling paper all day long as she does, it is very common for her to have a digistationowie. She's in a "Catch 22" dilemma. She would love to see the world go paperless to save her fingers but that would put her out of the job she was hoping to retire from.
Etymology: digit (a finger or toe) + stationery (writing paper) + ow (an expression of sudden pain; owie: a cut , scratch or burn that causes that pain)