Vote for the best verboticism.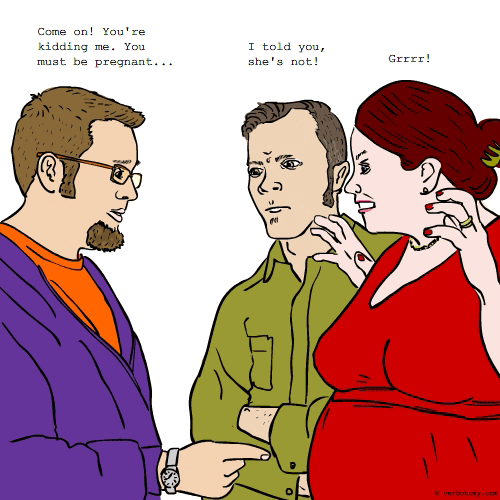 DEFINITION: v., To enthusiastically congratulate a woman on her pending motherhood, only to be told that you are mistaken. n., The dashed expectations and pregnant silence that follows mistaken congratulations.
Verboticisms
Click on each verboticism to read the sentences created by the Verbotomy writers, and to see your voting options...
You have two votes. Click on the words to read the details, then vote your favorite.
Created by: Niktionary
Pronunciation: em-bare-a-sad-soom
Sentence: "Dude, where did you get that shiner?" "I was at Taco Bell and the woman before me ordered two dinners and....." "Man! I told you you were gonna decked if you kept embarazadsuming." "I know, I know."
Etymology: embarazada- Spanish word for pregnant+ embarresed+ assume
Created by: galwaywegian
Pronunciation: fat err ring
Sentence: if he had fathere half as many children as he had faterred, he could have had his own republiv
Etymology: fat erring, fathering
Created by: Mustang
Pronunciation: Foe - ponch
Sentence: Royston made a serious fauxpaunch when he mistook the bosses wifes recent weight gain for pregnancy.
Etymology: Faux = false, Paunch = protuding belly.....a play on 'faux pas'
----------------------------
COMMENTS:
great word - Jabberwocky, 2007-12-13: 14:17:00
----------------------------
Created by: kingdio
Pronunciation:
Sentence: Mark's falsefestiprego led him to serious hurt when the non-pregnant mammoth of a woman sat on him.
Etymology:
Created by: zxvasdf
Pronunciation: Blimp ms taken
Sentence: Blimpstaken for the fifth time today, Tom pondered why circumstances, (he preferred to accuse Lady Destiny) thrust him towards lactating females who were not in fact lactating. He then wondered if his constant blimpstakes was his psyche trying to tell him something... he looked at his wife, shuddered, and turned over. Thank God for birth control! The next morning his wife was to exclaim that she was pregnant, and when confronted by an agonized Tom she admitted she had been off the pill for months, that she was tired of people coming up to her with congratulations for an non-existent pregnancy. "To say 'yes, thank you very much' for once, Tom! How wonderful that would make me feel!"
Etymology: Blimp (bloated) & mistaken (in error)
----------------------------
COMMENTS:
poor baby!! - Jabberwocky, 2008-11-04: 13:01:00
Inspired ! Bravo! - metrohumanx, 2008-11-06: 23:49:00
----------------------------
Created by: Stevenson0
Pronunciation: i/mak/yuh/liti/mak/yuh/lit
Sentence: When Joe innocently and mistakingly mistook twenty extra pounds on the wife of his boss and congratulated her for "the baby on the way", it was truly an immaculatemisconception.
Etymology: IMMACULATE (blameless) + MISCONCEPTION (A mistaken thought, idea, or notion; a misunderstanding)
----------------------------
COMMENTS:
Love it. - lumina, 2008-11-04: 01:33:00
.....and a lesson for us all. Good work,Steverino! - metrohumanx, 2008-11-04: 09:09:00
nice - galwaywegian, 2008-11-04: 09:22:00
Good one. - OZZIEBOB, 2008-11-05: 15:56:00
----------------------------
Created by: Nosila
Pronunciation: ob stet rik all
Sentence: Wearing a flowing Kaftan coupled with her recent surgery, Jim's beer-addled brain thought his boss Fred's wife Kathy looked very pregnant. When he commented on their new addition, by saying all deliveries were to go to the rear of the building, he realized that it was an obstetrickall illusion. After she slapped him, at the Labor Day barbeque, he realized he was a victim of suggestation. Soon-to-be unemployed dunce that he was, he further joked in his Miss Prissy accent, "I don't know nothin' about babyin', Miss Scarlett!" This started a fight in which he became embryoled in a breech of the law. His confinement in the county jail should end soon, in about 9 months.
Etymology: obstetrics (dealing with childbirth and motherhood) & trick (deceive somebody ) & all (everyone)
----------------------------
COMMENTS:
Another classic! - metrohumanx, 2008-11-04: 09:03:00
very funny - Jabberwocky, 2008-11-04: 13:03:00
Terrific - OZZIEBOB, 2008-11-06: 17:28:00
----------------------------
Created by: MrDave2176
Pronunciation: fee-tal-ERR-or
Sentence: Mark knew he had made a fetalerror at the party when he congratulated Karen on her pregnancy. Karen coldly informed him that the celebration was for having lost five pounds that month with her Weight Watcher's group.
Etymology: Fatal error + Fetal
Created by: Mustang
Pronunciation: fawls-ex-peck-TAY-shun
Sentence: Bradley made a huge faux pas with his falsexpectation comment to his boss's wife, Bernadette, about her 'pregnancy' when in fact she had gained some unwanted pounds and inches since the last time she had been seen by the office staff.
Etymology: Blend of false and expectation, with 'expectation' alluding to the condition of pregnancy.
Created by: purpleartichokes
Pronunciation: kun-fa-chu-late
Sentence: Not knowing that she was in her third trimester of eating lunch at Burger King, Bob confatulated Sue on what appeared to be evidence of her pending motherhood.
Etymology: congratulate, fat
----------------------------
COMMENTS:
This one is spot on! Hard to top. - Redrover, 2007-12-13: 08:54:00
Good word! - OZZIEBOB, 2007-12-13: 16:12:00
----------------------------