Vote for the best verboticism.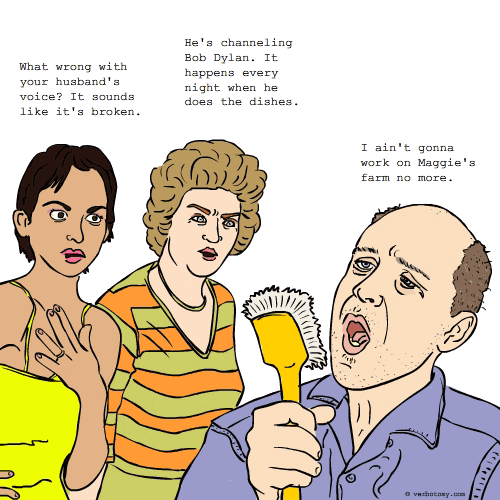 DEFINITION: n. A person who adopts the stylings, mannerisms and even of the personality of their favorite rock, movie or television star. v. To derive your identity from someone else, especially a famous person.
Verboticisms
Click on each verboticism to read the sentences created by the Verbotomy writers, and to see your voting options...
You have two votes. Click on the words to read the details, then vote your favorite.
Created by: dochanne
Pronunciation: Sell-effigy
Sentence: Michaela couldn't help herself, her identimitation was complete and when she stepped out she was a fabulous and flirtatious Marylin staricature, all blonde curls and buxom bosom. Her idolity extended to feigning an isolating fame but her reputation was cast as the most extravagant and talented celeffigy in town.
Etymology: Celebrity - a person known throughout the world for something other than their talent; Effigy - copy or representation, usually of a famous, infamous or otherwise "known" personage.
----------------------------
COMMENTS:
With identimitation as Identity and Imitation and reminiscent of identification as why people admire their idols. Staricature - Star and caricature, obvious really, and idolity as Idol and Identity blended because that's what she does.. - dochanne, 2009-05-06: 03:17:00
Iconic :-) - emdeejay, 2009-05-06: 03:23:00
nice - Jabberwocky, 2009-05-06: 13:23:00
----------------------------
Created by: Mustang
Pronunciation: all-ter-E-go-tist
Sentence: Sheldon was a shameless alteregotist, truly believing if he could do reasonable impressions of famous entertainers he could adopt their persona and their popularity.
Etymology: Play on the term alter ego.
----------------------------
COMMENTS:
An alter ego toast! - emdeejay, 2009-05-06: 03:13:00
nice - galwaywegian, 2009-05-06: 09:39:00
great combo - Jabberwocky, 2009-05-06: 13:20:00
----------------------------
Created by: artr
Pronunciation: imparisənātər
Sentence: Betty lives her life as an imparisonator. She thinks she looks (and acts) just like Paris Hilton. The fact that she is 5ft-3 and 200 pounds make the parody hard to believe. The fact that she has little talent, has spent time in jail and can't sing very well does makes it easier. Her friends are concerned for the safety of pet Labrador when she dresses it up and tries to carry it around in her purse.
Etymology: impersonator (pretend to be (another person) as entertainment or in order to deceive someone) + Paris (Paris Whitney Hilton is an American socialite, celebutante, heiress, model, media personality, singer and actress.)
Created by: hyperborean
Pronunciation: trans-glam-ur-frehn-ee-uh
Sentence: His transglamorphrenia made him think he was deceiving others into believing he was Diana Ross. He pulled it off fairly well considering he weighed three hundred pounds and lived in a homeless shelter for men.
Etymology: trans (change, transfer, as in transvestite) + glamor (an air of compelling charm, romance, and excitement) + phrenia (mental disorder, as in schizophrenia)
----------------------------
COMMENTS:
funny sentence - Jabberwocky, 2009-05-06: 13:25:00
----------------------------
Created by: mrskellyscl
Pronunciation: em-u-tate
Sentence: Randy loved to do Elvis so much that he emutated one night after supper. He quit his job at Maggies farm, dyed his hair black, and spent the rest of his days in Vegas wearing a white rhinestone suit, sunglasses and eating fried peanut butter sandwiches. After he was found face down in his shag carpet at Spaceland, his tombsone was engraved with the words, "Thank you, thank you very much."
Etymology: emulate: strive to be equal or better by reproducing someone's mannerisms and/or looks + mutate: become different in essence, lose one's identity
----------------------------
COMMENTS:
Quite clever...Webster material! - jasjamson, 2009-05-08: 02:03:00
----------------------------
Created by: Mustang
Pronunciation: el-vus-AY-ter
Sentence: Rancid is a rabid fan of Elvis and often launches into his elvisator persona wherein he loses himself.
Etymology: Use of the name of Elvis + suffix 'ator'....one who acts.
Created by: splendiction
Pronunciation: im per FORM er ate
Sentence: Bob first began imperformerating while showering; but then his imperformances became less private - like when he did the dishes. The imperformances had many imperfections and embarrassed his family. Nevertheless, Bob loyally took on more and more of his favourite star's qualities.
Etymology: From impersonate and performer.
Created by: DrWebsterIII
Pronunciation: drag-zil-a-mim-ik
Sentence: Everyday before Earl got home from work, Doralee would dragzillamimic Tammy Wynette, and the likes of her colleagues, trying not do do them any injustice. Singing into her frying pan, what little life was left in it, and her sanity.
Etymology: dragzilla + mimic
Created by: emdeejay
Pronunciation: mike airy us
Sentence: "When the Jester sang for the King and Queen in a coat he borrowed from James Dean" he was probably not being micarious, but my attempts to channel Don certainly are. Alas, they're almost bad enough to deserve an (American) Pie in my face...
Etymology: Mic(rophone): used to amplify the voices of performers, both good and bad. Vicarious: To take the place of or imitate another, to feel what's it's like to be them.
----------------------------
COMMENTS:
Dressing up for the part made him microbial as well? - Mustang, 2009-05-06: 06:33:00
:-) I just love all the Dylan references in American Pie ... - emdeejay, 2009-05-06: 23:08:00
----------------------------
Created by: ankur
Pronunciation: may-rocks-o-celeb
Sentence: See that guy over there doing the moonwalk?he's been a Michael Jackson meroxoceleb since he saw the "thriller" video...
Etymology: me = the person who is impersonating the start. Xerox = co. name or the popular word used for photocopies. o = of. celeb = celebrity.