Vote for the best verboticism.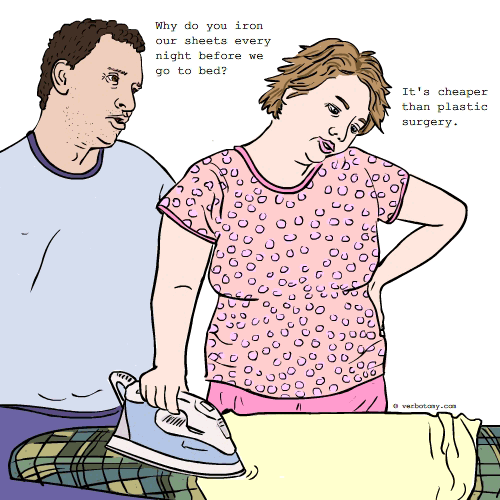 DEFINITION: n., The deep red lines and/or furrows, which appear on a person's face after they have slept on wrinkled or creased bed sheets. v., To wake up and discover that your face matches your wrinkled bed sheets.
Verboticisms
Click on each verboticism to read the sentences created by the Verbotomy writers, and to see your voting options...
You have two votes. Click on the words to read the details, then vote your favorite.
Created by: ErWenn
Pronunciation: /ˌpɪloʊˈfeɪs/
Sentence: Pillowface is much worse when your pillow is something other than an actual pillow, such as a spiral notebook, a keyboard, or a steering wheel.
Etymology: From pillow + face. Sounds a little like "pillowcase".
Created by: Nuwanda
Pronunciation: sleep-creese
Sentence: Kristie came to college wary of the power of a mid-day nap. And well through her freshmen year, she tried to deny the deep snoozes she took before dinner. Her hypocrisy finally got the better of her friends, who started mocking her sleepcrease mercilessly when she showed up late for dinner and claimed she was studying.
Etymology: sleep + crease
Created by: petaj
Pronunciation: rev-ell-ee
Sentence: Dolores was very depressed having woken with a bad case of revalley. It wasn't quite as bad as when she enjoyed a mid-afternoon nap and woke with craquelaze, but she still felt it was time to throw out the mancreaster and buy some new sheets.
Etymology: reveille (bugle call to wake up military personnel fr. to wake up) + valley (depressions, channels, cracks on the landscape) (craquelure + crackle glaze + laze --> craquelaze) (manchester + crease --> mancreaster)
----------------------------
COMMENTS:
nice mixture - Jabberwocky, 2007-11-26: 13:23:00
----------------------------
Created by: Stevenson0
Pronunciation: ring/ki/dur/mis
Sentence: It takes at least four, or five hours after I wake up to overcome wrinkidermis suffered on creased pillow.
Etymology: wrinkle + epidermis
Created by: Mustang
Pronunciation: lin-IN-jery
Sentence: In spite of her concerted efforts to avoid the condition, Sheila continued to wake up every morning with a moderately severe lininjury from having slept with her face buried in the wrinkled sheets.
Etymology: Blend of 'linen' and 'injury'.
Created by: metrohumanx
Pronunciation: PROO-fuh-nodz
Sentence: "You can't sleep at the circulation desk !" screamed EvilPat at the bored, bleary-eyed library assistant. " I WASN"T sleeping !" he replied with the standard look of indignation. "But there are PROOFONODZ all over your face !" replied EvilPat, in her best administrative patois. Faced with such irrefutable evidence, the chastised library assistant crafted an appropriate sign for the desk: "PLEASE WAKE ATTENDANT FOR SERVICE".....and drifted off to sleep with a clear conscience.
Etymology: PROOF+(of)+NOD+(catch some) Zs= PROOFONODZ.....Proof: the cogency of evidence that compels acceptance by the mind of a truth or a fact,something that induces certainty or establishes validity;Middle English prof, prove, alteration of preve, from Anglo-French preove, from Late Latin proba, from Latin probare to prove....."O": tastless substitute for the word "OF", usually seen in pretentious advertising:(cup o soup,bac o bits,etc)....NOD:To fall asleep,to make a quick downward motion of the head (as from drowsiness);Middle English nodden; perhaps akin to Old High German hnotōn to shake.....Z: suffix brashly used to imply pluralization (in a tacky way)derived from the slang expression "catch some Zs"-meaning to sleep. Pretty farfetched combination, eh?
Created by: remistram
Pronunciation: sheet-hik-ee
Sentence: The sheethickeys on her face and the hickeys on her neck left from her boyfriend were reminders of a great time but prevented her from facing her co-workers the next day.
Etymology: sheet + hickey (red mark left on the skin)
Created by: mweinmann
Pronunciation: shh ruts
Sentence: Oh my God, my face is full of lines and ruts from my sheets. Oh shruts!!! All over my face.
Etymology: This word is formed from the combination of the word "sheets" as in bed sheets and "ruts" as in deep furrows or marks left by an object.
Created by: OZZIEBOB
Pronunciation: rip-van-WRING-kuhl
Sentence: After having forty winks which seemed like forty years to her, Roxie was horrified on waking to find her face ripvanwrinkled in a deep red phizgrid.
Etymology: Ripvanwrinkle: blend of wrinkle & Rip Van Winkle, an Irving Washington character who slept for 20 years. Phizgrid: Conflation of phiz: slang for face from physiognomy & grid: a network of crossing horizontal and vertical lines.
----------------------------
COMMENTS:
great minds and all that - that was the first word that sprang to my mind - so many good words today - Jabberwocky, 2007-11-26: 13:18:00
----------------------------
Created by: mplsbohemian
Pronunciation: NAP-map
Sentence: The only thing that told Alex of what happened the night before was the napmap embedded on his face--but when did the girl leave, and why did she leave that awful note in lipstick on the mirror?
Etymology: nap + map (the lines resembling a road map)
----------------------------
COMMENTS:
I seem to be way off my game lately... - mplsbohemian, 2007-11-26: 20:38:00
How intriguing - what was the awful note? - petaj, 2007-11-26: 22:33:00
----------------------------