Vote for the best verboticism.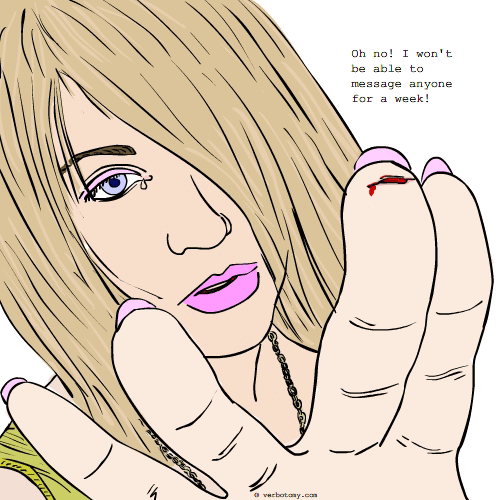 DEFINITION: n., A pesky but persistently painful, and seemingly incurable paper cut, which simply refuses to heal. n. To cut or injure a "high use" body part, like a fingertip, knuckle or tongue.
Verboticisms
Click on each verboticism to read the sentences created by the Verbotomy writers, and to see your voting options...
You have two votes. Click on the words to read the details, then vote your favorite.
Created by: rebelvin
Pronunciation: linger+finger+injury
Sentence: I tried to keep from shaking hands since somehow I had managed to lingerfingerinjure my right thumb.
Etymology: linger+finger+injury
Created by: frenchprof
Pronunciation:
Sentence:
Etymology:
Created by: wordslikevenom
Pronunciation: pap-nip
Sentence: James rolled his eyes as Henrietta stuck out her sore finger, rolling the skin tip backwards and forwards. The papnip's mouth opened and closed to her squeaky high-pitched ventriloquism, "Hello, James ... hello .... hello".
Etymology: Pap(er) - thin flat material which is made from crushed wood. Nip - to bite.
Created by: Mustang
Pronunciation: TRAW - muh - lin - ger
Sentence: The long lasting small cut on the tip of her finger made ordinary tasks like typing, text messaging,etc very painful, and Shasta was beginning to think the traumalinger was going to be permanent.
Etymology: Blend of the words 'trauma' (injury) and 'linger' (To persist)
Created by: metrohumanx
Pronunciation: MY-crow-BIRD-uhn
Sentence: Dr Desmond's waiting room was crowded with the usual assortment of whining hypochondriacs, industrial accident victims, bursting lacerations and a gentleman who lost a crowbar fight at the local pub. When Molly explained her MICROBURDEN to Desmond, he was strangely unsympathetic. Using a scanning electron microscope, the doctor finally located Molly's invisaffliction, and predictably prescribed Motrin and bedrest. Molly explained that her stinging woundlet was like a tiny little albatross that nagged her and made life intolerable, but Desmond inexplicably refused to administer morphine for such a piddling complaint. Molly would just have to face life with her MICROBURDEN, and use this ugly incident as a sentence to be savored on the website..."Verbotomy".
Etymology: MICRO+BURDEN=MICROBURDEN.....MICRO: prefix meaning tiny or trifling.....BURDEN: something oppressive or worrisome; Middle English, from Old English byrthen; akin to Old English beran to carry.....alternatatively: MYCROBURDEN
----------------------------
COMMENTS:
http://www.quackwatch.org/ - metrohumanx, 2008-09-03: 08:44:00
Yes- I know it's a bit on the simple side...but I was distracted by Molly's lavender lipstick and tiny tear. - metrohumanx, 2008-09-03: 09:08:00
----------------------------
Created by: Jabberwocky
Pronunciation: cut/stray/shun
Sentence: Sally felt deep cutstration whenever she tried to unpick the stitches she'd so cautiously sewn. Her part time job shelling shrimp (crustaceans) didn't help.
Etymology: cut + frustration + crustacean
----------------------------
COMMENTS:
Bring out your dead. - metrohumanx, 2008-09-03: 08:46:00
Cutstration is dangerously close to.....nevermind! It makes my toes curl up just to think of it. - metrohumanx, 2008-09-03: 08:54:00
Ouch! Interesting blend - OZZIEBOB, 2008-09-05: 01:47:00
----------------------------
Created by: OZZIEBOB
Pronunciation: nik-A-noy
Sentence: Friday, a file in the finger; Tuesday, a needle in the knuckle and, on Sunday, a graze on the glabella. Mishaps menaced Bob with monotony and nickannoys were second nature to him. Finally, worried that he would develop nickanoia, he told himself it was time to knock these needless, niggling nickannoyances on the head!
Etymology: Nick: a small cut & annoy; to irritate, esp in minor but continuing way.
----------------------------
COMMENTS:
nickanoia is great too - Jabberwocky, 2007-10-03: 09:49:00
Great sentence one again OZ! - Scrumpy, 2007-10-03: 15:06:00
----------------------------
Created by: vmalcolm
Pronunciation: /laɪfnɒt/
Sentence: I've got a lifenot in my right thumb... This lifenot doesn't seem to be healing... I can't eat with this lifenot in my tongue!
Etymology: LIFENOT - noun. From Life (time for which something exists or functions) + Not (negation, denial, refusal, or prohibition)
Created by: Mustang
Pronunciation: didj - uh - trauh - muh - lin - ger
Sentence: With the tiny cut on the tip of her index finger making ordinary tasks like typing, text messaging, and other tasks exceedingly painful, Melanie experienced major digitraumalinger over the weeks as the owie failed to heal due to the abuse.
Etymology: Blend of 'digit' (finger or toe), 'trauma' (any physical damage to the body), and 'linger' (to remain or stay on in a place longer than is usual or expected)
Created by: Scrumpy
Pronunciation: buhg-uh-boo-boo
Sentence: Ken was reminded of the bugabooboo on his finger when he attempted to fish some jalapenos out of a jar. This was the worst pain he had experienced since he had eaten a salty potato chip and irratated his lip ulcer.
Etymology: bugaboo (a recurring problem or situation) + boo-boo
----------------------------
COMMENTS:
she's crying in the cartoon so maybe it's a bugabooboohoo - Jabberwocky, 2007-10-03: 15:23:00
Clever and interesting! - OZZIEBOB, 2007-10-03: 18:27:00
----------------------------