Vote for the best verboticism.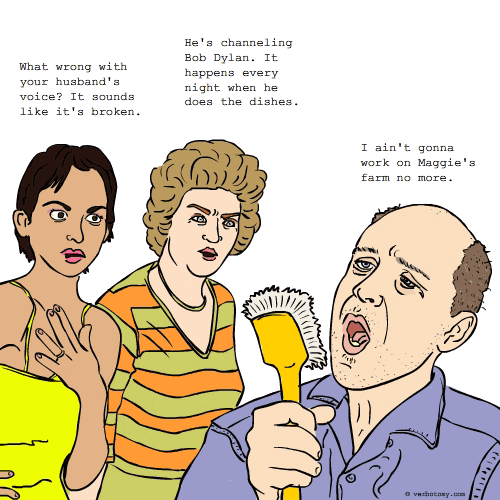 DEFINITION: n. A person who adopts the stylings, mannerisms and even of the personality of their favorite rock, movie or television star. v. To derive your identity from someone else, especially a famous person.
Verboticisms
Click on each verboticism to read the sentences created by the Verbotomy writers, and to see your voting options...
You have two votes. Click on the words to read the details, then vote your favorite.
Created by: BeauKnows
Pronunciation: Lil-Wayn-Ker
Sentence: Dave struggling through a midlife crisis, did not buy a Corvette. He decided to unleash is inner rapper. When the auto tune craze hit he was unstoppable. He was so obsessed, he even got a tear drop tattoo. He became a lilwaynker.
Etymology: Lilwayn (the rapper) Wanker (pejorative term of English origin)
Created by: Mustang
Pronunciation: all-ter-E-go-tist
Sentence: Sheldon was a shameless alteregotist, truly believing if he could do reasonable impressions of famous entertainers he could adopt their persona and their popularity.
Etymology: Play on the term alter ego.
----------------------------
COMMENTS:
An alter ego toast! - emdeejay, 2009-05-06: 03:13:00
nice - galwaywegian, 2009-05-06: 09:39:00
great combo - Jabberwocky, 2009-05-06: 13:20:00
----------------------------
Created by: Nosila
Pronunciation: yell eb ritee
Sentence: The smell of dishwashing liquid turned meek Ian into a yellebrity. Tonight he was Swab Dylan singing Like A Rollin Pin and Mr Tambourine Pan.
Etymology: Yell (a loud utterance; often in protest or opposition) & Celebrity (the state or quality of being widely honored and acclaimed)
----------------------------
COMMENTS:
well done! - splendiction, 2009-05-06: 23:05:00
----------------------------
Created by: artr
Pronunciation: rep-li-kroonr
Sentence: When Alvin is in the shower he seems to think he is the embodiment of Frank Sinatra. More than once the neighbors have called animal control on this replicrooner sure that he is abusing some poor defenseless animal.
Etymology: replica (any close or exact copy or reproduction) + crooner (singing or humming in a soft, soothing voice)
Created by: hyperborean
Pronunciation: trans-glam-ur-frehn-ee-uh
Sentence: His transglamorphrenia made him think he was deceiving others into believing he was Diana Ross. He pulled it off fairly well considering he weighed three hundred pounds and lived in a homeless shelter for men.
Etymology: trans (change, transfer, as in transvestite) + glamor (an air of compelling charm, romance, and excitement) + phrenia (mental disorder, as in schizophrenia)
----------------------------
COMMENTS:
funny sentence - Jabberwocky, 2009-05-06: 13:25:00
----------------------------
Created by: Nosila
Pronunciation: tim it ayt
Sentence: After watching all the Home Improvement series and the subsequent syndicated repeats every night, George tried to timitate his idol. He had a coffee cup at the hospital emergency room with his name on it and he tried to fix things around his home. His wife Julie only got really worried when Tim started making more movies and George came home dressed as Santa or Buzz Lightyear or Capt. Peter Quincy Taggart from Galaxy Quest. She warned him that he would really be the Last Man Standing if he didn't grow up and be himself...
Etymology: Tim (first name of actor Tim Allen) & Imitate (reproduce someone's behavior or looks)
Created by: jasjamson
Pronunciation: Sa lebi cat
Sentence: After a few drinks she's quite the celebycat at the nearest karoke bar.
Etymology: Celebrity + copycat used as a noun to describe this unique individual
Created by: bookowl
Pronunciation: mi/mik/jag/ur
Sentence: His love for the greatest rock band in the world was reason enough to mimickjagger.
Etymology: mimic + Mick Jagger
Created by: remistram
Pronunciation: purr-son-ay-list-al-ity
Sentence: Chad started to develop a personalistality based on his mancrush Brad Pitt. Of course he looked nothing like him. He also asked his girlfriend if they could adopt 3 children.
Etymology: personality + a-list (the beautiful people, elite, high society)
Created by: emdeejay
Pronunciation: mike airy us
Sentence: "When the Jester sang for the King and Queen in a coat he borrowed from James Dean" he was probably not being micarious, but my attempts to channel Don certainly are. Alas, they're almost bad enough to deserve an (American) Pie in my face...
Etymology: Mic(rophone): used to amplify the voices of performers, both good and bad. Vicarious: To take the place of or imitate another, to feel what's it's like to be them.
----------------------------
COMMENTS:
Dressing up for the part made him microbial as well? - Mustang, 2009-05-06: 06:33:00
:-) I just love all the Dylan references in American Pie ... - emdeejay, 2009-05-06: 23:08:00
----------------------------