Vote for the best verboticism.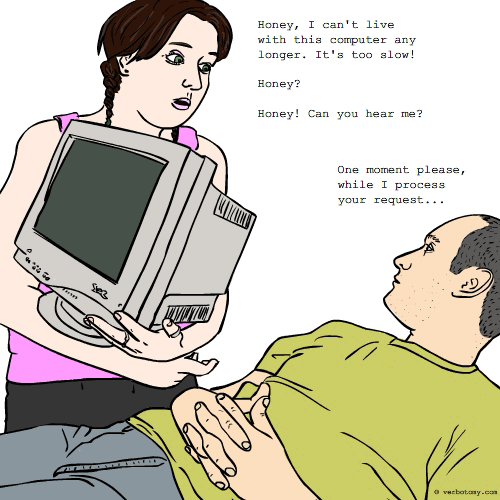 DEFINITION: n., A slow computer with insufficient memory; also, a slow-thinking husband. v., To take an extraordinarily long time to respond to a relatively simple request.
Verboticisms
Click on each verboticism to read the sentences created by the Verbotomy writers, and to see your voting options...
You have two votes. Click on the words to read the details, then vote your favorite.
Created by: OZZIEBOB
Pronunciation: sahy-ber-THAWL
Sentence: When Bob told Roxie that he thought telenetting was a good way to keep birds off their TV antenna, she quickly realized that her humdrum glacimate was a cyberthal, a few hubabytes short of the perfect partner.
Etymology: CYBERTHAL: blend of cyber - a common prefix coined foe electronic or computer-related concepts & the "thal" of NEANDERTHAL - fig. one unenlightened, slow, stupid. Glacimate; 2.(blend of glacier & mate) 3. Hubabyte (hubby & byte)
----------------------------
COMMENTS:
great word - Jabberwocky, 2008-01-07: 12:06:00
----------------------------
Created by: mrskellyscl
Pronunciation: mul-ti-task-a-day-sic-al
Sentence: Jim was completely multitaskadaisical around the house, so Sharon decided to tweak his processor. She cleaned out the cache from his memory bank and went shopping for a newer model, one that had a bigger hard drive and was more reponsive, preferably something that had style and would be able to go with her on trips or just out for coffee.
Etymology: multitask: concurrent operation of a central processor of two or more processes requiring a sufficient processor + lackadaisical: lazy, slow, idle
----------------------------
COMMENTS:
Multinificent word! - Nosila, 2010-04-04: 01:29:00
----------------------------
Created by: womblin3
Pronunciation: slowth-ram
Sentence: Her computer chugged along as though it ran on steam, much like her husband. She wondered how she'd come to allow two slothrams into her life such as these. Perhaps she was due an upgrade - on both counts.
Etymology: Slothram: sloth n. unwillingness to work or make any effort or n. slow mammal + ram n. adult male mammal and RAM (random access memory) n. a type of computer memory which can be searched in any order and changed as necessary
----------------------------
COMMENTS:
good word! - Nosila, 2010-04-04: 01:26:00
----------------------------
Created by: Tigger
Pronunciation: /dah-tuh-SAWR-uhs/
Sentence: Sarah complained to Jerry, again, that their computer was such a datasaurus, she could take a shower, do her hair and make-up, prepare breakfast, eat, and do the dishes, all before the 'darn thing' was finished booting up. Apparently, he was still plodcessing over that information, after several months of her complaints.
Etymology: data - information (Latin, plural of 'datum') + -saurus - suffix used in the names of extinct reptiles; e.g. brontosaurus (Greek, saûros "lizard")
Created by: artr
Pronunciation: dimwijit
Sentence: Joyce isn*t sure why but she still carries around her antique, dimwidget Palm Pilot. It*s slow to use, has few functions that she couldn*t achieve with a scrap of paper and it glitches out whenever she actually needs it to perform a function. When she complains to her dimwidget husband, his only suggestion is that she get new batteries. She just might replace both items soon.
Etymology: dimwit (a stupid or silly person) +widget (a small gadget or mechanical device)
Created by: Stevenson0
Pronunciation: com/pu/tard
Sentence: When an important report is due, my computer usually goes into computard mode, taking me hours longer to complete the assignment.
Etymology: computer + tardy
----------------------------
COMMENTS:
Nice word with the possibilty of cognates such as: computardity, computardiness, computardily etc. - OZZIEBOB, 2008-01-07: 18:10:00
Excellent word! - Mustang, 2008-01-07: 23:34:00
----------------------------
Created by: Jabberwocky
Pronunciation: laps/top
Sentence: This laspsetop is completely useless. Every time I move the mouse the screen saver comes on.
Etymology: laptop + lapse
----------------------------
COMMENTS:
I like it! - direwookiee, 2008-01-07: 09:37:00
Very good word! - OZZIEBOB, 2008-01-07: 18:02:00
----------------------------
Created by: CrayonWarrior
Pronunciation: Kom-pyu-derrh
Sentence: oh no. Lisa's compudurrh had crashed AGAIN. it would break at random times, and it drove her MAD.
Etymology: Computer. Durrh - sound made when mocking a stupid person
Created by: thegoatisbad
Pronunciation: com-pew-tile-dis-funk-shun
Sentence: It may happen to a lot of guys, but Kimberly refused to let ComputileDisfunction stand in her way of a satisfying online social life. "They get old and the spark just isn't there, where it counts, the memory data register." She said as she unpacked her newest computer; "This one will last about a year, I like 'em young." When asked about the prospect of using her new hardware to find a mate, the logic didn't compute: "This is why I don't have a husband. Who needs one?"
Etymology: computile (bend of computer + futile) + dysfunction (not working properly.) Play on "erectile dysfunction"
Created by: bosstown
Pronunciation:
Sentence: Linda stopped asking "Does this dress look alright"? after developing an intolerance for spousalpause.
Etymology: