Vote for the best verboticism.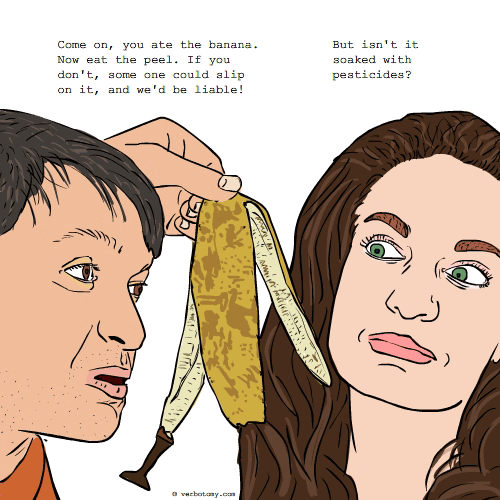 DEFINITION: n., The fear of eating the skins of fruits, vegetables, or small animals. v., To worry about saving one's skin while chewing on a rind, peel, or pelt.
Verboticisms
Click on each verboticism to read the sentences created by the Verbotomy writers, and to see your voting options...
You still have one vote left...
Created by: crispianity
Pronunciation:
Sentence:
Etymology:
Created by: aigle101
Pronunciation: fear-o-membrane
Sentence: noun;fear of any outer skin(membrane) whether refering to fruit ,vegetable or animal etc...;
Etymology: fear and membrane (outer skin or fur)
Created by: TJayzz
Pronunciation: Rev-ol-dur-miss
Sentence: Mary,s mum had always made her eat the skins of her baked potatoes even thogh she couldn't bear them as she found them dry and tasteless. Now that she had left home she no longer had to suffer revoldermis as she took great delight in leaving the skins on the side of her plate without having her mum breathing down her neck.
Etymology: Revolting + Dermis( the thick layer of skin below the epidermis) = Revoldermis
Created by: purpleartichokes
Pronunciation: skin-tim-id-ay-shun
Sentence: The potato looked great inside, but the skintimidation proved too much for him, and he moved on to the peas and carrots.
Etymology: intimidation, skin
Created by: Mustang
Pronunciation: rynd-styr-NAY-shun
Sentence: Melinda was frozen with rindsternation anytime she was faced with the prospect of eating the skin of any produce or animal, fearing that it would block up or otherwise harm her digestive system yet she couldn't bear throwing them away fearing they could bring some sort of harm to others.
Etymology: Blend of 'skin' (peel or rind) and 'consternation' (amazement or dismay that hinders or throws one into confusion)
Created by: galwaywegian
Pronunciation: pell tick ant
Sentence: she was a total pelticant and a partial pulpican.
Etymology: pelt I can't
Created by: karenanne
Pronunciation: skin si TIV i tee
Sentence: Hy Pokondriak had a rare psychological skinsitivity to eating any kind of fruit or vegetable covering or animal skin. It wasn't merely that the taste was unappeeling; he pelt so terrified that he had to run and hide. Even pie crust was a little scary. He had been in therapy for years in an attempt to peel back the layers of the phobia. But it didn't help that the only psychiatric practice in the whole area was "Hull, Husker, and Schell."
Etymology: skin + sensitivity
Created by: vmalcolm
Pronunciation: /pi:lʌgnəns/
Sentence: As John brought the peel nearer, Anna started to feel a complete feeling of peelugnance running through her body...
Etymology: PEELUGNANCE. From Peel (the skin or rind of certain fruits and vegetables) + Repugnance (extreme dislike or aversion)
----------------------------
COMMENTS:
That would be likely to make her feel peelugnacious. - Mustang, 2008-09-08: 22:23:00
----------------------------
Created by: Koekbroer
Pronunciation: shell-con-shis
Sentence:
Etymology:
Created by: ErWenn
Pronunciation: /ˌɛksəkaɹˈfo(ʊ)biə/
Sentence: I wanted to come up with a funnier word to describe exocarphobia, but the picture of that banana peel frightens me so much that I can't look at it any longer.
Etymology: From exocarp (the skin, peel, or rind of a fruit) + phobia
----------------------------
COMMENTS:
Funnily enough, there's a banana peel sitting on my desk right now that looks suspiciously like the one in the picture. (Yes, it's from a banana I just ate and not more than a few minutes old.) - ErWenn, 2007-10-08: 10:53:00
----------------------------