Vote for the best verboticism.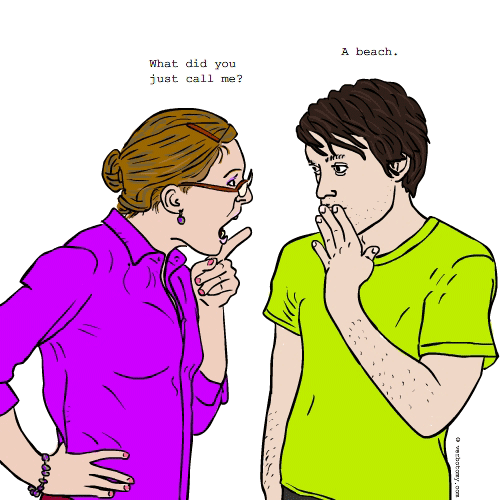 DEFINITION: v. To use alternative "code words" instead of proper cuss words, in an effort to satisfy people offended by such vulgarisms. n. A word used as a replacement for an obscene or profane expletive.
Verboticisms
Click on each verboticism to read the sentences created by the Verbotomy writers, and to see your voting options...
You have two votes. Click on the words to read the details, then vote your favorite.
Created by: artr
Pronunciation: fōfanətē
Sentence: Marge is the queen of fauxfanity. Her coworkers have no doubt how she feels even though she tries to remain semi-polite by using substitutes for profane language. Phrases like "No friggin' way", "What the fudge","Kiss my bass" or "Go hug yourself" have raised more than a few eyebrows.
Etymology: faux (artificial or imitation) + profanity (blasphemous or obscene language)
----------------------------
COMMENTS:
similar combinations but different results - great word - Jabberwocky, 2009-06-22: 14:18:00
----------------------------
Created by: petaj
Pronunciation: you-feck-miz-m
Sentence: Gordon Ramsay's kitchen nightmares had to be dubbed with eupheckmisms before it could be screened on the family viewing channel.
Etymology: euphemism (word or phrase used to stand in for a taboo word, or topic that is unpleasant to talk about) + feck (irish eupheckmism for the f word)
----------------------------
COMMENTS:
Good one, petaj...Gordon Ramsay was a feckin' eejit long before it was fashionable to be so... - Nosila, 2008-05-08: 23:19:00
----------------------------
Created by: splendiction
Pronunciation: pro fam i li ty
Sentence: The Goode's espoused family values and so expressed anger with profamility like "fudge" and "mitt" instead of good old four-letter words such ass f*** and ***t.
Etymology: From profanity and family.
----------------------------
COMMENTS:
Whoops-didn't mean to add the extra s to as! - splendiction, 2009-06-22: 20:30:00
----------------------------
Created by: galwaywegian
Pronunciation: ooooooo fem iz em
Sentence: They used several ooophemisms including a poophemism, some brewphemisms and several screwphemisms.
Etymology: oooooooh, euphemism
----------------------------
COMMENTS:
oooooooh - love it - Jabberwocky, 2008-05-08: 14:20:00
----------------------------
Created by: phoenix89
Pronunciation: Pro - covert - an -it-e
Sentence: Sometimes children curse when they shouldnt or when they are angry. To avoid punishment for using profanity they do it covertly and call it " procovertanity ".
Etymology: Profanity (profane conduct or language) Covert ( to conceal , disguise , or do in secrecy)
Created by: abrakadeborah
Pronunciation: cus-ple-tive
Sentence: Just because you use cusspletive words around me...don't think I'm too old to not know what you're really calling me!
Etymology: Cuss - Alteration of curse. Pletive - taken in part from 'expletive'- An interjectory word or expression, frequently profane.
Created by: rebelvin
Pronunciation: vulg-air+avoid
Sentence: I was so angry, I forgot to vulgaravoid, and she seemed shocked at the words that came out of my mouth.
Etymology: vulgar+avoid
Created by: Mustang
Pronunciation: ill-LUDE
Sentence: Shane had a sick sense of humor and even in everyday conversation he'd take every opportunity to use substitute words to illewd to very trashy and disgusting language.
Etymology: blend of ill and lewd, play on the word 'allude'
----------------------------
COMMENTS:
Shane was lewdicrous! - Nosila, 2009-06-22: 18:13:00
----------------------------
Created by: mweinmann
Pronunciation: kus - wop - pur
Sentence: Joel had become an adept cusswapper. After years of practice he was able to speak expletively no matter what the situation and no one could really be certain that he was violating acceptable social practices. He used many common everday words as cusswappers; getting his point across quite well without really swearing.
Etymology: cuss, swap, swapper
----------------------------
COMMENTS:
from a cusswopper to a cusswapper! - Nosila, 2009-06-22: 18:15:00
----------------------------
Created by: galwaywegian
Pronunciation: poooooo fem isum
Sentence: She let out a string of poophemisms that included a banker, a brickhead and several ducks
Etymology: euphemism, poo