Vote for the best verboticism.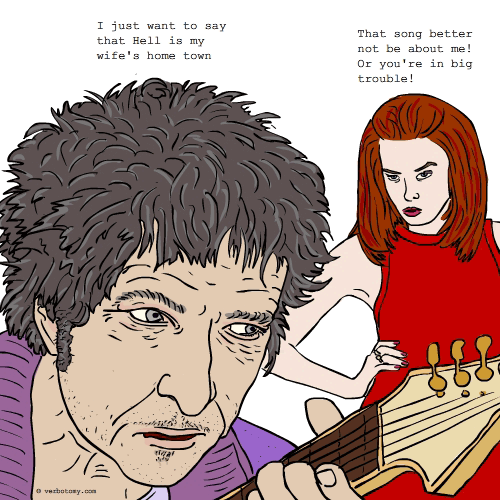 DEFINITION: v. To fall out of love with someone because you have finally realized that they are nothing but trouble. n. A vicious lover who has big problems and likes to share them with you.
Verboticisms
Click on each verboticism to read the sentences created by the Verbotomy writers, and to see your voting options...
You have two votes. Click on the words to read the details, then vote your favorite.
Created by: hyperborean
Pronunciation: wayk-en-bayk
Sentence: That morning, before he even opened his eyes, Bob knew that he was going to wakenbreak. Five years of Nagatha Christie was enough. He packed a bag and was gone before she gained consciousness.
Etymology: rhymes with wake-and-bake (the practice of smoking marijuana in the morning); wake (awake, wake up) + break (break up, break out [as of a prison])
Created by: Nosila
Pronunciation: dis en chan ted
Sentence: When Heidi discovered that her husband was such a jerk, she realized that she had become dissenchanted with him. He had grown old, but never had grown up. Once you take a stroll through the Dissenchanted Forest, you can never go back...
Etymology: Diss (slang:to disrespect)& Disenchanted (freeing from false belief or illusions; state of disillusionment or disappointment)
Created by: bookowl
Pronunciation: end/fa/tu/ay/shun
Sentence: Her infatuation quickly turned to endfatuation when her boyfriend turned nasty.
Etymology: end + infatuation
----------------------------
COMMENTS:
Good one! - Nosila, 2009-05-04: 18:44:00
----------------------------
Created by: abrakadeborah
Pronunciation: Fire-e-loved-low-cal
Sentence: My evil ex was fierylovedlocal every time she touched me my skin would melt!
Etymology: Fiery: Consisting of or containing fire. Burning or glowing. Using or effected with fire. Easily ignited; flammable. Having the color of fire; brightly red: fiery hair; a fiery sunset. Torridly hot. Feverishly hot and flushed. Being in an inflamed, usually painful condition. Easily excited or emotionally volatile; tempestuous: a fiery temper. Charged with emotion; spirited: Loved: (Slang for UN Loved) as in to feel love the past tense of love in my word...A person who used to be the object of deep or intense affection or attraction Local:Of, relating to, or characteristic of a particular place.
Created by: galwaywegian
Pronunciation: disss illl ewe jun men tahl
Sentence: The lady became disillusionmental and the situation went from bad to worse to worser
Etymology: disillusionment mental
Created by: dekra
Pronunciation: A-more-tis
Sentence: The times they were a-changin, and Bob's amortis annoyed him incessantly; his visions of Johanna slowly faded. The tambourine man said "It's alright 'ma," I have been released though I'm tangled up in blue. I have amortised the vixen, and though a hard rain's a-gonna fall, I will carry on like a rolling stone.
Etymology: Love + Death, Amore + Mortis
Created by: phoenix89
Pronunciation: Hell - asian - ship
Sentence: Some people reflect on thier past relations or marriages as hellationships because of the stress , drama , or negativity of the relationship.
Etymology: To end a relationship after realizing you and your partner dont match in any way.
----------------------------
COMMENTS:
great word - Jabberwocky, 2009-05-04: 16:08:00
Nice - emdeejay, 2009-05-05: 01:17:00
Very good verbotomy! - Mustang, 2009-05-05: 03:49:00
----------------------------
Created by: Nosila
Pronunciation: dill an chan ted
Sentence: When Sweet Marie fell out of love with Rob Fillan, her Bob Dylan wannabe boyfriend, she knew that The Times They Were A Changing. She had become dylanchented with the whole relationship because all he ever said to her were things like Lay Lady Lay and that he was Like A Rolling Stone. Writing her love songs that were actually protest anthems did little to endear Mr. Tambourine Man to her. After she booted him, she knew he was out there, Blowin' in the Wind and if there was Blood on the Tracks,he'd soon be Knock Knock Knockin' on Heaven's Door...assuming bad boys even went there.
Etymology: Dylan (Bob Dylan, singer/songwriter) & Disenchanted (freed from enchantment;no longer enchanted by someone/thing)
----------------------------
COMMENTS:
Just like a woman! - galwaywegian, 2010-11-16: 03:25:00
tangled up in poo? - galwaywegian, 2010-11-16: 09:48:00
----------------------------
Created by: petaj
Pronunciation: parra-mort
Sentence: Singing those insulting dirges, you run the risk of becoming a paramort. Shelly will kill you if she realises they are about her.
Etymology: paramour (lover) + mort (dead)
----------------------------
COMMENTS:
terrific combo - Jabberwocky, 2009-05-04: 12:13:00
She will be paramortified! Great word, petaj! - Nosila, 2009-05-04: 19:05:00
Ya gotta keep things within proper paramorters. - Mustang, 2009-05-05: 03:50:00
----------------------------
Created by: BeauKnows
Pronunciation: E-Vil-Gin-Ger
Sentence: Dave is a starving guitarist, who was just looking for a girl who liked to have a good time. Little did he know, he pick out a EVILGINGER!
Etymology: Evil + Ginger