Vote for the best verboticism.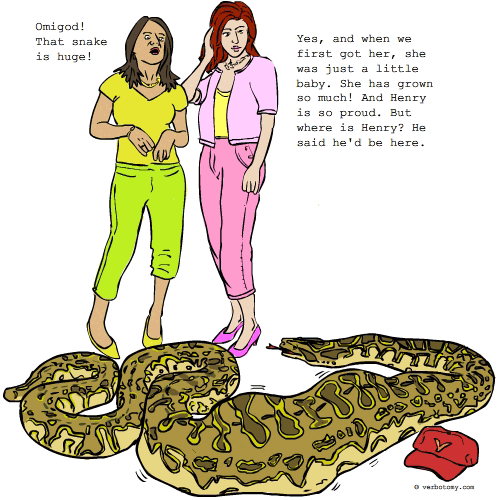 DEFINITION: v. To "adopt" a cute, baby, wild animal as a pet, which then grows up to become a very large, very wild, and very dangerous predator. n. A person who treats wild animals like pets, only to discover that they are not.
Verboticisms
Click on each verboticism to read the sentences created by the Verbotomy writers, and to see your voting options...
You have two votes. Click on the words to read the details, then vote your favorite.
Created by: Mustang
Pronunciation: pet-ZILL-eh-wo
Sentence: After having to call professionals to deal with the cuddly chimp and the fuzzy panther he acquired as babies and watched them grow into dangerous creatures, Leonard felt again the pangs of petzillawoe when the cute little python he bought as a newborn turned out to be, in fact, a dangerous anaconda.
Etymology: blend of pet, Godzilla (monster) and woe.
----------------------------
COMMENTS:
That was a real kick-asp sentence! - metrohumanx, 2009-04-09: 02:40:00
funny - Jabberwocky, 2009-04-09: 10:48:00
gives a whole new meaning to all animals 'asp'pirations. - silveryaspen, 2009-04-09: 16:10:00
----------------------------
Created by: artr
Pronunciation: fangkwit
Sentence: Hank was fascinated by snakes. He loved his collection of exotic reptiles. He loved to take them out of their cages for their feeding. He said it created a bind between himself and his slithering buddies. His friends used to tell him he was not careful enough handling these dangerous kritters. Now his friends can say they were right after Hank became a fangquet for his pets.
Etymology: fang (the tooth of a venomous snake, by which poison is injected) + banquet (an elaborate and extensive meal)
Created by: petaj
Pronunciation: ver-min-der
Sentence: Herbie Tollogist joined up at verminders' anonymous after his anaconda grew to such a weight that the rafters on which it enjoyed coiling itself collapsed bringing the roof crashing around his ears.
Etymology: vermin (pesky animals) + minder (carer)
----------------------------
COMMENTS:
superb word - Jabberwocky, 2009-04-09: 10:47:00
Good one--Herbie really has to believe in a higher power now! - readerwriter, 2009-04-09: 11:05:00
Herbie Tollogist...love it! - Nosila, 2009-04-09: 22:05:00
----------------------------
Created by: Nosila
Pronunciation: fos ter mam ba
Sentence: When Ana Conda adopted her baby snake, she was told it was a harmless garter snake which would stay small. But in a few short years it got so big and ate anything in it's path, without the benefit of adder-tives. It was then she discovered she had become a fostermamba to a not-so-civil serpent! Oh, boa-have...
Etymology: Foster (adoptive) & Mamba (poisonous snake) & Wordplayon Foster Mom
Created by: artr
Pronunciation: as-uh-sas-in
Sentence: Harry has a very big heart when it comes to animals in distress. All too often, when he takes in a wild animal as a pet it turns out to be an assassassin. Whether it is a matter of costs, trouble with authorities or bad behavior from his charge, he usually ends up taking a bite in the shorts.
Etymology: ass (buttocks) + assassin (a murderer)
Created by: Biscotti
Pronunciation: wy-ld-pet-yew-ay-shun
Sentence: Amy knew that Eric had a problem with wildpetuation when she came to his house and was greeted by a monkey (in a bowtie no less), had her coat taken off by birds, and had her shoes taken off by rabbits. She didn't mind, the excellent service, it was just the smell of the other 13 animals in his apartment.
Etymology: Wild (untamed) + pet (cute and cuddly animals) + infactuation (crazy, sometimes foolish love of something)
----------------------------
COMMENTS:
Amy must have felt like Cinderella! - Nosila, 2009-04-09: 22:08:00
----------------------------
Created by: Nosila
Pronunciation: ad der ay shun
Sentence: When Katy returned home, her adderation for Boadicea, the pet snake her husband Henry kept soon turned to horror. Eating Henry meant she was no longer a civil serpent.
Etymology: Adder (snake species) & Adoration (feeling of profound love)
Created by: silveryaspen
Pronunciation: an ih men ace
Sentence: In their quest to humanize animals, people overlook their savage nature and innate killer instincts. People have to be brutalized by them, before they realize the dangers of the animenace. When people go wild, they can be equally animenacing!
Etymology: Animal, Menace. Animal - creature, living being. Menance - be a constant source of danger and harm.
----------------------------
COMMENTS:
Does that include Mighty Joe Young? - metrohumanx, 2009-04-09: 02:06:00
very true - Jabberwocky, 2009-04-09: 10:47:00
----------------------------
Created by: Jabberwocky
Pronunciation: kit/tee/ka/tas/tro/fee
Sentence: The baby mountain lion looked so helpless and adorable when it stumbled into their tent that Sally and Sam decided to take it home. It soon turned into a kittycatastrophe.
Etymology: kitty cat + catastrophe
----------------------------
COMMENTS:
admire the dichotomy between the 2 words in yhour etymology! Portrays the change in feelings ever so well! - silveryaspen, 2009-04-09: 16:07:00
----------------------------
Created by: Nosila
Pronunciation: dom esti gay tor
Sentence: Crikey, but the Crocodile Hunter, Steve Irwin, was a true domestigator. He turned every animal he met into a pet. He put the Pen in Penguin, the M'am in Mamba and the Con in Anaconda. He was a true communigator and an edugator. He found out the hard way that the Pole Cat was not really a cat and he looked out for the wilferal wildlife. Sadly, but ironically, he met his Cregator after having a stinging ray put a hole in his heart. Maybe it was squid pro quo (a favor for a favor) but he never seemed to have reptile dysfunction before that fateful day!
Etymology: domesticate ( make fit for cultivation, domestic life, and service to humans;overcome the wildness of; make docile and tractable) & Gator (nickname for an alligator, either of two amphibious reptiles related to crocodiles but with with shorter broader snouts)
----------------------------
COMMENTS:
Reptile dysfunction! Brilliant, Mon cherie! - metrohumanx, 2009-04-09: 01:52:00
Thanks for the early morning chuckle. - mrskellyscl, 2009-04-09: 06:38:00
LOL! He should have taken his Gatoriagra for "reptile dysfunction" :) YOU are hilarious! - abrakadeborah, 2009-04-09: 08:18:00
Hilarous squid pro quo.....great sentence!! - mweinmann, 2009-04-09: 08:29:00
terrific combo - Jabberwocky, 2009-04-09: 10:46:00
terrific verbotomies ... greater gator creator! :-) - silveryaspen, 2009-04-09: 16:03:00
----------------------------