Vote for the best verboticism.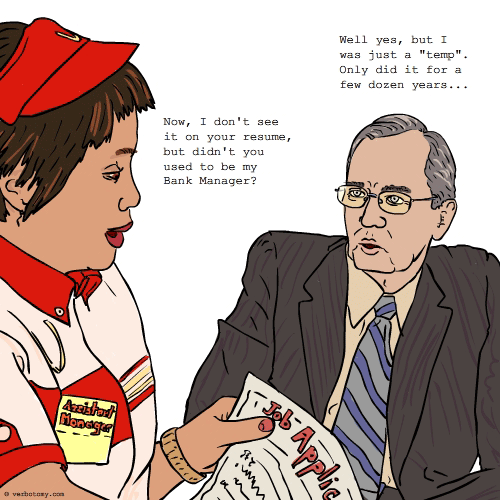 DEFINITION: v. To deny one's accomplishments, or minimize one's abilities in order to obtain a job. n. A resume, or list of qualifications, which has been disembellished and disemboweled to meet extremely low job requirements.
Verboticisms
Click on each verboticism to read the sentences created by the Verbotomy writers, and to see your voting options...
You have two votes. Click on the words to read the details, then vote your favorite.
Created by: Stevenson0
Pronunciation: Mc/Job/i/mize
Sentence: To be even considered for the position at Dollarama, Joe had to McJobimize his resume leaving everything out that he did since high school.
Etymology: McJobimize - verb - from McJob (a none descript low paying job such as a burger server, or store greeter) + minimize (to represent at the lowest possible amount)
Created by: Jabberwocky
Pronunciation: dee/ny/I/grate
Sentence: In these tough economic times the only way I could get a job at the local McDonalds was to denyigreat, which was difficult because I am.
Etymology: deny + I + great + denigrate (disparage)
Created by: feltcap
Pronunciation: ə-kŏm'plĭsh'mĭn
Sentence: She knew they would take one look at her resume and be worried about the safety of their own jobs. What she needed was an accomplishmin, minimizing her extensive over qualifications, just so should could get in the door.
Etymology: accomplishment - a special skill or ability acquired by training or practice, min - short for minimize, to reduce
Created by: Nosila
Pronunciation: dum ma ree
Sentence: Jim's resume for the fast fry cook's position was actually a dummary of his career's achievements. After cooking the books at the bank for 30 years, he felt he could cook anything this place served.
Etymology: Dumb (not so smart) & Summary (a resume, brief job/education history;
Created by: Nosila
Pronunciation: neg ayt she ay shun
Sentence: In Harris' negatiation attempt get a $10 per hour job at the local fast food place, he had not anticipated being interviewed by someone who knew his real past.
Etymology: Negate (to deny, omit) & Negotiation (bargaining, discussion to come to an agreement)
Created by: galwaywegian
Pronunciation: rez you mey noht
Sentence: her resumaynot neglected to mention any of her achievements since high school apart from the mose killing stuff
Etymology: resume may not
Created by: Nosila
Pronunciation: coor rik yu lum bee day
Sentence: His curriculum vitae read more like it had been made into a curriculumbidet...all the most recent events on his resume had been whitewashed and changed as though they never had happened or had not as much impact as one would have thought. When the recruiter asked him what skills he brought to the job of a waiter, Dubya as he was known for short, thought hard and long about it before responding. Okay, 10 seconds. "Well, I am good at taking orders from my Mom, Dad and Wife; I know how to run up a large tab; I can recommend Rice as a staple in any regime;Iraq up tips; I am good at nonsensical banter and if we get real busy, my two burly friends, who speak into their cufflinks, can lend a hand."
Etymology: Rhymes with Curriculum Vitae (a summary of your academic and work history) & Bidet (a basin for washing genitals and anal area)
----------------------------
COMMENTS:
You are queen of the delightful denouement! His-tor-ically Funny! - silveryaspen, 2009-02-25: 02:11:00
Make that His-story-cally funny! - silveryaspen, 2009-02-25: 02:12:00
----------------------------
Created by: matte76
Pronunciation:
Sentence: Bob was splinterviewing for the fry cook job since there was nothing else available. The 60-year olds' resume had obviously been splinterviewed to increase its' appeal.
Etymology:
Created by: galwaywegian
Pronunciation: krap lik ay shun
Sentence: He tried to gloss over the error on his crapplication, insisting that Doctor was his first name
Etymology: application, crap
----------------------------
COMMENTS:
that would be a neat first name - Jabberwocky, 2009-02-25: 14:39:00
----------------------------
Created by: Mustang
Pronunciation: dis-con-job-yu-LAY-shun
Sentence: With no possible chance to find another job in his highly specialized field, Alexander found it necessary to apply for jobs he once considered beneath himself and found a little disconjobulation was necessary in order to 'qualify' for such menial positions.
Etymology: A play on the word discombobulation, or discombobulate (To throw into a state of confusion)