Vote for the best verboticism.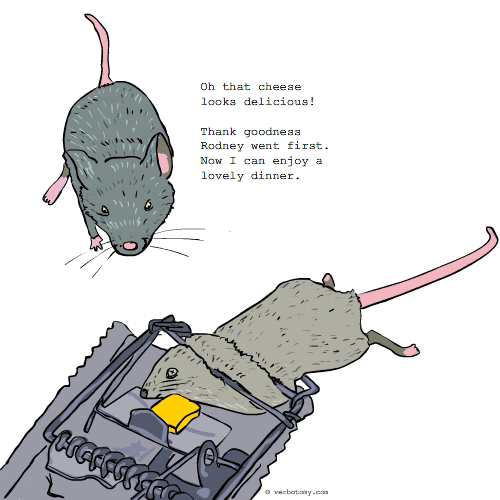 DEFINITION: v. To generously allow others to precede you in hopes that they will identify, reduce, and perhaps be eliminated by, the potential hazards. n. A gesture of courtesy which is really the lead-in to a trap.
Verboticisms
Click on each verboticism to read the sentences created by the Verbotomy writers, and to see your voting options...
You have two votes. Click on the words to read the details, then vote your favorite.
Created by: rikboyee
Pronunciation: arf-tah-you-be-trap
Sentence: i make it a point to afteryoobytrap before i go into any new room.
Etymology: after you, booby trap
----------------------------
COMMENTS:
good enough for my vote! hehehe - galwaywegian, 2007-06-26: 06:18:00
----------------------------
Created by: remistram
Pronunciation: shiv-trick-all-ree
Sentence: She fell for his chivtrickalry yet again. The meal he prepared for her was his best yet save for the rat poison aftertaste to the steak. Then she slowly passed out.
Etymology: chivalry (courteous behaviour, generous) + trick (as in trap, snare, lure)
Created by: porsche
Pronunciation: hush/ur/et
Sentence: Sue was an established husherette who kindly led the way to the appointed spot, their final destination.
Etymology: hush + usherette
Created by: purpleartichokes
Pronunciation: sek-und-ware-ee
Sentence: It was a good thing that Bob became secondwary and let his friend sign up first for the all-expenses paid vacation to... Once the line cleared, the word "Afghanistan" was revealed.
Etymology: secondary, wary
Created by: splendiction
Pronunciation: go ahhhh head
Sentence: The benefit of telling guests goahhhhead was that if the canapes tasted bad, they would find out first. There was no need to try all those fattening foods! The guests would determine the palatability!
Etymology: From: GO A HEAD and AHHHH.
Created by: andrewa121
Pronunciation: "guinea tail"
Sentence: When he mentioned diving from 60 feet, I made a point to guineatail the fool.
Etymology: from "guinea [pig]" + "tail [end]", to follow behind a test case.
Created by: smilodon99
Pronunciation:
Sentence:
Etymology:
Created by: mar786
Pronunciation:
Sentence:
Etymology:
Created by: terpette
Pronunciation: hostile-TAL-ity
Sentence: Letting me jump off the cliff first when we go to the quarry to swim is just another example of my ex-boyfriend\'s hostiletality!
Etymology: Conjunction of \"hostile\" and \"hospitality\".
Created by: ohwtepph
Pronunciation: yoo-first
Sentence: Ufirzt is a very disturbing ailment which involves a plate of mussels and a very sick man.
Etymology: You First! [...before I eat that]
----------------------------
COMMENTS:
Noufirzt, or rage before booty. - petaj, 2007-06-26: 07:48:00
----------------------------