Vote for the best verboticism.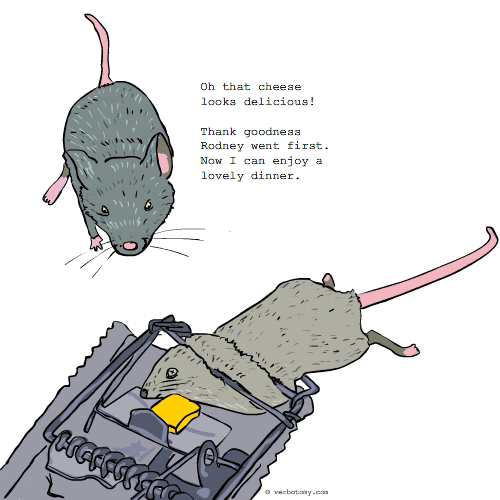 DEFINITION: v. To generously allow others to precede you in hopes that they will identify, reduce, and perhaps be eliminated by, the potential hazards. n. A gesture of courtesy which is really the lead-in to a trap.
Verboticisms
Click on each verboticism to read the sentences created by the Verbotomy writers, and to see your voting options...
You have two votes. Click on the words to read the details, then vote your favorite.
Created by: EpicButCrazy
Pronunciation: Lemm-i-fy
Sentence: To convince another to go ahead of you & do something without their thinking, rather like a lemming.
Etymology: Lemming-ify
Created by: ziggy41
Pronunciation: Pit-fewl
Sentence: Before tasting the coffee, I pitfooled my wife by offering her a sip to make sure it wasn't too hot to drink. It turned out it was.
Etymology: Pitfall (a danger) + fool (a gullible or dumb person; to trick such a person)
----------------------------
COMMENTS:
you sound like a pitfool terr(i)or - galwaywegian, 2007-06-26: 06:20:00
----------------------------
Created by: mrskellyscl
Pronunciation: de-coy-tes-y
Sentence: Micky was given a great decoytesy when he was tricked into putting a bell on the cat by the mayor of the mouse kingdom.
Etymology: decoy:a means to mislead or lead into danger; entrap + courtesy: given or done as a polite gesture
Created by: purpleartichokes
Pronunciation: sek-und-ware-ee
Sentence: It was a good thing that Bob became secondwary and let his friend sign up first for the all-expenses paid vacation to... Once the line cleared, the word "Afghanistan" was revealed.
Etymology: secondary, wary
Created by: artr
Pronunciation: buh-nev-uh-luhn-trap
Sentence: Denise was so happy to see that chivalry was alive when Ken held the door for her yesterday morning. It turned out to be a benevolentrap when it she found out that the boss was looking for someone to take care of a particularly cranky customer.
Etymology: benevolent (charitable, kind) + trap (snare, trick)
Created by: Lapper
Pronunciation: BATE-en-HOOK-ish
Sentence: Ralph noticed the unavoidable rope trap ten feet in front of the fresh water spring, and baitenhookishly "let" James go to the spring before anyone else.
Etymology: Bait and hook
Created by: weareallbeautiful
Pronunciation: s-ah-k-ruh-s-ee-d
Sentence: Frank, although he knew that by allowing Rodney to try to get the cheese he was cruely sacriceding him beacause Rodney would be taken out by the trap, allowed Rodney to try to get the cheese first and to his delight Rodney was captured by the trap before he could take a bite of the cheese. Therefore Frank had all the cheese for himself.
Etymology: sacrifice+precede
Created by: mweinmann
Pronunciation: snair - giv - ur
Sentence: Marty was the ultimate snaregiver. Under the pretense of being kind and loving, he let Arty take the first bite....
Etymology: snare (trap: something (often something deceptively attractive) that catches you unawares), giver (someone who devotes himself completely), play on the word "caregiver" ( person who is responsible for attending to the needs of a child or dependent adult )
----------------------------
COMMENTS:
Excellent word! One I will use! - splendiction, 2009-07-29: 20:05:00
----------------------------
Created by: mar786
Pronunciation:
Sentence:
Etymology:
Created by: splendiction
Pronunciation: go ahhhh head
Sentence: The benefit of telling guests goahhhhead was that if the canapes tasted bad, they would find out first. There was no need to try all those fattening foods! The guests would determine the palatability!
Etymology: From: GO A HEAD and AHHHH.