Vote for the best verboticism.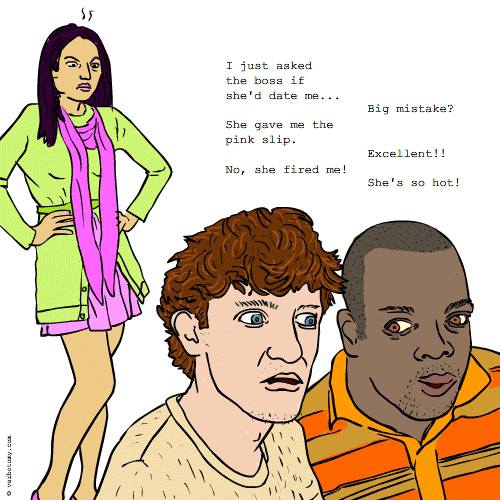 DEFINITION: v. To make a mistake where the benefits exceed the costs of the screw-up. n. An excellent mistake, which despite its stupidity, produces a positive outcome.
Verboticisms
Click on each verboticism to read the sentences created by the Verbotomy writers, and to see your voting options...
You have two votes. Click on the words to read the details, then vote your favorite.
Created by: petaj
Pronunciation: byoo-dee-trap
Sentence: Mark was on a sweet learning curve after falling for a bewdytrap. Although he succumbed to the seductive charms of a woman in power and asked her out for a date, the resulting dismissal led to a new job as a female impersonator. His strutting around the stage was reminiscent of his ex-boss and he was a huge hit with the audience.
Etymology: booby trap (something that causes someone to suffer an accident or make a mistake) + bewdy (Aust. sl variation of beauty meaning excellent)
Created by: metrohumanx
Pronunciation: ben-ih-FLUKKED-up
Sentence: Their boss was a floozy- Todd really expected… To get some "OT" but was firmly rejected. Although he believed through the ranks he'd move up- He's unemployed now 'cause he BENEFLUKEDUP. Boasting about how she was more than willin'... His workmates line up now to take penicillin.
Etymology: BENEfits+FLUKE+f*ckeD UP= BENEFLUKEDUP.....BENEFIT: advantage, useful aid, help, a service provided by an employer in addition to wages or salary; Middle English, from Anglo-French benfet, from Latin bene factum, from neuter of bene factus, past participle of bene facere.....FLUKE: a stroke of luck, an accidentally successful stroke at billiards, pool, or social climbing; Middle English floke, fluke, from Old English flōc; akin to Old English flōh chip, Old High German flah smooth, Greek plax flat surface, and probably to Old English flōr floor.....F*ck up: to ruin or spoil especially through stupidity or carelessness, to act foolishly or stupidly, to blunder; origin uncertain.
----------------------------
COMMENTS:
Your poems are epic, like played in 3D, who knew one could rhyme about the joys of VD? - Nosila, 2009-06-12: 08:53:00
----------------------------
Created by: galwaywegian
Pronunciation: urr eeek ah
Sentence: His accidental overdose of the new eyedrops he had been prescribed rendered him practically blind, but made him look really cutem, according to the (hopefully) beautiful 18 year old blonde who had just bought him a drink. It was an erreka moment.
Etymology: err, eureka.
----------------------------
COMMENTS:
I hope her name was Erica - great combo - Jabberwocky, 2008-05-02: 06:08:00
Excellent verboticism. - Mustang, 2008-05-02: 18:46:00
----------------------------
Created by: artr
Pronunciation: bləndərlək
Sentence: Robert didn't realize his mother in-law was standing in the doorway when he confessed to his brother that he hated her green bean casserole. Rob's blunderluck was that she hated it too but continued to foist it on the family thinking they enjoyed it. She was greatly relieved to be able to try something new.
Etymology: blunder (a stupid or careless mistake) + luck (success or failure apparently brought by chance rather than through one's own actions)
Created by: Jabberwocky
Pronunciation: air/owe/nee/bow/nus
Sentence: To erroneously mark down the wrong civic holiday on the company calender was a mistake. To get an extra day off was an erronebonus.
Etymology: erroneous + bonus
Created by: Rutilus
Pronunciation: cat-as-ter-if-ik
Sentence: Geoff was happily contemplating the reason he'd got here.Refusing to accept his line manager's bullying and getting fired had given him time to study and re-train. Here was a man better qualified, better off and much happier. Oh how he chuckled at an event he had seen as a disaster had in fact been completely catasterrific for him.
Etymology: Catastrophic - dramatic negative effect; Terrific - extremely good, wonerful
Created by: TJayzz
Pronunciation: Blun-der-bow-nus
Sentence: If it hadn't been for Jack's stupid mistake of signing up for the cookery class instead of woodwork, then he would never have met his fiance Becky, it certainly had turned out to be a blunderbonus.
Etymology: Blunder(mistake) + Bonus(unexpected pleasant surprise) = Blunderbonus
Created by: mrskellyscl
Pronunciation: sna-fluke
Sentence: What started out as a screw-up turned into a snafluke for Terrell because if he hadn't been searching for the Dave Matthews tickets he misplaced, he wouldn't have found the winning lottery ticket in his coat pocket.
Etymology: snafu: an acronym used by soldiers during WWII "situation normal all **up (fouled up in polite company) to refer to a situation caused by confusion or an embarassing mistake + fluke: an accidental stroke of good luck
----------------------------
COMMENTS:
Excellent! - Mustang, 2009-06-12: 22:47:00
----------------------------
Created by: alicat
Pronunciation: work-el
Sentence: I wurkelled when I crashed my mom's car. Now the insurance is replacing the car with a new one. Did I do that?
Etymology: Win + Urkel (as in Steve Urkel from Family Matters) or Work + Urkel
Created by: Stevenson0
Pronunciation: ace/err
Sentence: A scientist at the 3-M company, in an attempt to make a super glue, acerred when he came up with a weak glue and used it to invent post-it notes. The scientist and 3-M went on to make millions of dollars from his acerror.
Etymology: VERB - to acerr - (from to ace + to err) _____ NOUN - acerror - from ace (excellent, first rate) + error