Vote for the best verboticism.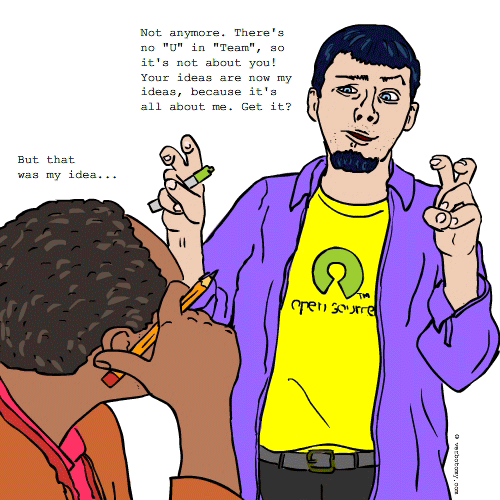 DEFINITION: n. A team member who always shares the workload, but nevertheless tries to get exclusive credit for any work done. v. To temporarily suppress your own need for self-aggrandizement.
Verboticisms
Click on each verboticism to read the sentences created by the Verbotomy writers, and to see your voting options...
You have two votes. Click on the words to read the details, then vote your favorite.
Created by: artr
Pronunciation: tēmbezəlr
Sentence: Jerry's boss is a great one for forming a committee or work group to tackle any issue that arises. He is also a great teambezzler, stealing the credit for any positive results. When things don't go so well he is a notorious blameslinger.
Etymology: team (two or more people working together) + embezzler (someone who steals or misappropriates money placed in one's trust or belonging to the organization for which one works)
Created by: mrskellyscl
Pronunciation: plun-der-a-chee-ver
Sentence: Max was a plunderachiever because of his highly competitive nature. He blatantly took credit for the ideas of his coworkers to get ahead. One day, however, he became the office goat when he tried to take credit for Martha's recommendation to add another ladies room to the office.
Etymology: (play on underachiever) plunder: to take another's intellectual property + achiever: successful, a winner
----------------------------
COMMENTS:
good one - Jabberwocky, 2009-06-10: 11:45:00
really good word...got my vote! - mweinmann, 2009-06-10: 19:52:00
Perfect word. - hyperborean, 2009-06-11: 00:45:00
Excellent! - Mustang, 2009-06-11: 02:49:00
----------------------------
Created by: mweinmann
Pronunciation: star - graz - ur
Sentence: Aurora was a master stargrazer. She would hitch herself to those who shone brightly with ideas and would adopt them as her own. One of her most frequent victims was Alice who was vivacious, exciting and brilliant; and thought of as a "rising star" at work. You might say that Aurora was boring next to Alice....
Etymology: star (leading(p): indicating the most important performer or role), grazer (one who feeds on forages or eats), play on stargazer (a person who observes the stars) and in this case, steals some of their brilliance....
----------------------------
COMMENTS:
Nice! - mrskellyscl, 2009-06-10: 11:54:00
----------------------------
Created by: gotti1
Pronunciation:
Sentence: The geek named Borj always capoons himself whenever he scores big in a departmental examination.
Etymology:
Created by: arrrteest
Pronunciation: in-cred-eh-chyo-lus
Sentence: Brad liked to work with newbies because they were not savy to his increditulous ways. He would sucker them all into believing they were working towards a common goal, but really he would be lifting himself on the shoulders of others all the while pretending to be genuine.
Etymology: in, not + credit,the ascription or acknowledgment of something as due or properly attributable to a person + credulous, willing to believe or trust too readily, esp. without proper or adequate evidence; gullible.
----------------------------
COMMENTS:
I worked with someone like that. They would be not much more than a cheerleader and then take credit for everything. - pieceof314, 2008-05-01: 10:17:00
----------------------------
Created by: frozenpeas42
Pronunciation:
Sentence: That dirty little thrushprickler stole my idea!
Etymology: Thrush (n) - a yeast infection of the genital area. Prickle (v) - 1. to sting or irritate 2. To rise up in anger. Thrushprickler - irritating.
----------------------------
COMMENTS:
Terrific word! - OZZIEBOB, 2008-05-02: 05:36:00
----------------------------
Created by: pieceof314
Pronunciation: sneek-red/snee-kred
Sentence: Philip was lurking behind the scenes all during the workgoroup's forming and storming stages. As usual, he was waiting for his moment to grab the spotlight. He earned his sneakcred stripes when at the very end of the task he stepped up and took control of the group and presented all of the information to the boss, and thus getting all the credit and recognition.
Etymology: Sneak + credit, like in "The inmate gained street cred upon his release."
Created by: stache
Pronunciation: prō-těm'māg-nān'ə-māt'
Sentence: The project had to be completed, and for the success of the venture, it had to be seen as the success of the CEO; therefore, Bruce decided to protemagnanimate and put Gayland's name on the patent registration as the inventor.
Etymology: pro tem, for the time being; magnanimate, invented verb form of magnanimous, unselfish
----------------------------
COMMENTS:
quite creative - daniellegeorge, 2008-04-30: 14:10:00
Excellent and natural blend. - OZZIEBOB, 2008-05-02: 05:37:00
----------------------------
Created by: Nosila
Pronunciation: ee go ni shun
Sentence: Gareth was an egognition. He turned up for his study team's meetings to put together their group project. He would always attend, but never contributed anything to the effort. He would utter solicitous phrases and join in the lively debates, but never actually did any of the real work. His team was therefore very surprised when he gave their presentation and spoke totally in the singular person about the efforts and sacrifices he had made to get the project finished. After the presentation, Gareth was about to learn that there may be no "i" in team, but there was one in "kill"!
Etymology: ego ( an inflated feeling of pride in your superiority to others ) and recognition (the process of recognizing something or someone by remembering; giving credit to)
----------------------------
COMMENTS:
Add "ignition" to the etymology, and you'll ignite Gareth's ego. A good, easily said, word. - OZZIEBOB, 2008-05-02: 05:57:00
----------------------------
Created by: Mustang
Pronunciation: COO- doh - snag - uhr
Sentence: Mervin was a shameless kudosnagger who always made an effort to create the appearance that he was the creative and driving force behind every innovation and creation of his team.
Etymology: Blend of kudos and snagger - one who grabs or takes
----------------------------
COMMENTS:
I think this was my favorite word. I used it today at work! - arrrteest, 2008-05-01: 15:59:00
Kudo-snagger or kudos-nagger, both sound good to me. - OZZIEBOB, 2008-05-02: 05:34:00
----------------------------