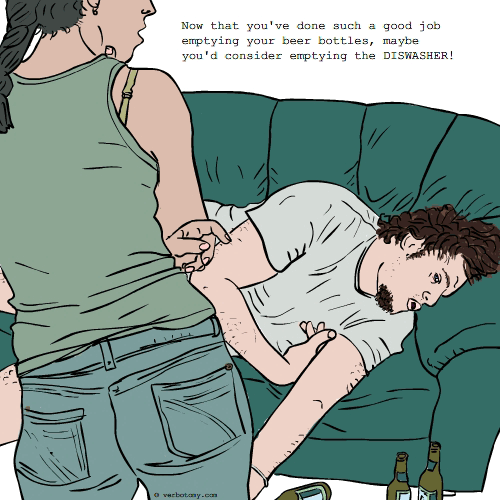 DEFINITION: v., To imply that person is usually unhelpful when asking for their assistance. n., An unwilling, unproductive and uninhibitedly useless helper.
Hindraide
Top verboticism of the day created by petaj
Pronunciation: hin-drayed
Sentence: Despite an excellent pay packet, the hindraide avoided all tasks that involved raising his heart rate.
Etymology: hindrance + aide
Created by: petaj.
More Top Verboticisms:
(Invented words created by the Verbotomy Writers)
Hindolent: /HIN-d'uh-lent/ The haunty spectre of Bob's growing ignavia, convinced Roxie's that he was rapidly turning into a hopeless hindolent like his father. Etymology: HINDER: to cause delay, interruption, or difficulty in; hamper; impede; to be an obstacle or impediment & INDOLENT:Indulging in ease; avoiding labor and exertion; habitually idle; lazy; inactive; easygoing; layback Created by: OZZIEBOB.
Comments:
fantastic - Jabberwocky, 2008-09-05: 13:31:00
Factnotum: /fak-NO-tum/ Jeremy moved into his sister's basement will all sorts of earnest promises to help around the house, but, after a mere three days, he showed himself for what he truly was...a factnotum. No dishes, no garbage, no laundry, no dog-walking--facts that Melissa took to noting sarcastically each day as she waded through Jeremy's detritus in the living room. Etymology: Factotum: A person employed to to a variety of jobs, combined with "no" Created by: astorey.
Mehsistant: /meh cyst ant/ "Now look, just hold the thing still while I cut through this..." !@#$$%!!!! Joey was the worst partner to have in any project around the house. Not only was his inattention almost legendary, he usually managed to make even simple tasks end in disaster. He was the quintessential Mehsistant. Etymology: Meh - an expression of indifference. Mess - disorder created by those afflicted with indifference. Assistant - essential accessory for those afflicted. Created by: emdeejay.
More...
To see more verboticisms for this definition go to: You've done such a good job emptying your beer bottles.
More Winning Words:
More Verboticisms! See the winning words for: Hey Grandma! YOUR MUSIC IS WAY TOO LOUD!