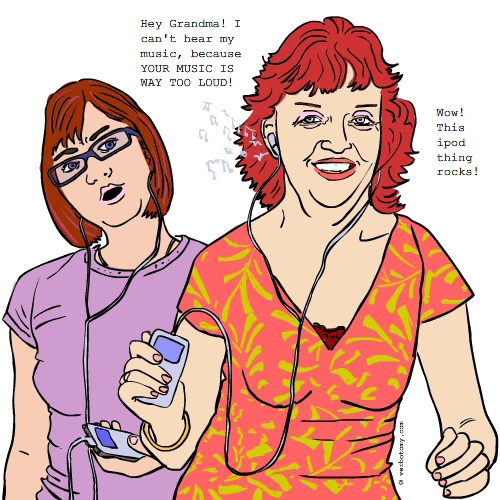 DEFINITION: n., Second-hand sound which has escaped from a headset. v., To play music on personal listening device so loudly that it leaks out of the earphones.
Exudio
Top verboticism of the day created by petaj
Pronunciation: egz-OO-dio
Sentence: Waiting at the bus stop with no portable music device, I laughed at the exudio from my fellow travellers. Cyndi Lauper's True Colors mingled with "all the leaves are brown and the sky is grey" and a dash of James Brown.
Etymology: exude -- leak out + audio -- sound
Created by: petaj.
More Top Verboticisms:
(Invented words created by the Verbotomy Writers)
Earjaculate: /eer-JAK-u-layt/ Nancy sat on the subway wearing her ipod but not listening to it. She felt odd doing it that way, but throughout the train she could hear the earjaculate headmedowns of the other passengers. The way the podjamas merged into its own kind of earjam was more soothing to her than her own musical selections could have ever been. earjam: something you fill your ears with. podjamas: the barely audible sound of another person's ipod. headmedowns: second-hand music. Etymology: ear + ejaculate (shooting out of) Created by: MrDave2176.
Comments:
great words - porsche, 2007-10-04: 13:35:00
Earspitting: /eer-spit-ting/ He was bombarded by earspitting music escaping from headphones. Etymology: ear-splitting + spitting Created by: bookowl.
Apustics: /a-pyu-stiks/ Heather will never forget the day Grandma volunteered to accompany her 8th grade class on the field trip. She had no idea. Had she known, she would have skipped school for sure. It was embarrassing enough that Grams brought her headphones and WALKMAN (!) for the bus ride, but her apustics were humiliating. Etymology: Acoustic + P.U. (as in stinky musAK) Created by: lumina.
Comments:
It's a good thing the portable 8-track player was never invented. Poor Grams! - metrohumanx, 2008-09-04: 09:28:00
Very nice - OZZIEBOB, 2008-09-05: 01:42:00
More...
To see more verboticisms for this definition go to: Hey Grandma! YOUR MUSIC IS WAY TOO LOUD!
More Winning Words:
More Verboticisms! See the winning words for: Oh no! I won't be able to message for another week!