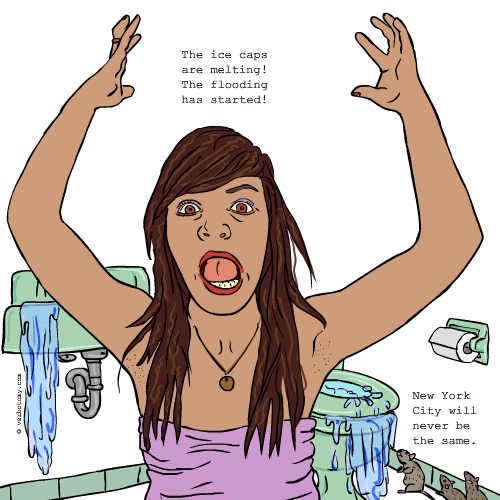 DEFINITION: v. To increase the world's liquid water supply (and dramatically raise the level of our oceans) by accidentally melting the polar ice caps. n. The rising seas and associated flooding due to melting ice caps.
Suburgia
Top verboticism of the day created by artr
Pronunciation: səbərgēə
Sentence: Life would never be the same in Frostberg. Yes, global warming had kicked in and the polar ice cap was breaking up. That just meant that suburbia was now suburgia with a full-fledged iceberg parked in the recently-developed harbor. Residents can go boating in the morning and ice climbing in the afternoon. Old-man Johnson had tried to start up a snow cone stand but most didn't care for the salty treats.
Etymology: suburbia (the suburbs or their inhabitants viewed collectively) + berg (a large floating mass of ice detached from a glacier or ice sheet and carried out to sea)
Created by: artr.
More Top Verboticisms:
(Invented words created by the Verbotomy Writers)
Decapitoolate: /Dee-cap-it-oo-layt/ After many years of taking this planet for granted, the polar ice caps are melting at a tremendous rate it has come to the point where it is decapitoolate and nothing can be done to stop it. Etymology: Decapit- to destroy the cap + Too late- un out of time = Decapitoolate Created by: TJayzz.
Comments:
Clever! - kateinkorea, 2009-03-17: 20:06:00
Glowarm: /GLO warm/ Tom tucked his daughter into bed with the Gloworm he had given her from his childhood. He had been watching something on TV just before that about global warming. Later in his confused dreams there was an oversized Glowarm doll made of ice, walking around like a King Kong character melting all over and raising the water levels in the city. Tom's dream of his glowarm situation reminded him that he should be more environmentally conscious. Etymology: GLOBAL WARMING: GLOWORM: Created by: kateinkorea.
Comments:
A heartwarming yet disturbing story. I try to be environmentally couscous. but it's hard. - metrohumanx, 2009-03-17: 02:59:00
Hydraulicreep: /high-DRALL-ick-REAP/ "I can't stand Venice" said Florence- as she revved up her gross SUV- she resisted downsizing- as the waters kept rising- her error was failing to sea! Denial and tears came in torrents- we were singing a CO2 dirge- our years of excess- caused a wet sloppy mess- now all we can do is submerge. For years some had tried to persuade us- That the problem was oil and coal- But a global guffaw- Caused the glaciers to thaw- Now HYDRAULICREEP's out of control. Etymology: HYDRAULIC+CREEP=HYDRAULICREEP..........HYDRAULIC: operated, moved, or effected by means of water, of or relating to water or other liquid in motion; Latin hydraulicus, from Greek hydraulikos, from hydraulis hydraulic organ, from hydr- + aulos reed instrument [1661].....CREEP: to enter or advance gradually so as to be almost unnoticed, to change shape permanently from prolonged stress or exposure to high temperatures, to go very slowly; Middle English crepen, from Old English crēopan; akin to Old Norse krjūpa to creep [before 12th century]. Created by: metrohumanx.
Comments:
Florence couldn't fathom why her beach house vanished or why the shore was miles inland, she disliked the ocean, but at least she could surfeit. - metrohumanx, 2009-03-16: 01:47:00
Good sentence! Good word! - silveryaspen, 2009-03-16: 17:28:00
Impressive word and sentence! So true: her home built too close to the shoreline - the denial or ignorance of globalwarming's effects - splendiction, 2009-03-16: 20:17:00
Good word there metrohumanx,You're a brilliant writer too :) - abrakadeborah, 2009-03-16: 22:56:00
My humble thanks. - metrohumanx, 2009-03-17: 03:00:00
Really good! - kateinkorea, 2009-03-17: 19:28:00
More...
To see more verboticisms for this definition go to: The ice caps are melting!
More Winning Words:
More Verboticisms! See the winning words for: When am I going to get a real holiday?