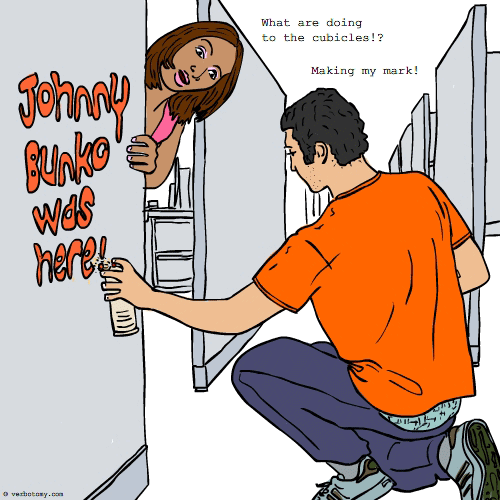 DEFINITION: v. To create an impression that you have made a positive contribution, especially when related to career activities. n. A personal mark or imprint which proves that you have done something that matters.
Nascentag
Top verboticism of the day created by metrohumanx
Pronunciation: NAY-sent-AG
Sentence: Twas only a week that he'd worked in our shop- And his legend loomed large though he just pushed a mop. His Achievements were nil, but he still had to brag- So he festooned the halls with his crude NASCENTAG.
Etymology: NAScent+SCENt+TAG= NASCENTAG.....NASCENT: coming or having recently come into existence; Latin nascent-, nascens, present participle of nasci to be born.....SCENT: an odor left by an animal on a surface passed over, effluvia from a substance that affect the sense of smell; Middle English sent, from Anglo-French sente, from sentir.....TAG: a graffito in the form of an identifying name or symbol; Middle English tagge; akin to Middle Low German tagge, tacke twig, spike .
Created by: metrohumanx.
Comments:
ARS LONGA VITA BREVIS - metrohumanx, 2009-06-15: 09:18:00
very poetic - Jabberwocky, 2009-06-15: 13:18:00
very good - Mustang, 2009-06-16: 03:15:00
More Top Verboticisms:
(Invented words created by the Verbotomy Writers)
Pimpression: /pimp-pression/ Johnny wanted to make a good pimpression on his new boss. So he primped his hair, and then pimped up resume with some of his most pimpressive achievements -- like sorting all of his email, or attending and several meetings in the last month and remaining conscious during most of them! Etymology: pimp+primp+impression Created by: wordmeister.
Signifiprint: /-səgˈnɪfəˌpɹɪnt-/ In a desperate, but ultimately confused attempt to leave a signifiprint and make sure his chores did not go unnoticed around the house, he began initialing every bag of trash he took out to the curb. Etymology: from signifi(cant) + -print (as in footprint, fingerprint, and imprint) Created by: ErWenn.
Comments:
Lie it! - Nosila, 2008-05-05: 21:32:00
Great word. - OZZIEBOB, 2008-05-06: 17:56:00
Jobifact: /jahb-eh-fakt/ Johnny left little jobifacts around the office to look like he was busy working. He would leave papers by the printer of drafts of written work, he would save and stack his telephone messages (real and made up ones, mind you) on his desk, and left emails of his work exploits. He would often start sentences like, "You know Bob, I've been thinking about this . . ." or "What's been bothering me, Florence, about the Dithers' case is . . ." He constantly asked his co-workers if he could borrow their White-Out, extra large paper clips, or staples because he just "ran out." Whenever a report came out that had his name on it, he would post it on the staff bulletin board and pin it on the walls of his tiny cubicle. In essence, Johnny didn't do much. Etymology: Job, profession, place of work + artifact, a spurious observation or result arising from preparatory or investigative procedures Created by: arrrteest.
Comments:
Sounds like he was jobiquitous! - OZZIEBOB, 2008-05-06: 18:03:00
More...
To see more verboticisms for this definition go to: What are doing to the cubicles!?
More Winning Words:
More Verboticisms! See the winning words for: I just asked the boss if she'd date me...