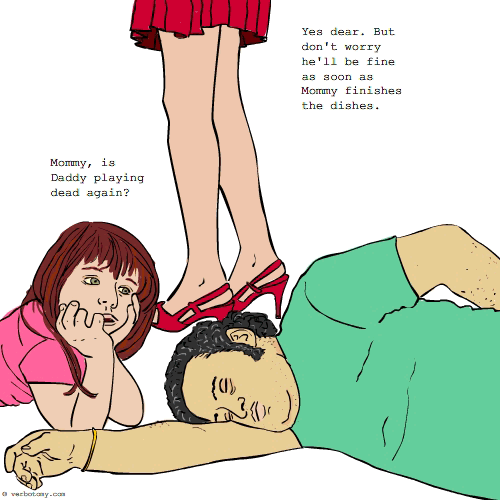 DEFINITION: v. To be physically overcome by a sudden illness, disability, or even death when asked to participate in unrewarding activities -- like work, or household chores. n. A person who gets sick when asked to work.
Aworkvoid
Top verboticism of the day created by remistram
Pronunciation: ah-werk-voyd
Sentence: Whenever big projects were on deck and his boss began to assign work, he began to plan his aworkvoid strategy. The next day he would announce to the team that he had strep throat, H1N1, and pneumonia all at once. Thus the 5 week absence began. Obviously when he came back to work all the projects were complete.
Etymology: avoid + work
Created by: remistram.
More Top Verboticisms:
(Invented words created by the Verbotomy Writers)
Comapose: /koh-ma-poz/ Mitchell would go completely comapose whenever his wife asked him to do any chores around the house. This was relatively benign, until one day when they were driving home from cottage, and his wife thoughtlessly asked him if he could cut the grass when they got back to the city. He had just pulled into the passing lane, when he lost consciousness... Etymology: comatose + pose (i.e. fake posture, stand still and do nothing) Created by: jrogan.
Comments:
A Coma-ly word indeed! - Nosila, 2009-08-03: 22:58:00
great work, jrogan....you get my vote. - mweinmann, 2009-08-04: 07:34:00
Physick: /fee-sick/ As a noun: He is such a physick. His physick is acting up again. Etymology: Physically Sick Created by: k28en.
Hypoconmandriac: /hie poh kon mand ree ak/ A hypoconmandriac calle Joe Picked up germs whereever he's go. but his flu symptoms flew when the work whistle blew, as he sprinted for the exit do' Etymology: hypochondriac, con man Created by: galwaywegian.
More...
To see more verboticisms for this definition go to: Mommy, is Daddy playing dead again?
More Winning Words:
More Verboticisms! See the winning words for: You mean, it's okay if I'm a totally obsessive-compulsive neat freak?