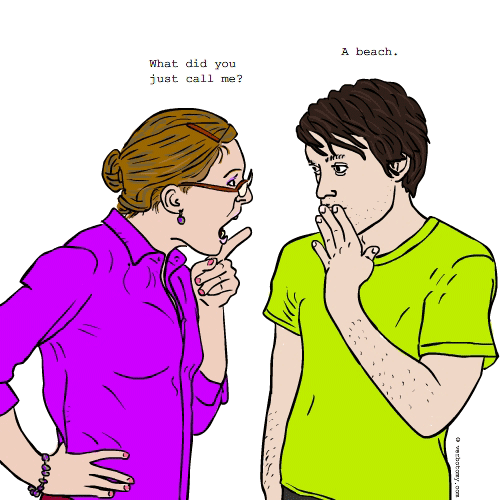 DEFINITION: v. To use alternative "code words" instead of proper cuss words, in an effort to satisfy people offended by such vulgarisms. n. A word used as a replacement for an obscene or profane expletive.
Already Voted
Vote not counted. We have already counted two anonymous votes from your network. If you haven't voted yet, you can login and then we will count your vote.
---
Subterfeud
Pronunciation: sub-ter-fyood
Sentence: Marvin mumbled under his breath, "You rockem sockem, bean pole ridin, frickin, dung eating, rear end of a moose's petutie." "What?" responded his partner, "You can certainly come up with better subterfeud than that, can't you?" "Uh, what a BEACH!"
Etymology: subterfuge, Late Latin subterfugium, from Latin subterfugere to escape, evade, from subter- secretly (from subter underneath; + fugere to flee + feud, a mutual enmity or quarrel that is often prolonged or inveterate
Points: 953