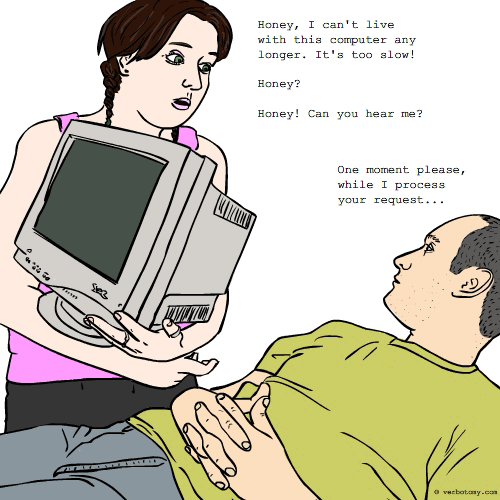 DEFINITION: n., A slow computer with insufficient memory; also, a slow-thinking husband. v., To take an extraordinarily long time to respond to a relatively simple request.
Voted For: Cyberthal
Successfully added your vote for "Cyberthal".
Pronunciation: sahy-ber-THAWL
Sentence: When Bob told Roxie that he thought telenetting was a good way to keep birds off their TV antenna, she quickly realized that her humdrum glacimate was a cyberthal, a few hubabytes short of the perfect partner.
Etymology: CYBERTHAL: blend of cyber - a common prefix coined foe electronic or computer-related concepts & the "thal" of NEANDERTHAL - fig. one unenlightened, slow, stupid. Glacimate; 2.(blend of glacier & mate) 3. Hubabyte (hubby & byte)
Points: 707
Voted For!