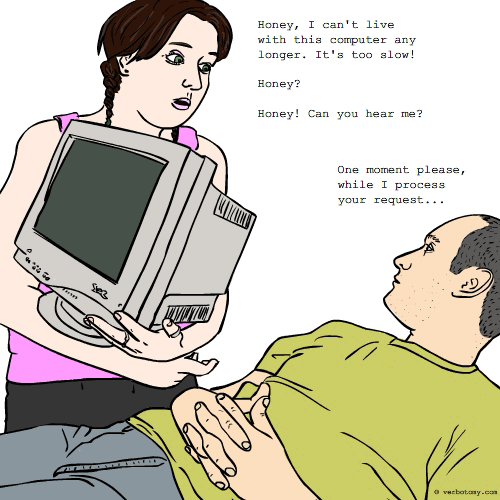 DEFINITION: n., A slow computer with insufficient memory; also, a slow-thinking husband. v., To take an extraordinarily long time to respond to a relatively simple request.
Voted For: Decelermate
Successfully added your vote for "Decelermate".
Pronunciation: de sel er mayt
Sentence: Allegra had never quite gotten used to the fact that her hubby, Dell, could decelermate any discussion or activity. He appeared to act and think and speak in slow motion and with age, this lethargy became more noticeable. When she asked him about replacing her very slow old computer, he was actually slower than the computer in responding. It is little wonder why he was dropped off at the recycling centre with all the other useless equipment.
Etymology: Decelerate (lose velocity; move more slowly) & Mate (spouse, partner in marriage/relationship)
Points: 665
Voted For!