Verboticism: Boxerrebellion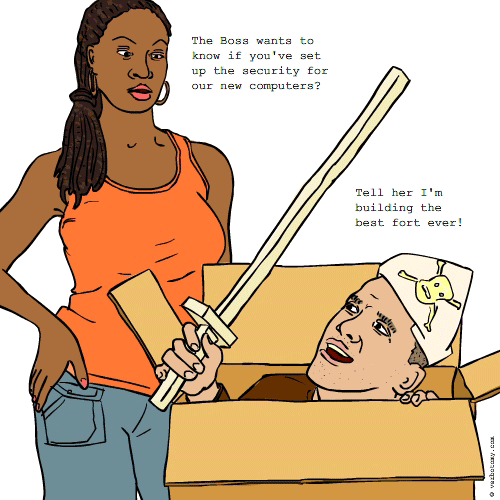 DEFINITION: v. To give a child, pet or coworker a wrapped gift or packaged item, only to discover they are more interested packaging than the item itself. n. Gift wrapping or packaging which proves to be more exciting than the contained item.
Already Voted
Vote not counted. We have already counted two anonymous votes from your network. If you haven't voted yet, you can login and then we will count your vote.
---
Boxerrebellion
You still have one vote left...
Created by: Jamagra
Pronunciation: trans/mow'/gift/fie
Sentence: Calvin's ability to transmogiftfy any box or wrapping into a rocket ship dazzled his parents. It frustrated his lazy pet tiger Hobbes to no end, however.
Etymology: transmogrify - To change into a different shape or form, especially one that is fantastic or bizarre + gift
Created by: Nosila
Pronunciation: gift rapt
Sentence: Jason was in a state of giftrapt because he was so seduced by the boxing, bubble wrap and tape, that he forgot about the contents.
Etymology: giftwrap (wrapping for a gift) & rapt (wholly absorbed)
Created by: stache
Pronunciation: rə-pēl'
Sentence: Little Marty loved the fire engine Grandpa brought him, but the wrappeal of the box and excelsior was overwhelming.
Etymology: wrap appeal
----------------------------
COMMENTS:
nice blend - Jabberwocky, 2008-04-21: 16:51:00
Good word - OZZIEBOB, 2008-04-22: 07:22:00
----------------------------
Created by: Mustang
Pronunciation: con - tane - uhr - ram - bow
Sentence: After opening all the boxes that his new computer, various toys and other gifts came in, Gilbert busied himself in fanciful games with the containers, imagining them to be everything from fighter planes, to fortresses to James Bond type vehicles.
Etymology: Blend of container and Rambo.
----------------------------
COMMENTS:
good word - Nosila, 2008-04-21: 20:26:00
----------------------------
Created by: Nosila
Pronunciation: rap so dee
Sentence: Jill's kids, cat and hubby each felt their own wrapsody on Christmas morning. Her kids would make houses out of the boxes that their expensive toys came in; her hubby made silly hats from the ribbons and bows and her cat loved shredding the tissue and then horking it up all morning, all over the house. Wrapture, Bliss!
Etymology: Wrap (the covering (usually paper or cellophane) in which something is wrapped) & Rhapsody (A state of elated bliss; ecstasy)
Created by: Stevenson0
Pronunciation: en/rap/cher
Sentence: Little children are enwraptured with the exterior of a present when the interior contains clothes.
Etymology: Wrap + enraptured
----------------------------
COMMENTS:
And they know it before opening the box! - arrrteest, 2008-04-21: 19:00:00
----------------------------
Created by: mweinmann
Pronunciation: in - rap - chur - d
Sentence: Mitsy spent an entire afternoon choosing a special gift for Elijah's birthday. Imagine her disappointment when Elijah became enwraptured with the packaging and wrapping and forgot all about the gift itself.
Etymology: enraptured (enchanted: held spellbound), wrap
----------------------------
COMMENTS:
It's a wrap! - Nosila, 2009-06-04: 17:15:00
----------------------------
Created by: bookowl
Pronunciation: ree/sep/tak/ul
Sentence: There's nothing like a good receptackle to boost a boring gift.
Etymology: receptacle + tackle
----------------------------
COMMENTS:
good take on the definition - Nosila, 2008-04-21: 20:28:00
----------------------------
Created by: rebelvin
Pronunciation: pack+rapt
Sentence: It would not have mattered what was in that big box, it was just packrapt to the kids.
Etymology: pack+rapt
Created by: jetpro14
Pronunciation: Ex-teer-eo-gratit-oo-ated
Sentence: Ms. Rolly Mingwald was exteriogratituated, once again, by her nutty professor.
Etymology: Exterio = outer; Gratituated = thanked for (gratis)