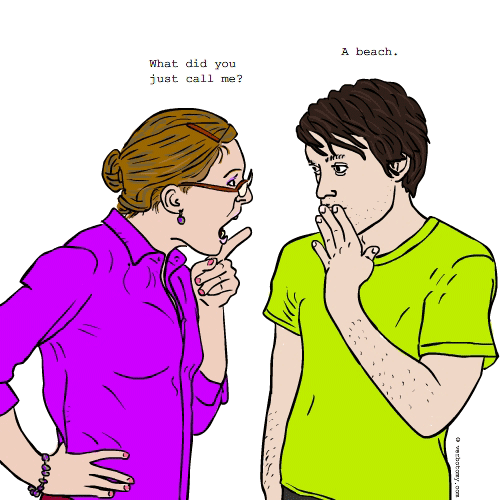 DEFINITION: v. To use alternative "code words" instead of proper cuss words, in an effort to satisfy people offended by such vulgarisms. n. A word used as a replacement for an obscene or profane expletive.
Already Voted
Vote not counted. We have already counted two anonymous votes from your network. If you haven't voted yet, you can login and then we will count your vote.
---
Ooophemism
You still have one vote left...
Created by: Bookworm699
Pronunciation:
Sentence: "Fat old beach," she fakeswore under her breath.
Etymology:
Created by: splendiction
Pronunciation: pro fam i li ty
Sentence: The Goode's espoused family values and so expressed anger with profamility like "fudge" and "mitt" instead of good old four-letter words such ass f*** and ***t.
Etymology: From profanity and family.
----------------------------
COMMENTS:
Whoops-didn't mean to add the extra s to as! - splendiction, 2009-06-22: 20:30:00
----------------------------
Created by: stache
Pronunciation: sŭb'tər-fēm'
Sentence: "GOT DANDRUFF, SOMEOFITITCHES!" Grandpa shouted his well-known subterpheme, as he bonked his thumb with the ball-peen hammer for the third time.
Etymology: 'sub,' short for underwater marine vessel, also used to describe an oversized sandwich served on long bread; 'terph,' alt. of turf, locale where one finds one's homies; 'eme,' collapsed form of e-me, avatar used as an on-line representation of oneself.
Created by: galwaywegian
Pronunciation: poo fem isum
Sentence: poophemism is not to be confused with poofeminism, which is confused enough itself
Etymology: euphemism. poo
Created by: artr
Pronunciation: fōfanətē
Sentence: Marge is the queen of fauxfanity. Her coworkers have no doubt how she feels even though she tries to remain semi-polite by using substitutes for profane language. Phrases like "No friggin' way", "What the fudge","Kiss my bass" or "Go hug yourself" have raised more than a few eyebrows.
Etymology: faux (artificial or imitation) + profanity (blasphemous or obscene language)
----------------------------
COMMENTS:
similar combinations but different results - great word - Jabberwocky, 2009-06-22: 14:18:00
----------------------------
Created by: Jabberwocky
Pronunciation: proxy/fan/i/tee
Sentence: Sally was determined not to use unsuitable language at her new job and instead invented many proxfanitys to suit the occasion.
Etymology: proxy (substitute or surrogate) + profanity
----------------------------
COMMENTS:
Good one! - Mustang, 2009-06-23: 00:44:00
----------------------------
Created by: artr
Pronunciation: präksplitiv
Sentence: "What the fudge is wrong with you? You're a frickin rock star", fumed Iggy's manager. "You're supposed to be a hard-brass who curses like a sailor and the best we can get out of you is a proxpletive".
Etymology: proxy (a person authorized to act on behalf of another) + expletive (an oath or swear word)
Created by: WarriorCatGoddess
Pronunciation: More-fit-ing
Sentence: The boy was morfiting at his teacher for giving him an F on his quiz.
Etymology:
Created by: Nosila
Pronunciation: fo kuss
Sentence: Dr.Seemore Glasses was an optometrist and normally a man of vision. Born a Presbyopic, he'd rather ride the cataracts than attend Church or Temple. He was short-sighted in one aspect: he was afraid to make a spectacle of himself in front of his clients. Although it sounded cornea, he hated to swear in front of them. He would tell them he needed to fauxcuss, when they did or said something stupid. One fellow kept making an astigmatism of himself, so Dr. Seemore stopped seeing him, before their macular degenerated anymore. Through his contacts, the doctor also teaches at the university and lens his experience to the newbies. Unfortunately, the boring nature of eye topics often made his pupils dilate. One day he fauxcussed on his lovely assistant, Iris,who he claimed was untidy, blind to messes and kept their office like a sty. She in turn accused Dr. Seemore of ogling her. Although it later turned out that she was bipolarized and also binocular, she pressed charges. As the police led away the good Dr.Seemore, he was heard to yell, "I've been framed!"
Etymology: Faux (not genuine or real; being an imitation of the genuine article) & Cuss (profane or obscene expression usually of surprise or anger;utter obscenities or profanities)
----------------------------
COMMENTS:
Good word! - Mustang, 2008-05-08: 07:45:00
best word this month!! - galwaywegian, 2008-05-08: 12:13:00
The story alone is worth a vote! - pieceof314, 2008-05-08: 14:05:00
wow - so many good words today - Jabberwocky, 2008-05-08: 14:22:00
Spot on - Love it! - Tigger, 2008-05-08: 18:59:00
Excellent. - OZZIEBOB, 2008-05-08: 19:35:00
My fave - arrrteest, 2008-05-08: 22:39:00
I'd like to thank the members of the Academy...Cheers All! - Nosila, 2008-05-08: 23:09:00
----------------------------
Created by: LittleMissSmile
Pronunciation: Frick
Sentence: What the FRICK!?!
Etymology: