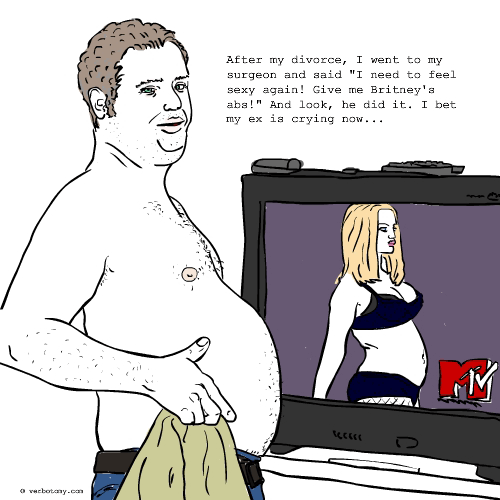 DEFINITION: v. intr., To compensate for emotional rejection by trying to change one's appearance through aggressive dieting, exercise and/or plastic surgery -- common among aging divorcees.
Already Voted
Vote not counted. We have already counted two anonymous votes from your network. If you haven't voted yet, you can login and then we will count your vote.
---
Vexyoursize
You still have one vote left...
Created by: Nosila
Pronunciation: veks yor syes
Sentence: When Vicki left Victor, he knew he had to vexyoursize and change his appearance in order to win her back or attract someone new. He tried diets, exercise and really could not afford surgery. Depressed he went into a bar to drown his sorrows. Feeling a little tipsy and slurring his words a bit, he stumbled home in the dark. He passed a church and decided to pray to the angels for a new look. He awoke the next day in the church and was stunned to see his reflection in a mirror. He looked worse! How could this be? At that point an old Irish Priest appeared at his side and said, "My son, you must be careful what you ask for when praying to the angels! Your speech was so slurred that they misunderstood you. You asked for a rose, instead of a new nose, so they gave you a big red one. You asked for a gin, instead of a new chin, so they gave you a double. You asked for bigger ears, they thought you said big arrears, so now you're broke. You asked for new hair, they thought you said a good scare, so now you have been neutered. You asked for new legs, they thought you said new pegs, so you can hobble home on two wooden ones. You asked for slimmer thighs, they thought you said dimmer eyes, so now you'll need strong glasses. You asked for a firm jaw, they thought you said a claw, so now you'll look talon-ted!"
Etymology: Vex (change the arrangement or position of;disturb the peace of mind of; afflict with mental agitation or distress) & Ex (former partner) & Your Size (body image, appearance) & exercise (the activity of exerting your muscles in various ways to keep fit)
Created by: scrabbelicious
Pronunciation: /bel-ie-boil-er/
Sentence: Patrice wasn't used to being on his own and that's the way he liked it. Not wanting to leave it to chance, he lapsed into bellyboiler mode. Opening up his web browser in tabs, he began his search for belly loving blondes and sauna clubs in his swimming tog area.
Etymology: Bellyboiler, from belly + (bunny) boiler, an abdomenally obsessed person. Bellyboiling v. similar to belly-aching.
Created by: TJayzz
Pronunciation: Di-vor-suk-shun
Sentence: When her divorce alimony came through, Jean decided to put some towards getting divorsuction, the new plastic surgery designed especially for the newly divorced in order to lose weight, ready to join the dating circuit again.
Etymology: Divorce(divor) + liposuction (suction) = Divorsuction
Created by: OZZIEBOB
Pronunciation: SPREEN
Sentence: Harsh words from Roxie and a glance in the mirror was enough to spreen Bob into a strict dietary regimen and a strenuous fitness program. Furthermore, he planned to re-assessed his progress every September; it was, I guess, a personal "Spreenclean."
Etymology: Blend of SPURN & PREEN. Cognates: Spreenie .n; Spreeny adj.
Created by: frenchprof
Pronunciation: ex-bort exbortion
Sentence: He had his stomach exborted not too long ago. No more pregnant looking men.
Etymology: ex-boriri out of-appearance also dis-appeared
Created by: rikboyee
Pronunciation:
Sentence:
Etymology:
Created by: MrDave2176
Pronunciation: Trans-for-MOR-on
Sentence: Tom's mid-life crisis included a Ferrari, an iPhone, a new girlfriend and a transformoron into a man 10 years younger. Unfortunately Tom looked like a man ten years older.
Etymology: Transform + Moron
Created by: purpleartichokes
Pronunciation: dum-proov
Sentence: After the divorce, Bert decided he needed to dumprove his image. He lost his unibrow with the help of Nair, but his beach-ball belly was going to need drastic surgery.
Etymology: dump, improve
----------------------------
COMMENTS:
I thought the unibrow was fashionable again. Hmmm... Great word! - Scrumpy, 2007-09-20: 10:12:00
----------------------------
Created by: bookowl
Pronunciation: chom/pen/sate
Sentence: To chompensate involves aggressively biting down on food to exercise the face muscles as you eat.
Etymology: compensate + chomp + sate
----------------------------
COMMENTS:
They do that on the Chomps-Elysee in Paris...god word, bookowl! - Nosila, 2008-08-20: 23:34:00
----------------------------
Created by: hyperborean
Pronunciation: sue per FAY shuhl
Sentence: Her tears were beginning to carve channels, but instead of facing her pain, she made another appointment for a superfacial.
Etymology: Based on "superficial": of, affecting or being on the surface. (super: exceeding a norm) + (facial: a cosmetic treatment for the face)