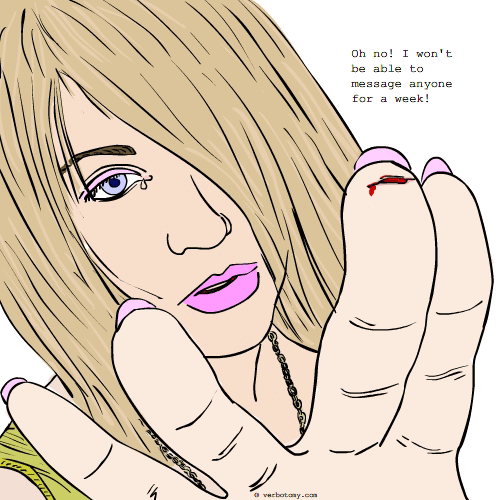 DEFINITION: n., A pesky but persistently painful, and seemingly incurable paper cut, which simply refuses to heal. n. To cut or injure a "high use" body part, like a fingertip, knuckle or tongue.
Already Voted
Vote not counted. We have already counted two anonymous votes from your network. If you haven't voted yet, you can login and then we will count your vote.
---
Handigash
You still have one vote left...
Created by: Stevenson0
Pronunciation: a/pen/jur/ee
Sentence: A pesky, irritating appendjury on his index finger makes playing the piano an excruciatingly difficult task.
Etymology: appendage + injury
Created by: artr
Pronunciation: aksidənt
Sentence: John was fed up with the tree that dropped staining red berries on his new white car so he decided to chop it down. His lack of experience with tools and innate ineptitude left him with an axident in his forehead.
Etymology: ax (a tool typically used for chopping wood, usually a steel blade attached at a right angle to a wooden handle) + accident (an unfortunate incident that happens unexpectedly and unintentionally, typically resulting in damage or injury) + dent (a slight hollow in a hard, even surface made by a blow or by the exertion of pressure)
Created by: bookowl
Pronunciation: stab/in/a/bill/i/tee
Sentence: He was unable to shuffle cards at the casino due to his stabinability.
Etymology: stab + inability + stability
Created by: remistram
Pronunciation: in-kyoor-uh-kut
Sentence: Her blackberry looked like she bludgeoned someone with it, but it was just her incuracut acting up again.
Etymology: incurable + cut
----------------------------
COMMENTS:
Good word! - OZZIEBOB, 2007-10-03: 18:33:00
----------------------------
Created by: Mustang
Pronunciation: didj - uh - trauh - muh - lin - ger
Sentence: With the tiny cut on the tip of her index finger making ordinary tasks like typing, text messaging, and other tasks exceedingly painful, Melanie experienced major digitraumalinger over the weeks as the owie failed to heal due to the abuse.
Etymology: Blend of 'digit' (finger or toe), 'trauma' (any physical damage to the body), and 'linger' (to remain or stay on in a place longer than is usual or expected)
Created by: simoneshin
Pronunciation: emo-philia
Sentence: Suzie pinched herself with the needle and now she thinks she's going to die. A very very slow and excrutiating death
Etymology: emotion + hemophilia
Created by: MashedSalad
Pronunciation:
Sentence: I bet you love Vecktomizing don't you?
Etymology: When Someone Vecktomizes you you are kissed with lots of love and tongs!!!
Created by: Nosila
Pronunciation: woon der ful
Sentence: When Jane was hired for her first office job, she thought it was wonderful. After her first of many paper cuts trying to file a year's backlog of papers, she decided the job was actually wounderful instead. She had neither a finger without multiple paper cuts nor a cuticle that was not ragged. How does one claim danger pay as a file clerk???
Etymology: Wound (gash,cut, any break in the skin or an organ caused by violence or surgical incision;cause injuries or bodily harm; to hurt the feelings of) & Wonderful (extraordinarily good; used especially as intensifiers) & Full (to the greatest degree or extent)
Created by: metrohumanx
Pronunciation: MY-crow-BIRD-uhn
Sentence: Dr Desmond's waiting room was crowded with the usual assortment of whining hypochondriacs, industrial accident victims, bursting lacerations and a gentleman who lost a crowbar fight at the local pub. When Molly explained her MICROBURDEN to Desmond, he was strangely unsympathetic. Using a scanning electron microscope, the doctor finally located Molly's invisaffliction, and predictably prescribed Motrin and bedrest. Molly explained that her stinging woundlet was like a tiny little albatross that nagged her and made life intolerable, but Desmond inexplicably refused to administer morphine for such a piddling complaint. Molly would just have to face life with her MICROBURDEN, and use this ugly incident as a sentence to be savored on the website..."Verbotomy".
Etymology: MICRO+BURDEN=MICROBURDEN.....MICRO: prefix meaning tiny or trifling.....BURDEN: something oppressive or worrisome; Middle English, from Old English byrthen; akin to Old English beran to carry.....alternatatively: MYCROBURDEN
----------------------------
COMMENTS:
http://www.quackwatch.org/ - metrohumanx, 2008-09-03: 08:44:00
Yes- I know it's a bit on the simple side...but I was distracted by Molly's lavender lipstick and tiny tear. - metrohumanx, 2008-09-03: 09:08:00
----------------------------
Created by: WordKing77
Pronunciation:
Sentence:
Etymology: