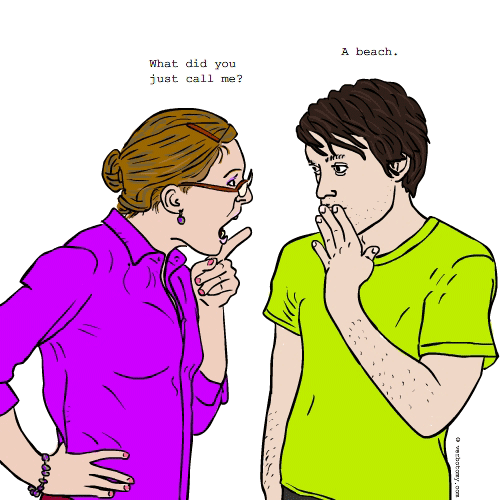 DEFINITION: v. To use alternative "code words" instead of proper cuss words, in an effort to satisfy people offended by such vulgarisms. n. A word used as a replacement for an obscene or profane expletive.
Already Voted
Vote not counted. We have already counted two anonymous votes from your network. If you haven't voted yet, you can login and then we will count your vote.
---
Ooophemism
You still have one vote left...
Created by: Nosila
Pronunciation: mawk sen it tee
Sentence: Mrs. Beach, the English teacher hated profanity and forbade her students from using any of these words in her classroom. Kids being kids in today's society of course cannot speak without cursing. To keep from being expelled and yet express his youthful dramatics, one brain surgeon in her class found a solution. He developed the mockscenity code. When he wanted to use a curse word, he had to substitute the first letter of that word with a "p" and if the first letter was a vowel, he just put the p in front of it. Pam, it worked like a pitch. It knocked the phit out of bad-sounding words and before long the whole ploody class was using it, pell yes. Mrs. Beach however had been a decryptor with the CIA before she retired to teaching and announced one morning, loudly, "The puck stops here!"
Etymology: Mock (a copy or imitation of something; imitate with mockery and derision) & Obscenity (an offensive or indecent word or phrase)
Created by: artr
Pronunciation: soōdōfanətē
Sentence: Billy is sensitive to co-workers who don't care for cussing. He is very good at the use of the pseudofanity. He curses like a sailor with all the expletives replaced with substitutes. He can be such a mother fudger.
Etymology: pseudo (not genuine; sham) + profanity (blasphemous or obscene language)
Created by: mweinmann
Pronunciation: kus - wop - pur
Sentence: Joel had become an adept cusswapper. After years of practice he was able to speak expletively no matter what the situation and no one could really be certain that he was violating acceptable social practices. He used many common everday words as cusswappers; getting his point across quite well without really swearing.
Etymology: cuss, swap, swapper
----------------------------
COMMENTS:
from a cusswopper to a cusswapper! - Nosila, 2009-06-22: 18:15:00
----------------------------
Created by: Stevenson0
Pronunciation: code/vurs
Sentence: Around the office, us lackies have to codeverse so we don't offend the boss, or her prim and proper manager with our foul language. When angry at a co-worker, we often shout at them "Go f'coffee!", or "Eat hit, you bit head!", but so far our codeversations haven't raised the ire of the language police.
Etymology: code + converse (To engage in spoken exchange)
Created by: rombus
Pronunciation: al - lu - ded
Sentence: Olive often allewded to lewd and vulger words by subtituting them with wholesome sounding happy phrases.... It was extremely difficult to say with certainty what her real intentions were but she definitely got her point accross.
Etymology: alluded (made a disguised reference to), lewd
----------------------------
COMMENTS:
Good one! - Mustang, 2009-06-23: 00:44:00
----------------------------
Created by: artr
Pronunciation: präksplitiv
Sentence: "What the fudge is wrong with you? You're a frickin rock star", fumed Iggy's manager. "You're supposed to be a hard-brass who curses like a sailor and the best we can get out of you is a proxpletive".
Etymology: proxy (a person authorized to act on behalf of another) + expletive (an oath or swear word)
Created by: Nosila
Pronunciation: pro fan it tees
Sentence: Rudy would always use profanitease instead of the words he really wanted to use. He put the cur in curse. When asked to repreat his bad words, he would inevitably re-word his remarks with different meaning words.
Etymology: Profanity (vulgar or irreverent speech or action) & Tease (to arouse hope, desire, or curiosity without satisfying them)
Created by: OZZIEBOB
Pronunciation: Pyu-tres-oh--TER-ik
Sentence: What was said, in a putresoteric drone, by the old "sea-salt" that made the seasoned skanky-ho blush so profoundly?
Etymology: Blend of PUTRESCENCE: rotting; fig: obscene or profane; vulgar; as foul words or language & ESOTERIC: "belonging to the inner circle," private, secret, confidential.
Created by: Nosila
Pronunciation: fo kuss
Sentence: Dr.Seemore Glasses was an optometrist and normally a man of vision. Born a Presbyopic, he'd rather ride the cataracts than attend Church or Temple. He was short-sighted in one aspect: he was afraid to make a spectacle of himself in front of his clients. Although it sounded cornea, he hated to swear in front of them. He would tell them he needed to fauxcuss, when they did or said something stupid. One fellow kept making an astigmatism of himself, so Dr. Seemore stopped seeing him, before their macular degenerated anymore. Through his contacts, the doctor also teaches at the university and lens his experience to the newbies. Unfortunately, the boring nature of eye topics often made his pupils dilate. One day he fauxcussed on his lovely assistant, Iris,who he claimed was untidy, blind to messes and kept their office like a sty. She in turn accused Dr. Seemore of ogling her. Although it later turned out that she was bipolarized and also binocular, she pressed charges. As the police led away the good Dr.Seemore, he was heard to yell, "I've been framed!"
Etymology: Faux (not genuine or real; being an imitation of the genuine article) & Cuss (profane or obscene expression usually of surprise or anger;utter obscenities or profanities)
----------------------------
COMMENTS:
Good word! - Mustang, 2008-05-08: 07:45:00
best word this month!! - galwaywegian, 2008-05-08: 12:13:00
The story alone is worth a vote! - pieceof314, 2008-05-08: 14:05:00
wow - so many good words today - Jabberwocky, 2008-05-08: 14:22:00
Spot on - Love it! - Tigger, 2008-05-08: 18:59:00
Excellent. - OZZIEBOB, 2008-05-08: 19:35:00
My fave - arrrteest, 2008-05-08: 22:39:00
I'd like to thank the members of the Academy...Cheers All! - Nosila, 2008-05-08: 23:09:00
----------------------------
Created by: Ismelstar
Pronunciation: [yoo-efuh-miz-uhm]
Sentence: Pristine, soft-spoken and mild, the limits of Molly Mormon's patience had finally expired after Danny overturned a perfume bottle under her desk. "Oh my Heck!" she blurted unable to stop the youeffemisms tumbling out of her mouth. "You little Ess. Just get the Eff out of my class!"
Etymology: A play with the imperative forms of bowdlerized swear words, (which generally are used by naming only the first letter of the offending curse) which sounds like 'euphemism', the substitution of a mild, indirect, or vague expression for one thought to be offensive or harsh.
Voted For! | Comments and Points